Many event planners are seeking for training room spaces that are flexible enough to accommodate a more dynamic, hands-on approach to training. A flexible training room space is one that accommodates several types of training and meetings setups like classrooms, events, theatre, rounds, lecture style, exhibition, etc. In addition, it also allows the organizers to rearrange the room according to themselves as needed for the day. While creating a flexible training room, make sure the room is easily reconfigurable by the user.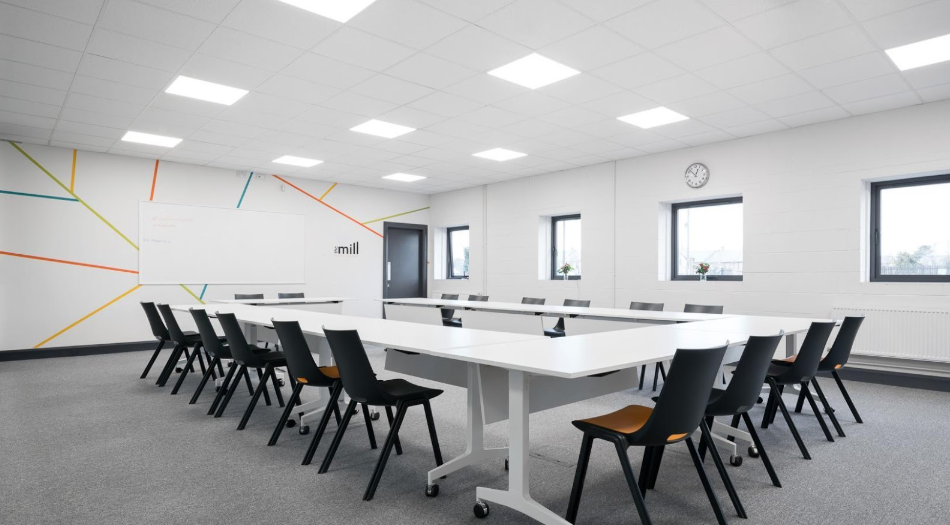 Whether guests come for looking to host their corporate offsite or plan a photo shoot, organizing a large open area with modular furniture is the best option. Moreover, the planner must equip his/her room with the appropriate equipment, comfortable conference chairs and tables for negotiations, the praesidium, a tribune, cabinets or cabinets for documents, etc. Such a wide range of functions of the same audience space reduces the total operating costs, reduces the complexity of transformation, and the total cost. Finally, it provides more opportunities for creativity. This write-up will explain in more detail on how to create a flexible training room space.
Table of Content:
Invest in Moveable Décor & Furniture
Equip Room with Modern Technology
Offer Flexible Pricing
Accommodate Interactive Collaboration
Inspire with your Interiors & Lighting
Use Invigorating Colors
Create Scheduling Panels

Invest in Moveable Décor & Furniture

Equipping a loft space with moveable décor and furniture items will allow the planner to set up them accordingly. An open space and movable and light furniture able to offer more styles and room variations that suits the clients' needs. This flexibility allows the loft space owner to handle more events and meetings on a daily basis. Incorporating modular furniture and décor will give more versatility to space, which in turn land more bookings. While creating a training room space, it must be furnished with modern furniture like desks, sofas, chairs, etc. Select the pieces that are functional, fun, comfortable and fit the space. But, make sure it matches with your room style and décor.
Equip Room with Modern Technology
The success of training depends on the technical capabilities of the location. Various equipment is necessary like mini-stands, ventilation, heating, fire alarm, fire extinguishing systems, microphones, air conditioning, and other office equipment for a successful training process. Devices like laptops and computers have several outputs that support the wireless system. So, avoid the use of wire related components and run your classrooms smoothly. Installing the Wi-Fi with high-speed will allow users to connect wirelessly with their preferred devices and free themselves from unnecessary extra work or technological clutter.
Offer Flexible Pricing
By offering a cheaper and different price on the type arrangements for room reservations, you will get more bookings. Many organizers differ their rates depending on the activity. The rate of corporate events, which held during regular business hours, is slightly cheaper than an evening or weekend event. Therefore, for getting more productions, the booking prices must be less expensive to generate more sales of a business. Setting different rates helps the training room holder to land more business.
While setting your prices, if there are any additional charges for different types of activities as well as a number of attendees, then make sure you are transparent and upfront with your guests. In addition, as a training room owner, you can offer discounts if meeting or event goes longer like 8+ or more. It will encourage guests and build a long relationship.
Accommodate Interactive Collaboration
Interactive technology and collaboration software are the secrets for making the students as an active participant during the training. This in regards will make trainings more interesting and generating productivity. With the availability of video conferencing equipment, the teachers and clients can share content, video chat and face-to-face conferencing with other students. Such interactive solutions allow local and remote participants to effectively communicate and share ideas with each other. The more accommodation of interactive collaboration software in the training room, the more production and sales will be generated.
Inspire with your Interiors & Lighting
In regards to making the best use of space with special attention to your interiors and lighting design, it is recommended that inspire your clients with attractive interiors and wall design. Using multiple colour schemes around different areas of your coworking space will attract the customers. Moreover, experiment with different seating options like couches, round tables, etc.
Use a blackboard or small whiteboard to display inspiring quotes and messages throughout the coworking space. While building the loft space, fill the room with appropriate lighting. Therefore, try to use natural light as much as possible, and if this option is not available, then make use of recessed lighting or overhead downlighting. As an interior element, you can also decorate the room with artificial plants and flowers to light up the place.
Use Invigorating Colors
By making the right choice of colour according to the event or training theme, the owner of the room can inspire and motivate the clients and guests. Paint your walls as learning surfaces. Too much stuff on the walls can distract the students and lead to cognitive overload. Make a choice over warm colours like orange and green as it evokes the creativity in students. A right colour on walls can activate various regions of students' brain. These regions influence student thoughts when sitting in a learning space. So, painting your walls with clear lines will create the right atmosphere in the course.
Create Scheduling Panels
Scheduling mounted outside the loft spaces make scheduling and booking meetings simple. While designing the loft space for meetings, trainings, or events, keep in mind to have a proper chart of your booking arrangements. This will not minimize frustrations associated with employees double booking a room or not being able to find a convenient place to meet. Upcoming trainings or meetings and open time slots are also mentioned on scheduling sheets, so users can make their booking arrangements on time. Choose a scheduling panel system that integrates with your organization's calendar application. This will enable the users to reserve a room when they create a meeting invite.
Overall Takeaway
For several years, architects have been looking for ways to improve the transformation possibilities of audiences, entertainment venues, training rooms and auditoriums. The above-mentioned tips will help to create a successful training room. In addition, training room on rent is also available in the market at affordable prices. The development of this segment contributes to several factors. The successful use and recognition of such flexible solutions require that the speed of transformation, safety, ease of use and reliability become the standard.