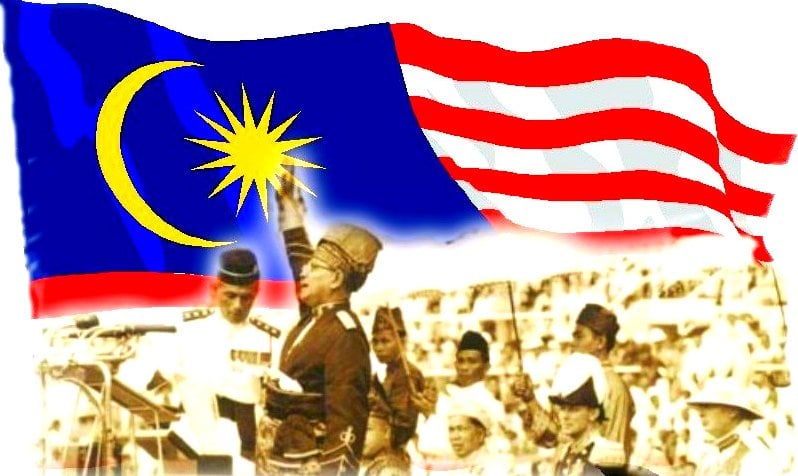 Image Credit
For many Malaysians, once this historic song is echoing, it will instantly evoke a sense of patriotism and pride in all of us. With the upcoming 62nd Malaysia's Independence Day which falls on Saturday, then we should plan to celebrate it ahead at work, along with our coworkers, be it Malaysians or foreigners. If you happen to be working with a multinational company, thus this celebration should be part of your annual company event! Not only that it can boost employees love and loyalties for the country, but also to spread our pride of the past Malayan heroes and patriots for their sacrifices in saving and establishing the land that we're living today.
Tanggal 31, bulan lapan, lima puluh tujuh.."
Read also: Celebrate Indonesian Independence Day with these Coworking Space
Go Breeze on Friday and Enjoy Being Truly Malaysian
Organize a Merdeka event at work throughout the second half of Friday. Start off with Merdeka lunch or potluck and enjoy enormous Malaysian delicacies, from Malay food to Chinese cuisine to even Ibanese food! It will fortunate your non-Malaysian colleagues to taste all the mouth-watering, sweet, sour, and spicy local food.
Watch Patriotic Movies
Catch up on ancient films with your friends watching the heroic Sarjan Hassan movie by the late P. Ramlee or anything from Merdeka to historical documentaries. Perhaps, you may be surprised to see some scenes will tear you up, smile, and feel grateful living in a blessed nation like ours.
Wear Traditional Cultural Costumes
Malaysia is a melting pot of cultures, languages, and backgrounds. Choose from Baju Kurung, Baju Melayu, Cheongsam, Punjabi suit, the colorful Sari, or many more (too much to be listed, phewww), and put them on you on this special day! Make it more interesting by organizing a competition among your colleagues and upload the pictures of your employees being truly Malaysian into your company social media accounts.
Read also: National Day Singapore 2019: Best Getaways to Spend your Long Weekend
Practice the Local Languages
"Kawtim! Ane! Boleh-Lah!" These are the words we locals have been using it on our daily routines, even though some of them are originated from other race's language. Being Malaysian means we mix up everything like A.B.C (Ais Batu Campur). We were so fortunate to have the opportunity to use so many cultures and languages every day. Taking this chance, try to learn and practice a few common phrases as you go about your day.
Unwind After Work by Visiting the Towns Hidden Valley
Behind the century ancient stories lies small kopitiam with the finest local coffee and fried kuey teow (the Chinese Fettuccine). You can also discover the street art and installations like ones on Penang Island and Malacca City across Kuala Lumpur and the Klang Valley. Be adventurous and stick to your own instinct and feel like you found a gem in front of you.
Watch the Morning Parade
On the special day itself, spend your Saturday morning with your friends from work and catch the Parade this year with many cultural performances. On the eve of Malaysia, enjoy a night of fireworks followed by a walk of all colors the next morning. Make sure that you're all prepared to be under the sun for hours, so do bring your hat, cap, water, and selfie stick to capture the beautiful scenes.
Saturdate with your Colleagues
Celebrating Malaysia's Independence Day won't stop there. Continue spending the rest of the day with your colleagues. We've got many parks in our town and it's great to picnic with friends in the evening. Places like Titiwangsa Park, Kepong Park, or any other park nationwide, have lots of green grass, kite flying activities and bubble blowers.
Continue to Sundate with your Coworkers by Discovering Heritage Buildings
Say yes to packing light and going with your best friends to the next town to discover the small towns with their beautiful landscapes for authentic food. Venture outdoors, enjoy a sunset at the beach or learn how to prepare a traditional meal. Visit famous heritage attractions from Penang Island to East Malaysia and beef up on Malaysian history. It is accessible to the public, including the National Museum, the Penang Blue Mansion, the Sarawak cultural village or the houses of Sultan Abdul Samad.
Read also: Malaysia and the Workforce of 2020: What's to Come?
There you go! 8 things to do while you're in Malaysia this Malaysia's Independence Day. Continue working as usual on the day before Merdeka day or staying back at home on the weekend does not mean the world's end, it should've been the one Merdeka you won't ever forget! Even if you find your office won't be a perfect fit to celebrate Merdeka, make your way then to FlySpaces, and choose enormous options of event spaces across the city. Or simply give us a call at +6017 557 7369.
So, get ready to sing 'Negaraku', Malaysia's National Anthem song, with your friends and families, and say 'Merdeka! Merdeka! Merdeka!' out loud to show how proud you are Malaysians. Having said that, we here at FlySpaces would like to wish you all Selamat Hari Kemerdekaan! 62 years and still going strong.