Image Credit
Coworking is a modern working style that first begun in Malaysia around 2010 - but only from 2016 onwards is the concept getting popular among local people and of course foreigners in Malaysia. It has been relentlessly developing in recent years with the amount of coworking spaces in Kuala Lumpur multiplying every single year. The shared workplace turned out to be alluring to work-at-home experts, self-employed entities, freelancers, and even conglomerates - Petronas has signed up for office spaces with Common Ground.
Coworking is flourishing all around the globe, including Malaysia - especially in Kuala Lumpur's city center. The numbers are increasing particularly within the Golden Triangle area. Simple to say, you'll find coworking spaces around every corner. Just in case you're not sure what exactly the Golden Triangle is, continue reading.
Read also: Coworking Spaces in Kuala Lumpur for Digital Nomad
Known as Kuala Lumpur's business, shopping and excitement center, the Golden Triangle is really a huge zone that includes various significant boulevards. Three roads - Jalan Imbi, Jalan Sultan Ismail, and Jalan Raja Chulan structure a triangle which fringes the whole Golden Triangle zone. Here, towering sky-scrapers, shopping centers, and world-class hotels penetrate the scene. Bukit Bintang Street is located inside this region and is a renowned shopping and entertainment area.
Viewed as the nearest thing to a Center Business District (CBD), the Golden Triangle is home to the ever-prominent shopping region of Bukit Bintang. Toward the north is KLCC, a multi-purpose improvement known for its shopping as well as the Petronas Twin Towers. While KLCC stands for Kuala Lumpur City Centre, don't confuse this with the real Downtown area.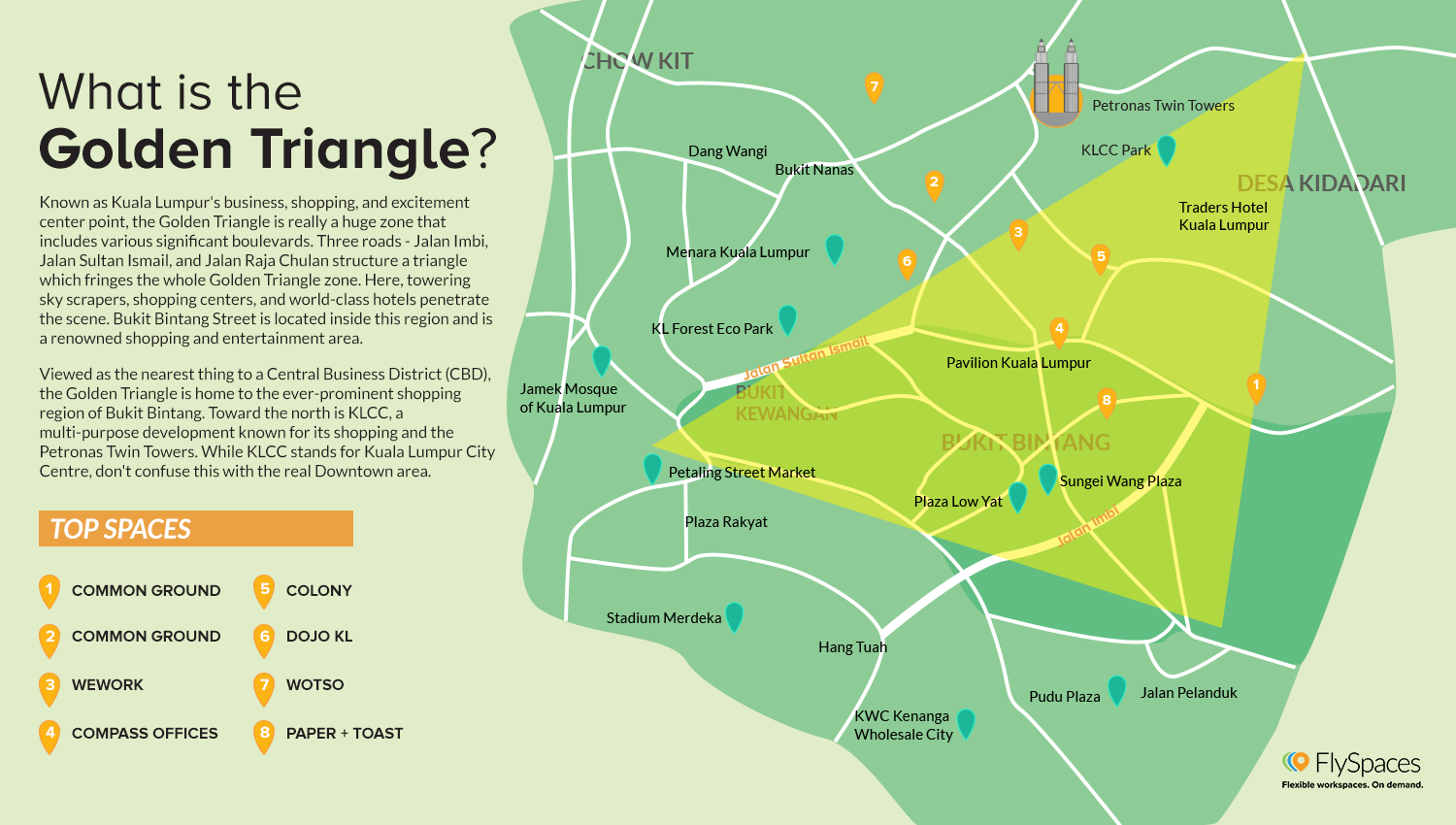 Common Ground Menara Worldwide
At the top of Menara Worldwide - 25th floor, you'll be enjoying the sweeping 360-views of Kuala Lumpur and its neighboring region. Common Ground is the biggest leading co-sharing space in the nation. The space's design goes for a sleeker, more loosened up atmosphere - balancing privacy and collaboration. Thanks to the "Coffee in Common" (the in-house cafe), the fragrance of freshly brewed espresso wafting around the breakout area is a common occurrence. Did you know: smell is the strongest of the senses and is best ready to impact brain activity.
Address : Level 24 & 25, 198 Menara Worldwide, Jalan Bukit Bintang, 55100 Kuala Lumpur, Wilayah Persekutuan Kuala Lumpur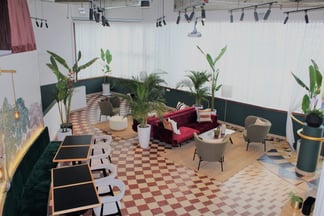 Towards the North of the Golden Triangle, strategically located is another baby of Common Ground in KL33. Experience exclusive treatment here with the dedicated elevator - full access from the lobby straight to the Common Ground which only members are entitled to use. Compared to the previous location, this new spot lifts up a more captivating decor and interior with a ton of natural sunlight pouring in to the two stories of space. The key thing that separates Common Ground from other players is its size, inventory, partners' benefit, and aspiration of course!
Address : Level 9, KL33, 10, Jalan Sultan Ismail, 50250 Kuala Lumpur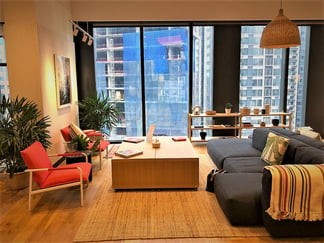 Get a slice of New York in this homey vibe, WeWork, in the thriving capital city of Malaysia. Get your brain juices streaming at these open shared spaces and conceptualizing walls. The benefits of working at WeWork are endless! Situated at the center of the business district, with easy access to F&B outlets and ­transportation nearby makes WeWork the best place to work in the KL city center. WeWork also integrates with a dedicated mobile application, empowering members to speak with a human administrator.
Address : 14 MY, Jalan Sultan Ismail, Kuala Lumpur 14, 50250 Kuala Lumpur
Compass Offices Menara Standard Chartered
Compass is likewise unfathomably Instagram-able for workers that venerate sharing via of social network platforms. With its experience and expertise for in the industry in Southeast Asia, this space truly will give unique and forward-thinking offerings for the members. The space sports an advanced comfortable decor that smartly urban design components to make a helpful work environment. The space offers a free stream of astounding tea and coffee blends in addition to high-speed internet and promptly accessible office supplies, and furthermore give an extremely decent business address.
Address : 3/F, Menara Standard Chartered, No. 30, Jalan Sultan Ismail, Bukit Bintang, 50250 Kuala Lumpur
The interior of Colony spaces isn't just a la mode and beguiling, it is also ergonomically designed to every detail. It was intended to guarantee individuals to accomplish a high level of productivity in the work environment. With its exceptional services and boundless utilization of meeting rooms, it completely has the right to be up there with the best coworking brands throughout Kuala Lumpur. It offers a tranquil and comfortable space to accomplish full productivity in harmony. Members can loosen up and work out with a full view of Kuala Lumpur city skyline at the rooftop gym and pool.
Address : 6, Jalan Kia Peng, Kuala Lumpur, 50450 Kuala Lumpur, Wilayah Persekutuan Kuala Lumpur
Read also : Here's Why You Need a Coworking Space in Kuala Lumpur
Give your thoughts a chance to stream in a space that is splendid, moving, open, and welcoming - a flash that touches off a new point of view. DOJO KL gives an exhaustive scope of inventive workspace, from single-individual workstations to office suites that can cater twelve individuals. Well-designed touches in a collaborative atmosphere make coming to work an inviting feeling each morning. In addition, you'll be encompassed by individuals who share your energy and love for thoughts. Those who are simply like you.
Address : Lot A-1-1 Menara Amplewest, 6, Jalan P Ramlee, 50250 Kuala Lumpur
An exciting space from Australia has recently taken root in Kuala Lumpur in a strategic location in Mercu Summer Suites, so other facilities like a gym, supermarket, and F&B outlets are right at your doorstep. WOTSO is right in the core of Kuala Lumpur and very accessible through walking from KLCC, Dang Wangi LRT, and Bukit Nanas Monorail stations. This operator is aware of designing feasible environments that support network building which incorporates interests in innovation, business, and development.
Address : Summer Suites, No 8, Jalan Cendana, Kampung Baru, 50300 Kuala Lumpur, Wilayah Persekutuan Kuala Lumpur
Paper + Toast Fahrenheit Tower
The first ever coworking space established in Kuala Lumpur's CBD - Paper + Toast. On top of its cool and comfortable coworking space, it likewise has meals available to order, from sandwiches to all the more filling dishes also. Paper + Toast has you sorted on that front! You'll be well taken care of at this coworking hub. Event and meeting space is additionally accessible here, just as a virtual office, which is a mail, call and fax management system. Members will enjoy unique and forward-thinking offerings with their experience and expertise.
Address : Level 13A-1 Fahrenheit Office Tower, Jalan Gading, Bukit Bintang, 55100 Kuala Lumpur
In the event that you're running a business and need a space to work at the very prestigious address in Golden Triangle of Kuala Lumpur - good for your business' image and credibility - with an affordable rental price while enjoying an exceptional add-on benefits, let's book a visit to some of the spaces with just one click away at our platform! Do it now before your seat has been taken up by others! If you have any further enquiry, never hesitate to contact our Kuala Lumpur representatives' of FlySpaces,

Esther

. She will definitely provide you with the best options across Kuala Lumpur