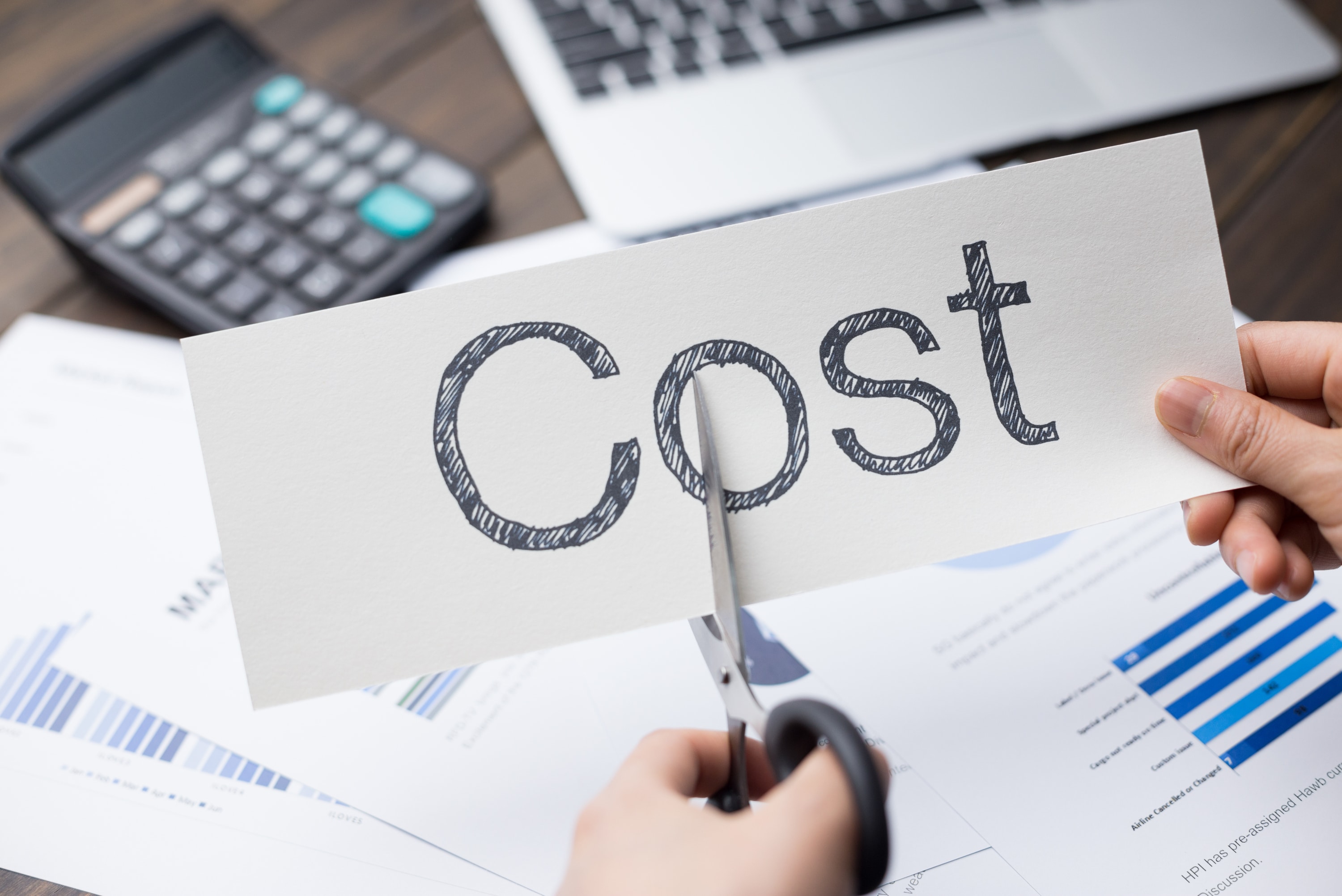 Image Credit
Money expenditure is an essential part of building a company. You know all too well that the uncontrollable overhead costs can be paralyzing, either if you are self-employed or running a small business. You may have thought that operating costs are a necessary evil. Yet after all, you still need to spend money in order to make money! Somehow, one month with too much overhead can be the kiss of death for enterprises attempting to cope with difficult financial circumstances or startups trying to break even.
Overheads can include costs associated with the operation of your company which you cannot attribute directly to your product, service, business or part of your company's revenues. Looking at rent, utilities, office supplies, or advertising, while all of these costs appears to be fairly normal, it doesn't mean that they are essential. If you started to realize that your overheads are taking significant chunk of your revenue, so you should start to make a serious move. Fortunately, cutting expenses without cutting corners is still possible with holding your office in one of these flexible workspaces in Singapore.
Read also: Coworking: Building a Cost-Efficient Success in Singapore
Here's a rundown of the affordable offices across Singapore to help you reduce your overheads: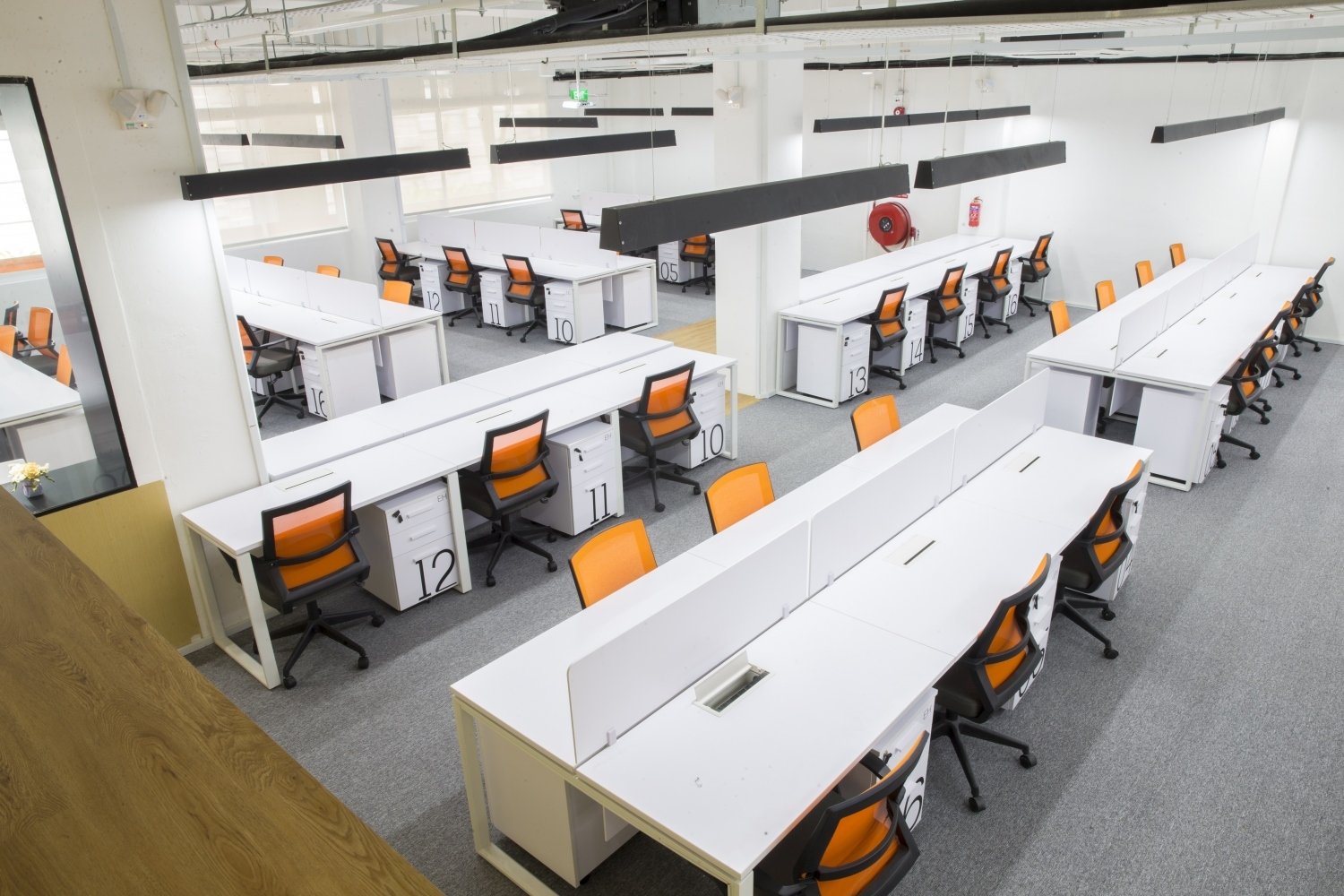 With a rental rate this low, you must be surprised that Ucommune comes with face-recognition technology for members to access the premises. Security, affordability - all checked! Among the unique offerings, this coworking space also hosts events so that members can benefit from access to other office spaces in other country. Within a few strolls from this workspace, you can easily take public transport to go back home or even meet your client off-site at One North MRT Station.
Rate: from S$250 monthly per pax
Address: 67 Ayer Rajah Crescent Singapore 139950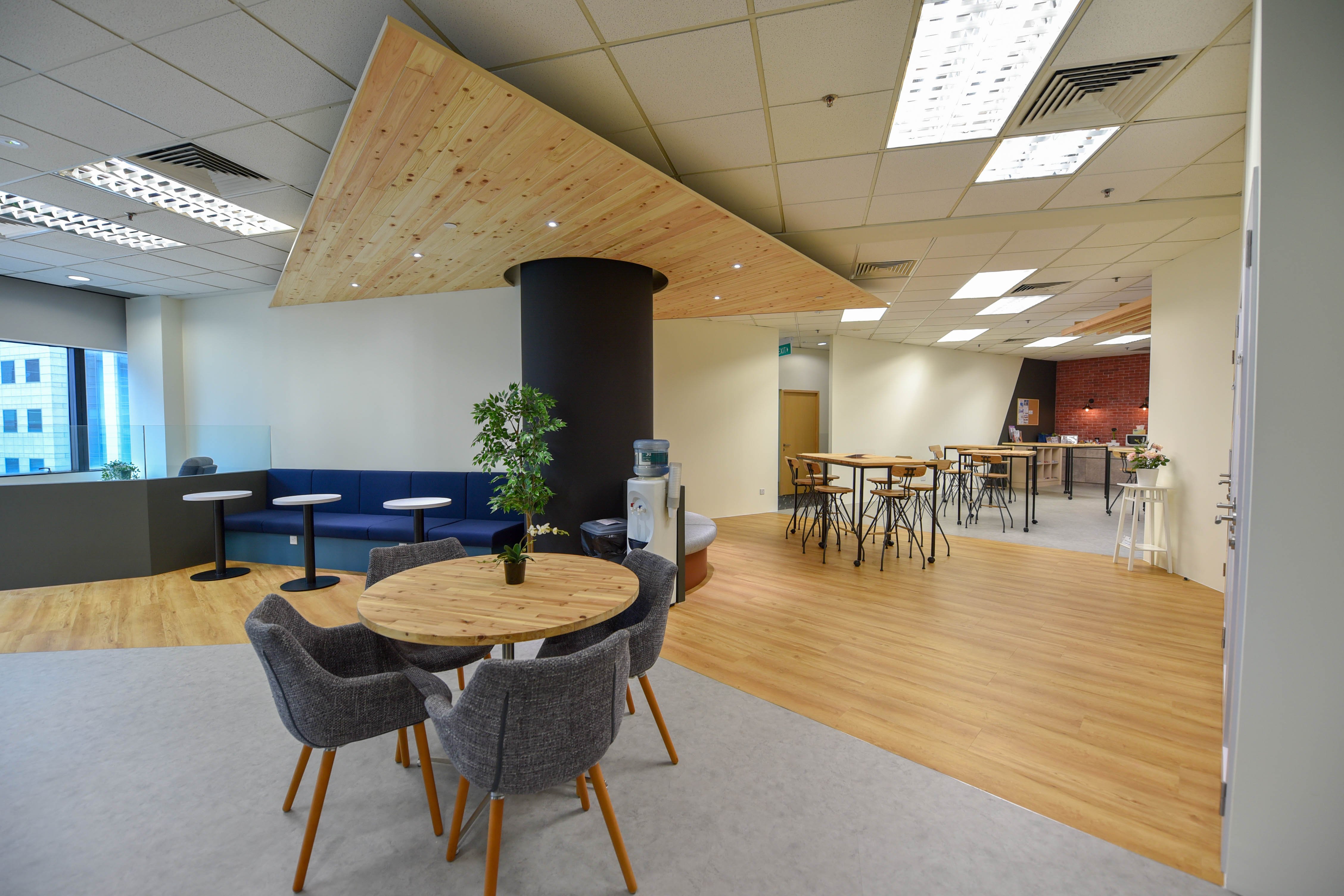 It doesn't get any more convenient than Crosscoop, it sat right next to the food court and Downtown MRT Station. Boasting 8,000 sqft, it becomes a hotspot of many tech-related companies. Large, spread out and bright, the room is splashed with yellow, blue, green and earthy hues. Crosscoop is aiming to become the go-to for freelancers and industrious independents.
Rate: from S$200 monthly per pax
Address: 80 Robinson Rd, Singapore 068898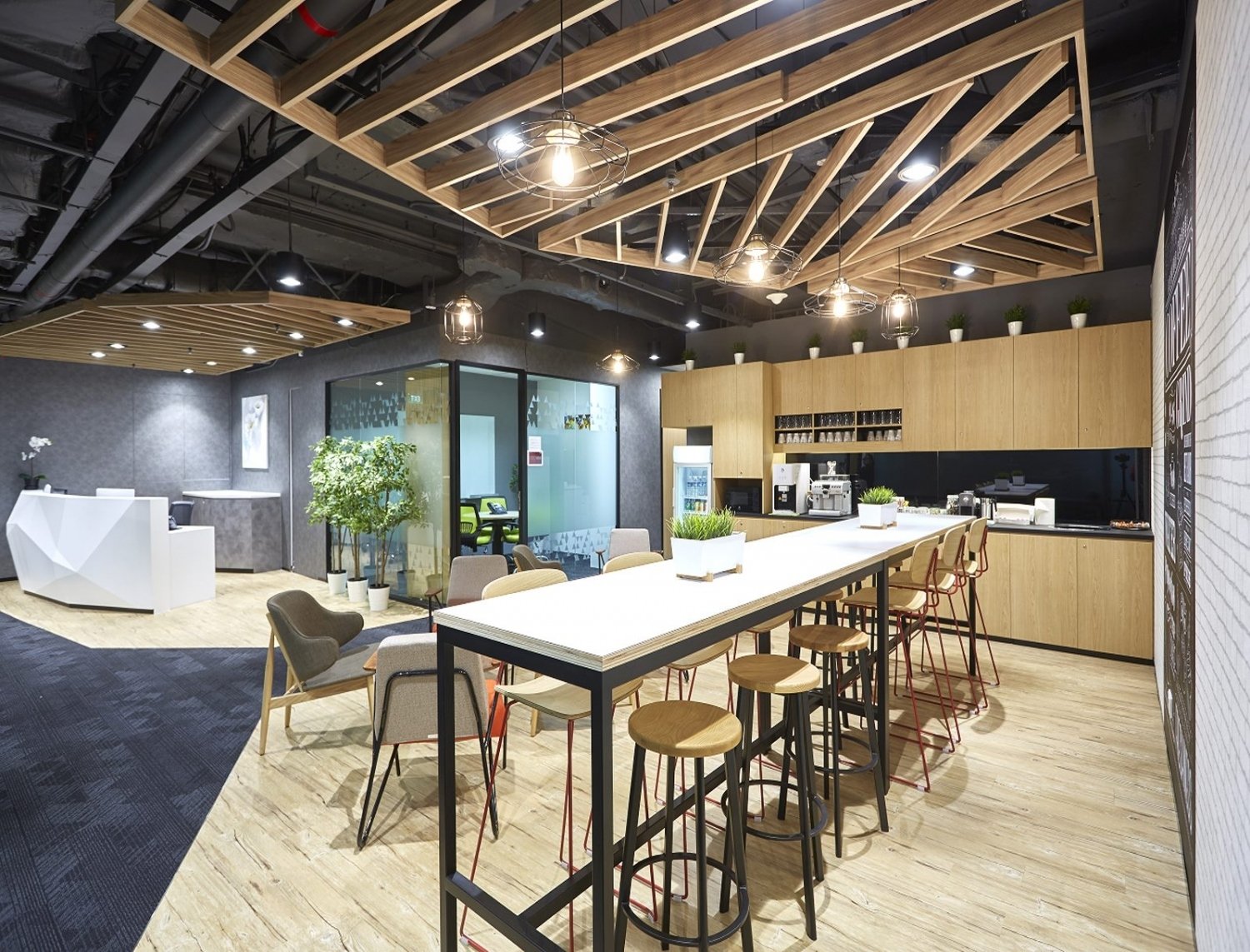 This serviced office is another prime choice with clean minimalist décor and inexpensive hot desks. Corporate Serviced Office sports a cozy contemporary interior that creates a conducive working environment through intelligent urban design components. Aside from the basic amenities, it offers its clientele with high quality fit-outs, ergonomically designed furniture, advanced telephone and printing systems, in-house administrative and IT support teams with such an affordable option at a premium address of OCBC Centre building.
Rate: from S$360 monthly per pax
Address: 65 Chulia Street Singapore 049513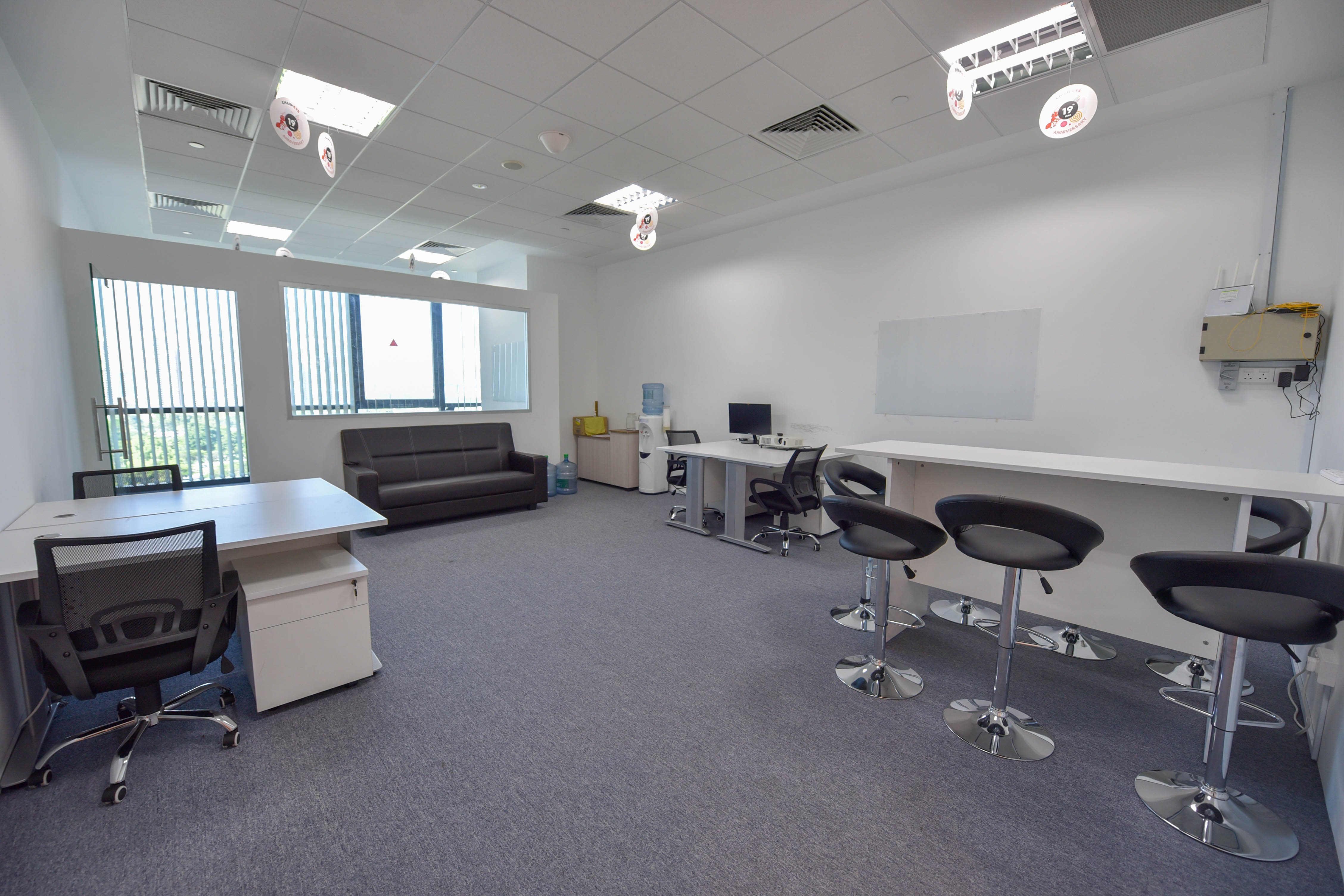 Work closely with your team will forge a strong relationship and trust between employees and employer. If you're seeking for a very affordable, yet ready-to-use serviced offices, Solutions Guru is the solution instead! Open 24/7, their room could fit your team of 12 with a bonus point of 1 director room attached with it. Monitoring your staff's work could've become easier when you rent this private office suite. Among the amenities are meeting rooms, dedicated phone line, printing system, security, parking space, and the list goes on.
Rate: from S$333 monthly per pax
Address: 2 Venture Drive Singapore 608526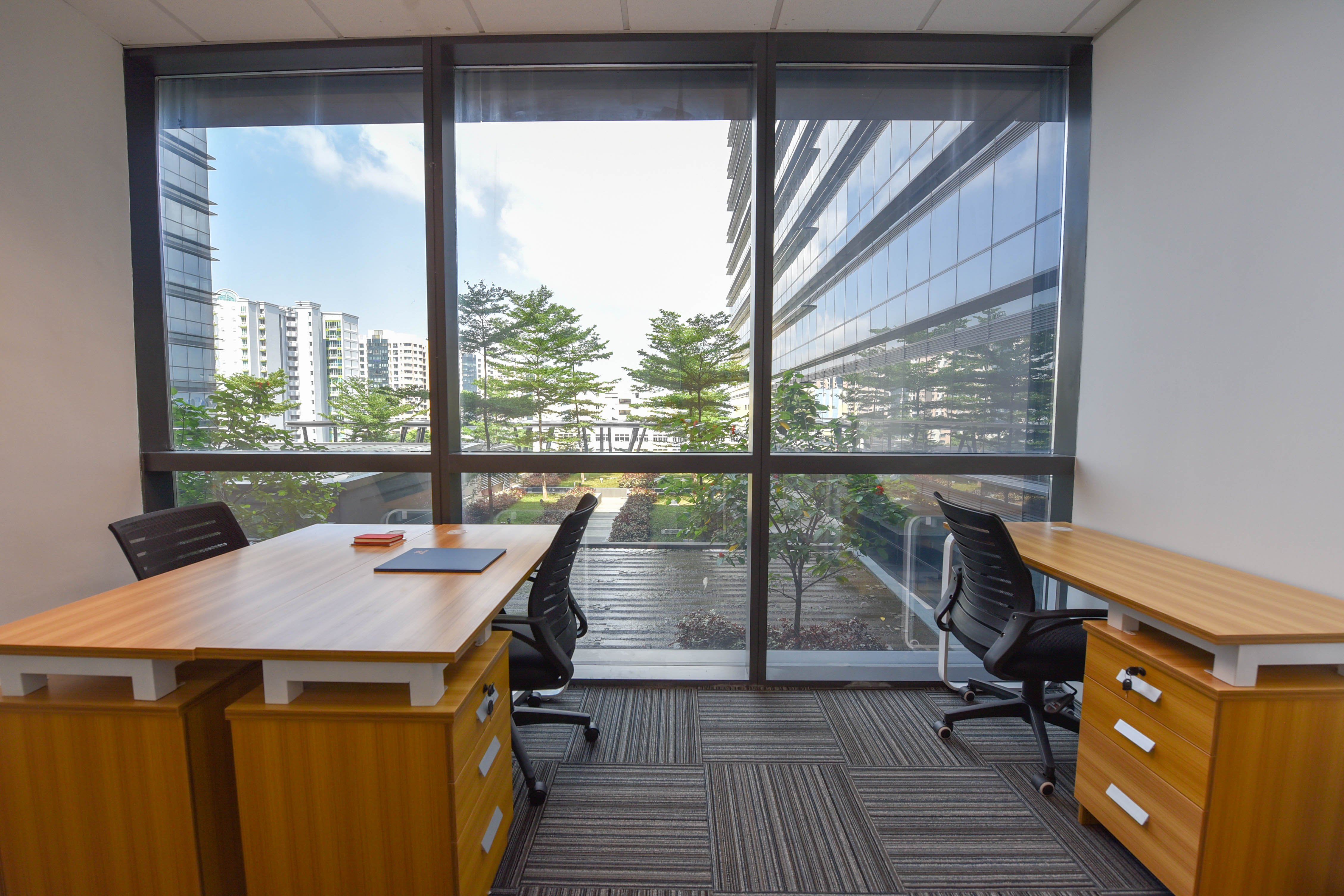 Maybe not the largest in the city, but the pastel-cool aesthetic with natural sunlight hit in the room is likely to attract creative and hip companies for a breeze work environment. Erun is generously offering you 1 free month rental for 12 month lease. Relish the seamless daily tasks with the help of their impressive facilities such as concierge service for new start up and meeting room with video conferencing.
Rate: from S$440 monthly per pax
Address: 60 Paya Lebar Rd, Singapore 409051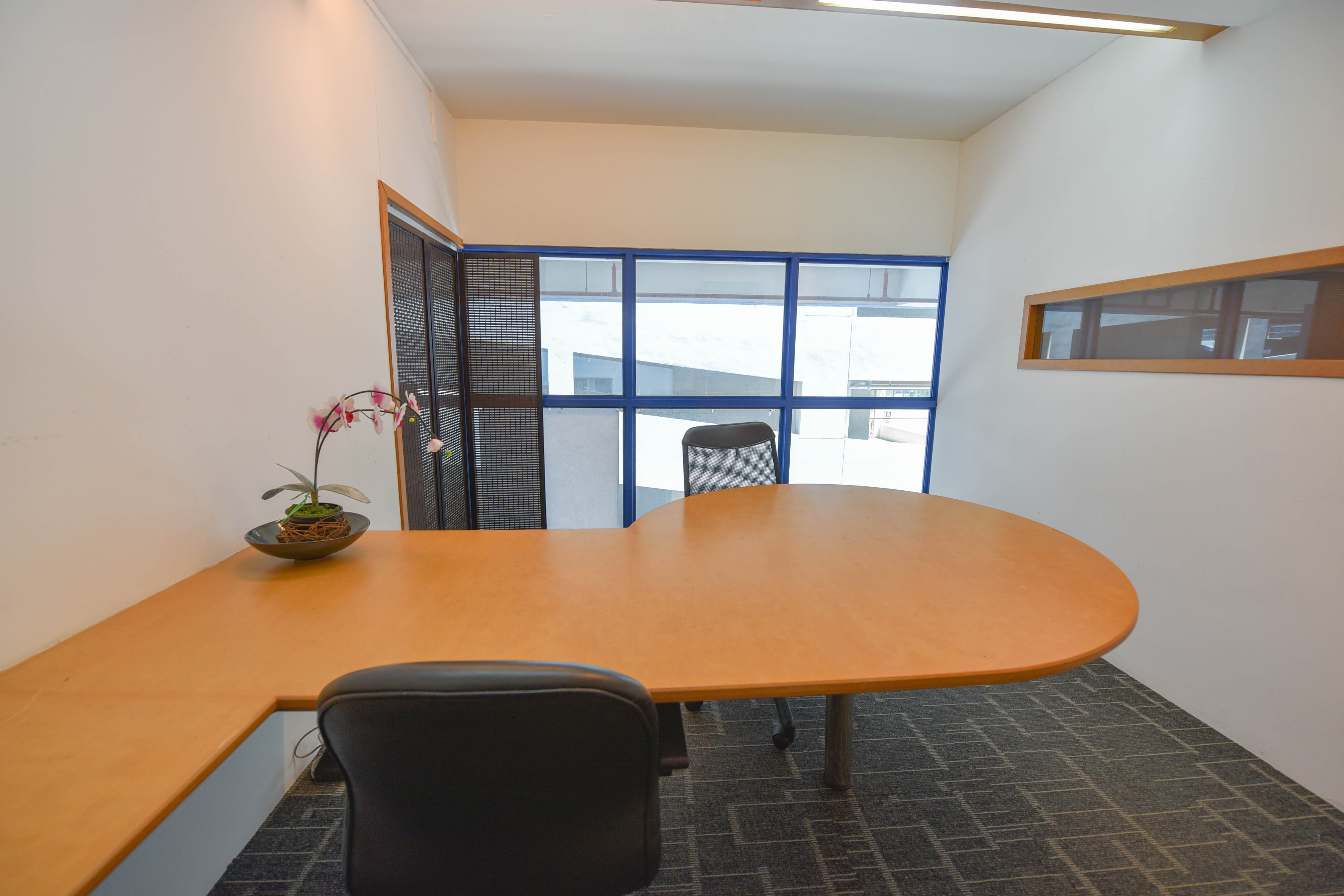 This serviced office allows entrepreneurs, freelancers, and companies to enhance inspiration and innovation in a peaceful and tranquil setting, away from the busy town! Get to work immediately in Fine Art Living with 24/7 access, free-flow coffee and tea, and the wide-open atrium which guarantees that you and your team have an ideal environment for conferences and discussions.
Rate: from S$390 monthly per pax
Address: 61 Bukit Batok Cres, #02-05, Singapore 658078
A gem of hideaway from the city center, in the middle of Woodlands sat Dott International, a vibrant coworking space. This could be an alternative home or traditional office solution that enables you to work in a creative, relaxed setting with like-minded individuals. Renovated with stylish furnishings, design lighting and a flourishing creative atmosphere, this space provides you affordable private office, deskspace, and flexible memberships.
Rate: from S$180 monthly per pax
Address: 21 Woodland Cl Singapore 737854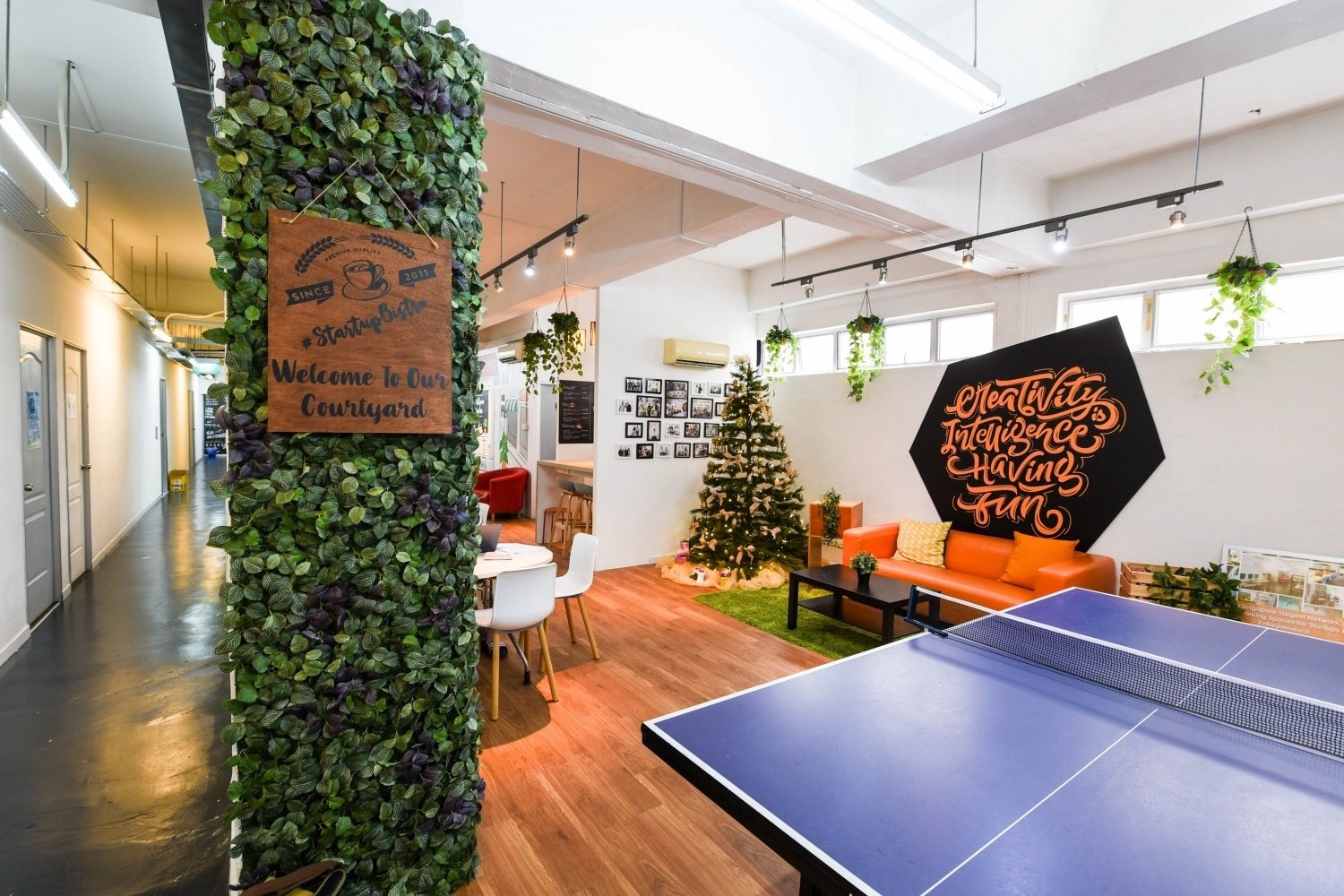 Smartspace is warm and inviting space with wooden hues and ping pong table which makes it looks more like a cafe rather than an office. Conveniently located near Bras Basah, Bugis, and City Hall MRT, Smartspace is just seconds away from the great eating places. If you're seeking to provide a peaceful and comfortable room for working experts to attain complete productivity, this could be the one.
Rate: from S$299 monthly per pax
Address: Waterloo Centre #03-32 Singapore 180261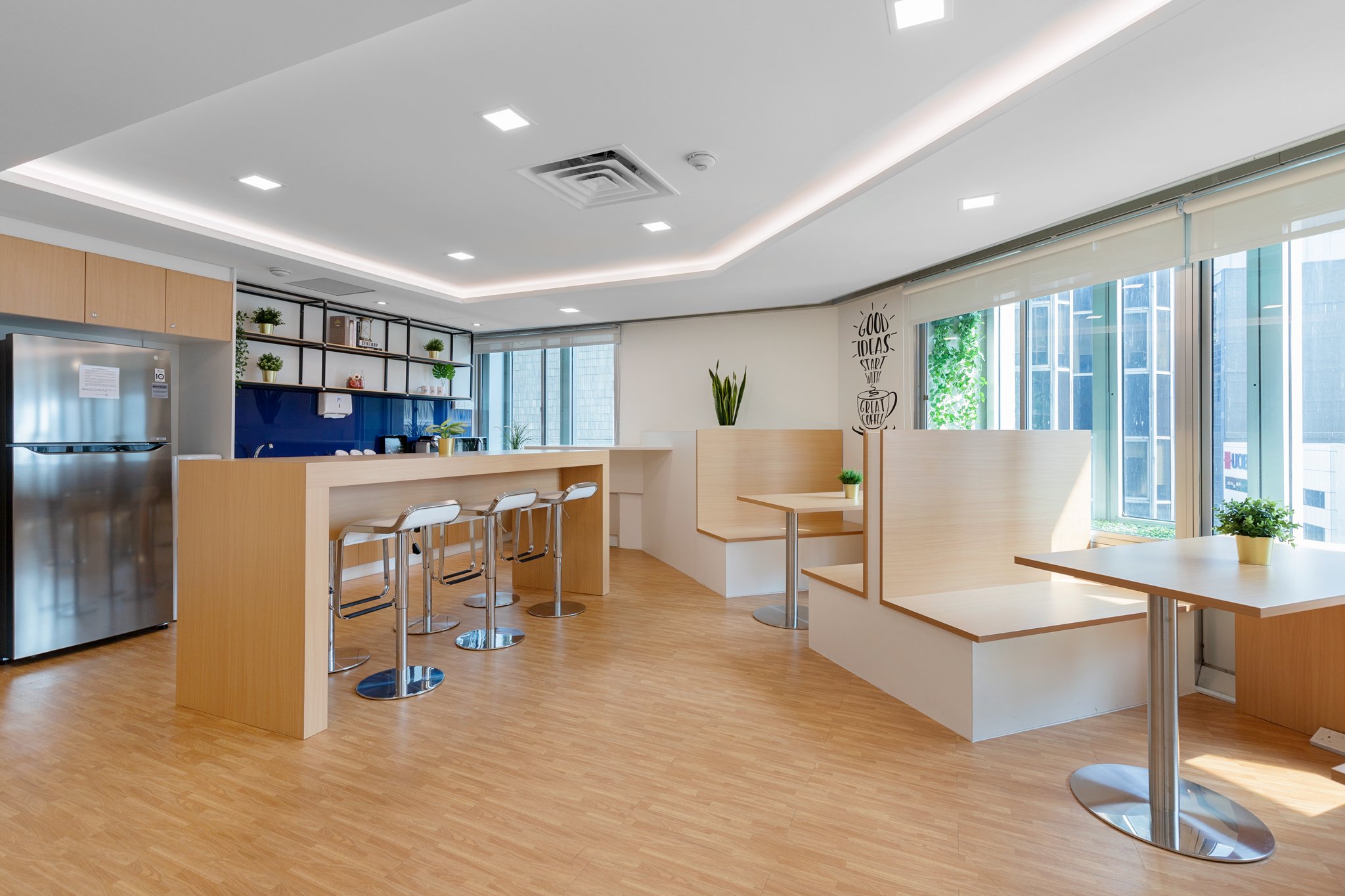 Smack dab in the heart of Singapore CBD lives an affordable flexible office space which is situated within a walking distance from Telok Ayer MRT, Tanjong Pagar MRT, and Raffles Place MRT. With its family-friendly approach, the idea offers both tenants and visitors a professional outlook that includes a playroom for children and a nursing room. Great for Mompreneurs or Dadpreneurs out there!
Rate: from S$450 monthly per pax
Address: 105 Cecil Street #13-00 The Octagon Building, 069534
Read also: Top 10 Affordable Training Room Rentals in Singapore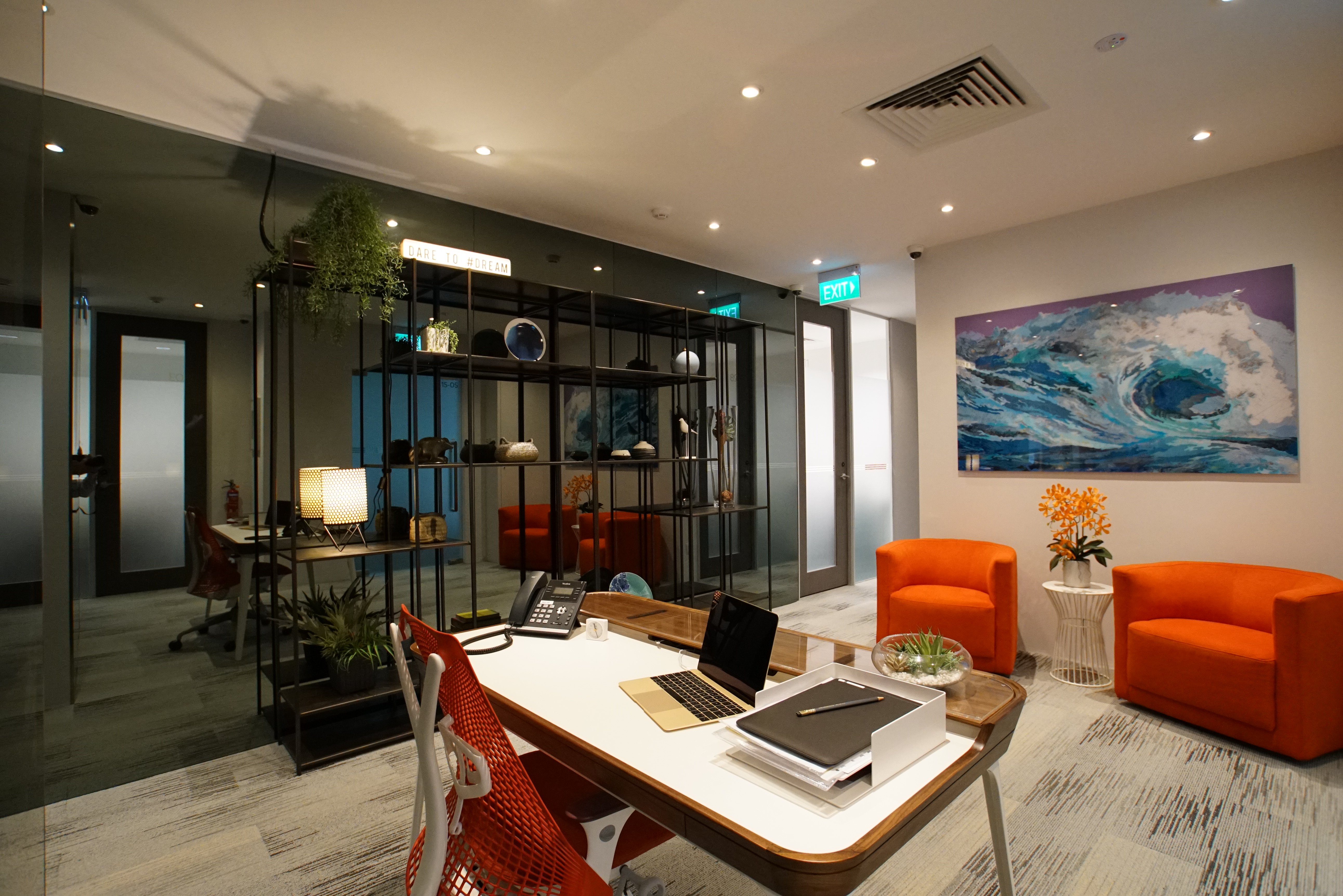 This brand new office suite is prestigiously located in Raffles Place that provides peaceful atmosphere with a vibrant breakout area. The peaceful atmosphere leads for a tranquil work and professional cooperation, while your team's health, wellness, and productivity are tracked by the ergonomic Herman Miller furnishings and advanced design. On top of that, it also has a vibrant breakout area that provides informal connections and breathing space between meetings
Rate: from S$540 monthly per pax
Address: 101 Cecil Street #15-01/05 Tong Eng Building Singapore 069533
So there you go! We've given you 10 options for you to choose. Go ahead and book these awesome offices with us before anyone else does! If you need further assistance on finding your ideal office space in Singapore, give our Space Expert Jia Yiee a call at +65 8779 8960. Otherwise, you may send her an email at jiayiee@flyspaces.com. Feel free to visit FlySpaces to look at our broad rundown of other spaces as well. Also, get our exclusive deals by subscribing to our newsletter here.