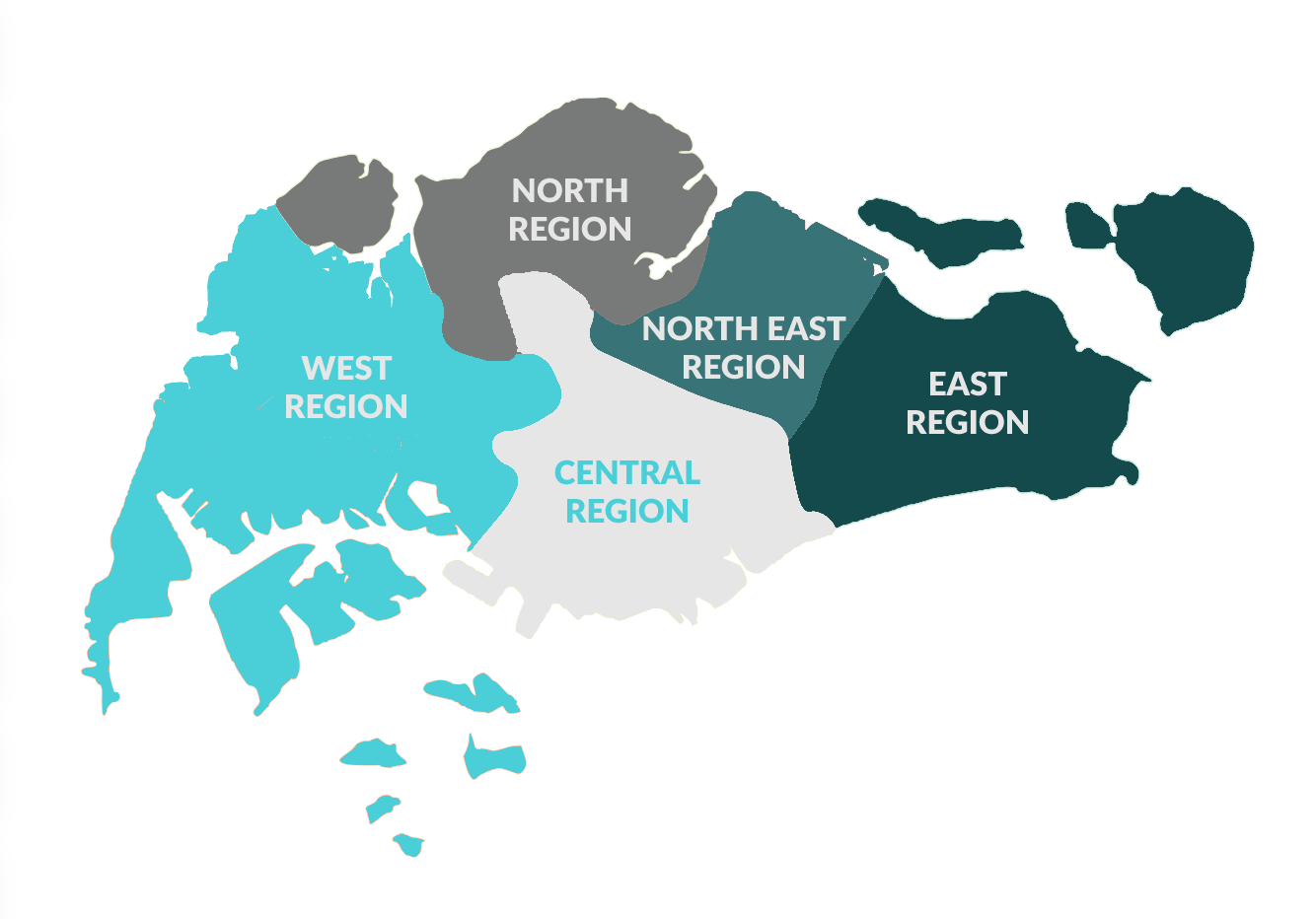 The East of Singapore also identified as districts 14 to 18 are densely populated residential and commercial areas. Distinct landmarks like the Joo Chiat conservation area, East Coast Park and Changi Airport amongst many others, make the East a highly desirable postcode for many locals, foreigners and even businesses.
Singapore's constantly improving public transport amenities and infrastructure mean that the East along with other parts of the island are increasingly connected. For example, the upcoming Thomson- East Coast Line on the MRT allows commuters to travel from Bedok to Woodlands (East to West) directly without having to change buses or trains. The construction of the North- South corridor, which will be connected to the East Coast Parkway, will cut traveling time by an average of 10 to 15 minutes.
As if saving crucial minutes in the morning wasn't incentive enough, traditional office rental rates in district 14 to 18 average at S$4.50 to S$8 per sqft per month, while CBD and city fringe traditional office rental rates are an average of S$7.50 per sqft per month. With location and rent being the top criteria in the search for an office space/ workspace, more efficient travel options and lower rental costs make all the difference. It's no wonder that the east is a viable alternative for businesses.
At the Easternmost point of Singapore is Changi Business Park (CBP). Launched in the late 90s as a home for high technology businesses, data and software enterprises, CBP has since expanded to become the preferred location for many large financial institutions to set up their regional offices. This includes Standard Chartered, DBS Bank, Credit Suisse, Citibank and JP Morgan.
Apart from CBP, other prominent commercial developments have been appearing all over the east districts to accommodate the growing demands of businesses to decentralise their workforce, a trend reinforced by the pandemic.
Neighbourhoods featured:
Paya Lebar
Less than 15 minutes away from Raffles Place MRT, Paya Lebar is the first stop, setting the tone for the East. Primarily residential, the area is also becoming a strong commercial centre with the development of landmark buildings like Paya Lebar Quarters 1, 2 and 3, Paya Lebar Square and Singapore Post Centre at its doorstep.
Companies like SMRT, CBRE and JLL have chosen to be located here and are now major tenants in the grade A buildings of Paya Lebar Quarters 1, 2 and 3 owned by Australian developer Lendlease. Some businesses choose this are to consolidate and house their corporate departments, where the rental rates are competitive compared to the central business district. Serviced office and co-working space operators like Spaces and CSuites have also chosen to set up shop in these buildings, catering to people who want an office space/ workspace near, yet away from, home.
The neighbouring Singapore Post Centre, is a mixed-use commercial building featuring 14 levels of retail and office space. It has 245,000 sqft of office space spread between levels 5, where an auditorium is located, all the way to level 14. In the more recent years, there has been an increase in both commercial and residential developments in Paya Lebar, an observed continuous positive correlation.
Asking Rates of Traditional Offices:

Joo Chiat
Joo Chiat is well known for its stretches of conservation shophouses. Rows of vividly painted traditional architecture instantly brings a historical atmosphere to the neighbourhood. Common finds in the area include restaurants of different cuisines, boutique bakeries, hipster cafes and even local old school food establishments that have been around for decades.
Characterised by low-rise commercial and residential buildings, this area is a favourite with startups, small and medium enterprises, many within the creative industries. Resonating with the artistic vibes, co-working space operator Crane has recently set up a branch in one of Joo Chiat's heritage shophouses, providing hot desks starting from S$3.80 per hour for those seeking highly flexible work solutions. Another co-working space operator in the area is IWG who operates Spaces which offer both private offices and desks within the location. Traditional office options in this area can be found in smaller buildings, such as 118 Joo Chiat, a neat 5 story freehold within a landed residential area that features both fitted and bare office units for rent.
Also, within Joo Chiat is I12 Katong, a shopping mall which has recently been revamped and now home to the Core Collective, a co-working space for fitness and wellness professionals. A short walk away is Parkway Parade, perhaps the tallest commercial building in the Joo Chiat skyline. A mixed development, it comprises a 17-story office tower and a 7-story mall.
Asking Rates of Traditional Offices:
118 Joo Chiat

-

From S$2.70 per sqft/ month

Parkway Parade -

From S$5.40 per sqft/ month
Eunos
Served by its own MRT station is Eunos, a densely populated neighbourhood in the east. Named after its founder, Eunos was originally known as "Kampong Melayu" and was a large Malay village. Featuring more HDBs (high-rise government housing) and lower expatriates residing in the area than most of its neighbouring estates like Joo Chiat and Kembangan, Eunos is rich in local flavour.
Speckled with hawker centres and coffee shops, one can expect plenty of economical lunch options. Within Eunos are several low-rise office and industrial buildings with rental rates starting from as low as S$2.50 per sqft per month for a 630 sqft office. Singapore Handicrafts Building is a six-storey B1 industrial building. The spaces available are suitable for light industrial operations, furniture manufacturers or even to be used as ancillary offices. Other buildings such as 100 Eunos are located along the same street with 3 to 4 meter high ceiling units that can be fitted out as a loft-esque office space or serve as an air conditioned warehouse.
Asking Rates of Traditional Offices:
Tampines
The third-largest and most populated new town in Singapore, Tampines is a popular location for its recreational properties like Downtown East, Gallop Stable, D'resort chalets, Pasir Ris Town Park and many more. Part of the area will undergo major transformation as it is included in the plans by URA to redevelop the Paya Lebar Airbase. To begin in 2030, this huge redevelopment includes a commercial hub that results in increased job opportunities in the area.
Currently, Tampines is a mix of high rise residential developments, industrial buildings and large commercial properties. Surrounding the MRT station are 3 shopping malls, a bus interchange and office buildings like Tampines Plaza 1 and 2. Refurbished in 2021, Tampines Plaza now features elegantly designed new lobbies and enhanced facilities like basement drop off points. Keeping up with the Grade A buildings in the CBD, an innovative building within the vicinity is Asia Green. It is a Platinum Greenmark office development comprising two 8-storeys office towers. Highly sought after by tenants looking for an office space in the East, Asia Green was built with sustainability and wellness in mind. It offers traditional office space as well as co-working space under JustCo.
Asking Rates of Traditional Offices:
---
FlySpaces is SEA's leading tech-enabled commercial real estate agency that aims to connect you with a vast network of landlords and flex operators across key cities in the region to find your perfect working space. Download the free guide below to learn more about the trendiest co-working spaces and serviced offices beyond Singapore's Central Business District.