GoWork, Pacific Place

Jakartans are no strangers to the odd-even policy which has been implemented since May 2016 to replace the 3-in-1 policy. In preparation for hosting the 18th Asian Games, the Indonesian government has intensified the policy as a necessary means to anticipate and accommodate the increased traffic flow in Jakarta. By now most of you should already be aware of the alteration made to the rule but for those who aren't, the vehicle restriction odd-even policy area has expanded to include places such as Arteri Pondok indah, Jl. Rasuna Said, and more. To top it all off, it will be in place for 15 hours a day (including weekends), starting from 06:00 - 21:00 with the intention to ease mobility for travelling athletes and officials. Refer to the map below for more information.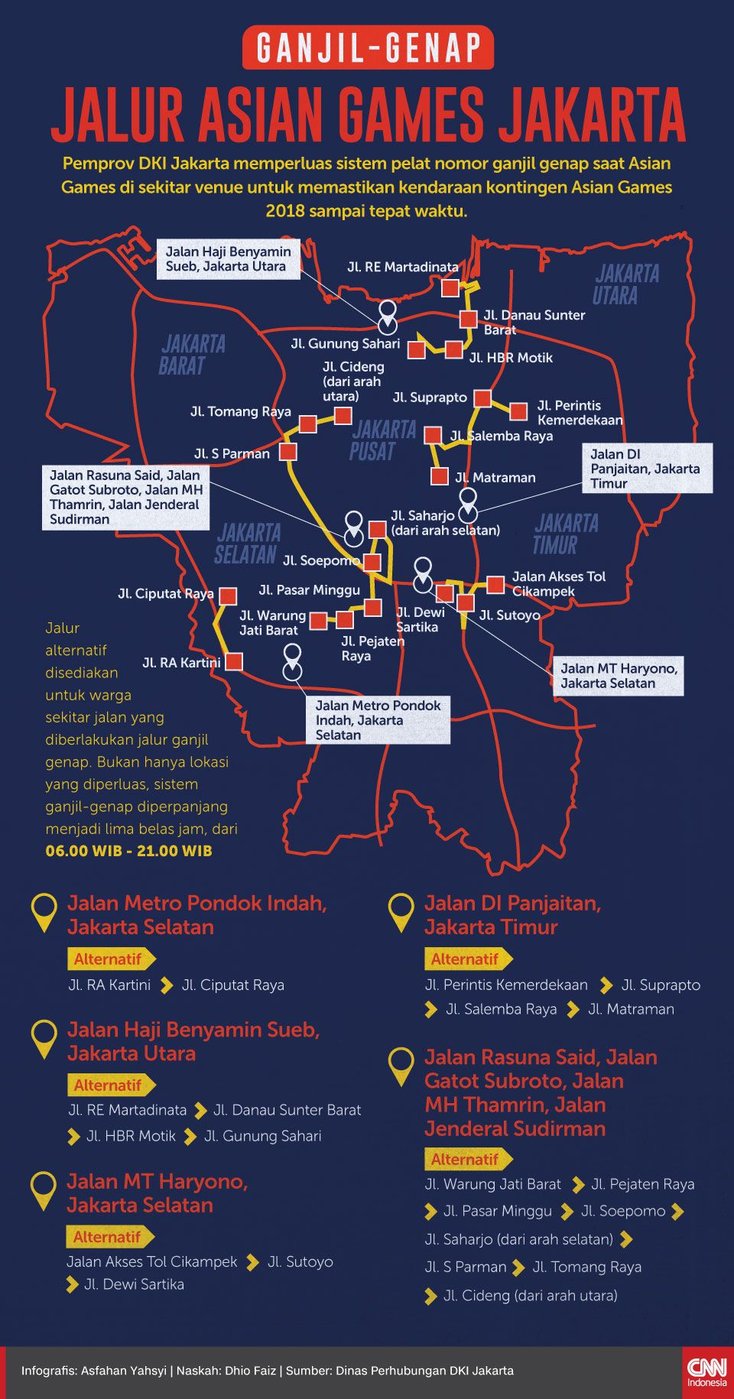 Photo source: CNN Indonesia

The adjustments to the traffic scheme system have caused a considerable amount of inconvenience when it comes to commuting around these areas, which isn't necessarily a bad thing all together. This new implementation caused fewer traffic accidents and encouraged people to use public transportation options - TransJakarta observed an increase of almost 34,000 passengers on Monday, 06 August compared to the previous Monday. However, being shoulder to shoulder in a train with the heat and stifling humidity isn't ideal.
So if you're looking for a suitable space to get some work done, conduct a meeting, or have a social gathering during the period of the Asian Games, we've listed some of the most charming workspaces where the odd-even policy is not an issue (as long as you avoid the odd-even routes on your way there).
Surrounded by the new emerging CBD infrastructure in South Jakarta, this Connext branch is located in the intersection of Jalan Pangeran Antasari and Jakarta Outer Ring Road (JORR). This provides simple and convenient access to both inside and outside of the city with passing through odd-even policy areas.
Where: Alamanda Tower, TB Simatupang
Quickly establishing themselves as a household brand in the coworking scene, UnionSPACE is rapidly expanding not only in Indonesia but also around Southeast Asian countries like the Philippines, Malaysia, and Singapore. It's not hard to see why, they have a strong identity about their spaces that is very likeable.
Where: Pantai Indah Kapuk
Following their first location in Chubb Square, Thamrin which is right smack in the odd-even zone during or not during the games, GoWork recently opened a second location in Pacific Place Mall. It features absolutely stunning interior design, quality furniture, and even a Woodpecker cafe where you can get your daily dose of caffeine! Dare we say it's among the top spaces that has opened this year.
Where: Pacific Place Mall, SCBD
Need a space to host your business meeting? Try booking this impressive meeting room in Servio Serviced Office. The team adopts a 'give-before-asked' mindset to facilitate your meeting requirements. This space is also great to conduct your day-to-day if you're looking for an office in South Jakarta.
Where: South Quarter, TB Simatupang
Coworking spaces have taken flight beyond Jakarta! Take Cocowork for example, possibly the biggest local player in the industry, which has opened in BSD City, located in The Breeze - an open shopping and dining mall concept in South Tangerang area. For those that have never been there, we highly recommend it!
Where: The Breeze, BSD City
Conclave coworking space adopts a simple and pragmatic design with affordable pricing for private offices. The space is also situated in one of the most happening places in Jakarta with fantastic dining options, chic cafes, and bustling nightlife so it doesn't always have to be about work!
Where: Jalan Wijaya, Senopati
Situated in West Jakarta, this coworking space features a design that is aesthetically pleasing to the eye with very creative out-of-the box graphics. They host a variety of events every weekend to keep the community engaged, so if you need to host one or are looking to learn something new then look no further, this is the space for you!
Where: Lippo St.Moriz, Puri
Host your event in this charming and cozy space that is strategically located in the South of Jakarta. The location features interesting cafes and places to hangout before or after the event. They also have a unique concept of private office design.. in an container box. Very creative.
Where: Jalan Bangka, Kemang
Establishing themselves as one of the local champion in the coworking scene, Kolega has over 20 branches spread across Indonesia, they have successfully delivered value across all their spaces ranging from ones in grade A buildings to some of the more affordable options.
Where: Graha Capital 2, Kemang
Whether your need is for a dedicated desk, private office, meeting room, or even virtual office, this space has it all. Werkspace has expanded to 3 other locations in Jakarta that all feature a consistent, clean, and minimalist design across all their spaces that is worth a second look.
Where: Jl. Pluit Indah Raya, Pluit
If you're looking for more workspaces outside the odd-even policy areas in Jakarta we certainly have more, just drop us an email and our Space Expert will provide you all the information you need! If you know of other fantastic spaces that meet the criteria, we'd love to know in the comment section below!
That's all folks!