The demand for flexible office spaces in the Philippines has exhibited strong growth in the last 5 years - and this isn't purely driven by startups and freelancers. In fact, an increasing number of big companies and MNCs are now looking for more flexible, short-term offices for rent rather than the more traditional options. Why?
One bill: All the costs are included in one monthly bill with no hidden charges meaning the tenant doesn't have to worry about unexpected electricity bills.
Flexibility in leasing: As suggested by the name, flexible office spaces come with flexible leasing terms. A company opting for such a space can lease it anywhere from a month to a year whereas traditional office spaces require the tenant to lease the space for at least 3 years.
No upfront cost: Serviced offices come with everything included in the space itself. This means that the tenant doesn't have to spend those huge amounts on furnishing the space chairs, tables, printers, etc. Rather they can start working from day one.
Full service: Serviced offices focus on everything from reception to repairs. The tenant can focus on core work without spending valuable time and energy on unnecessary details.
Read also: Southeast Asia's Top 70 Coworking Spaces and Serviced Offices
The Demand is Now
In 2019, the change in accountancy norms require a company to recognize all leases as debt in their balance sheets. However, flexible office spaces are excluded from this as they have a short term lease period.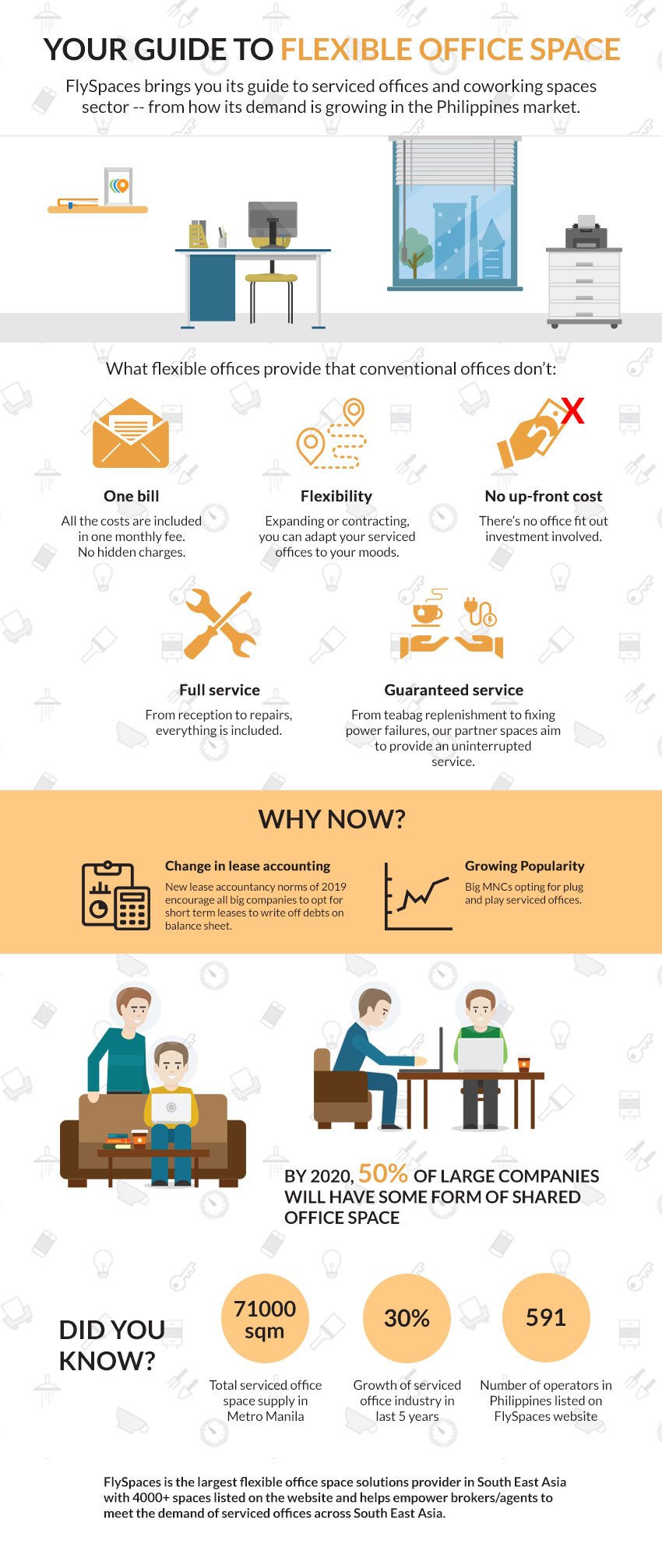 Read also: Why Everyone Needs a Reality Check on Coworking
After growing for 5 years consecutively, the demand for flexible office space is the strongest this year. This means that more and more companies are looking to shift to these alternatives for their office needs. FlySpaces is growing hand-in-hand with this demand with over 4000 spaces listed on the website. As the largest flexible office space solutions provider in South East Asia, we empower brokers and agents to meet the growing demand of serviced offices across the region.
For any inquiries about flexible office space or how we at FlySpaces support brokers, feel free to set up a quick chat with me and I'll be happy to answer any of your questions.