WORQ, Subang Jaya
You've just heard that your business event is a go. Now that you've gotten the green light from your manager, you can get down to planning. Oh wait, where should you start from? Don't be stressed out just yet, beforehand you need to have strong insights into why do companies hosting an event? Will it be worth the money? As we all know, hosting an event will generate new business opportunities and boost conversion. Let's dive deeper into it further down as we've compiled 12 inexpensive event venues in Kuala Lumpur, keep scrolling!
By hosting an event, your company's or product's advantages can be showcased to your event attendees which indirectly can build transparency between company and client. Don't rely too much on the traditional mediums as they don't comprehensively portray the benefits of your brand in such an interactive way. Transparency surely leads to personal trust. Become acquainted with the guests, then they know they can trust your brand. So now, you are more likely to contract real leads after the event.
An event is also a great place to gain genuine feedback from your customers as you can ask them in person or use interactive tools such as live polls and product testing. When you provide helpful solutions and warm welcomes to your guests, it will grow your brand loyalty. Never forget to "sell" your product and services, promote your social media and share your content during the event! On the promotional part, don't hesitate to dish out coupons and discounts to your attendees, too.
---
Read also : How to choose right size venue
---
You can now head to planning for an event. Firstly, clarify and review your goals. Ask yourself and your team what is the purpose of the event? Secondly, determine your guests. Who will be attending? What is the age range? Thirdly, define your budget. Sit down with your team, discuss the overall budget in the first place so that it will ease you for the next step. Finally, choose a venue that complements your budget, purpose of the event, and theme. Sometimes choosing a theme can be tricky, but you can be inspired once you have your venue locked down! If you align your venue and your theme, not only will your event feel like a breath of fresh air, you can be guaranteed it will be talked about for months to come. Following these three elements will benefit you in picking a professional yet memorable event theme. Getting the "so what" of your event down on paper will help you identify the big ideas it ties into.
Ever cross your mind what would be the types of events usually being held in Malaysia? Since Malaysia is a historical country with various ethnicities and cultures, thus the people celebrate different festive events. By taking that into consideration, companies will also do an event along with the festival season, for example, Chinese New Year, Deepavali, Eid, Christmas, Merdeka, Labor Day, and many more. Apart from that, as part of a brand awareness movement, businesses will hold an event for product launches. Meanwhile, to keep maintaining good customer relationship, companies will spend their money and time just to provide a memorable yet fun event as to engage with their customer such as movie night, beer pong games, and a lot more. Not to mention, to keep employees engaged and up to date, some companies hold trainings or seminars within a new atmosphere to help boost their motivation towards a lot more productivity!
---
Read also: Host a Party in Our Favorite Outdoor and Rooftop Event Venues
---
Still having headache in finding venues that match your budget? If you're on a tight budget, be worry-free because we've properly listed the affordable event spaces that may be the perfect fit for your event. Check them out here:

Blockspace, Gombak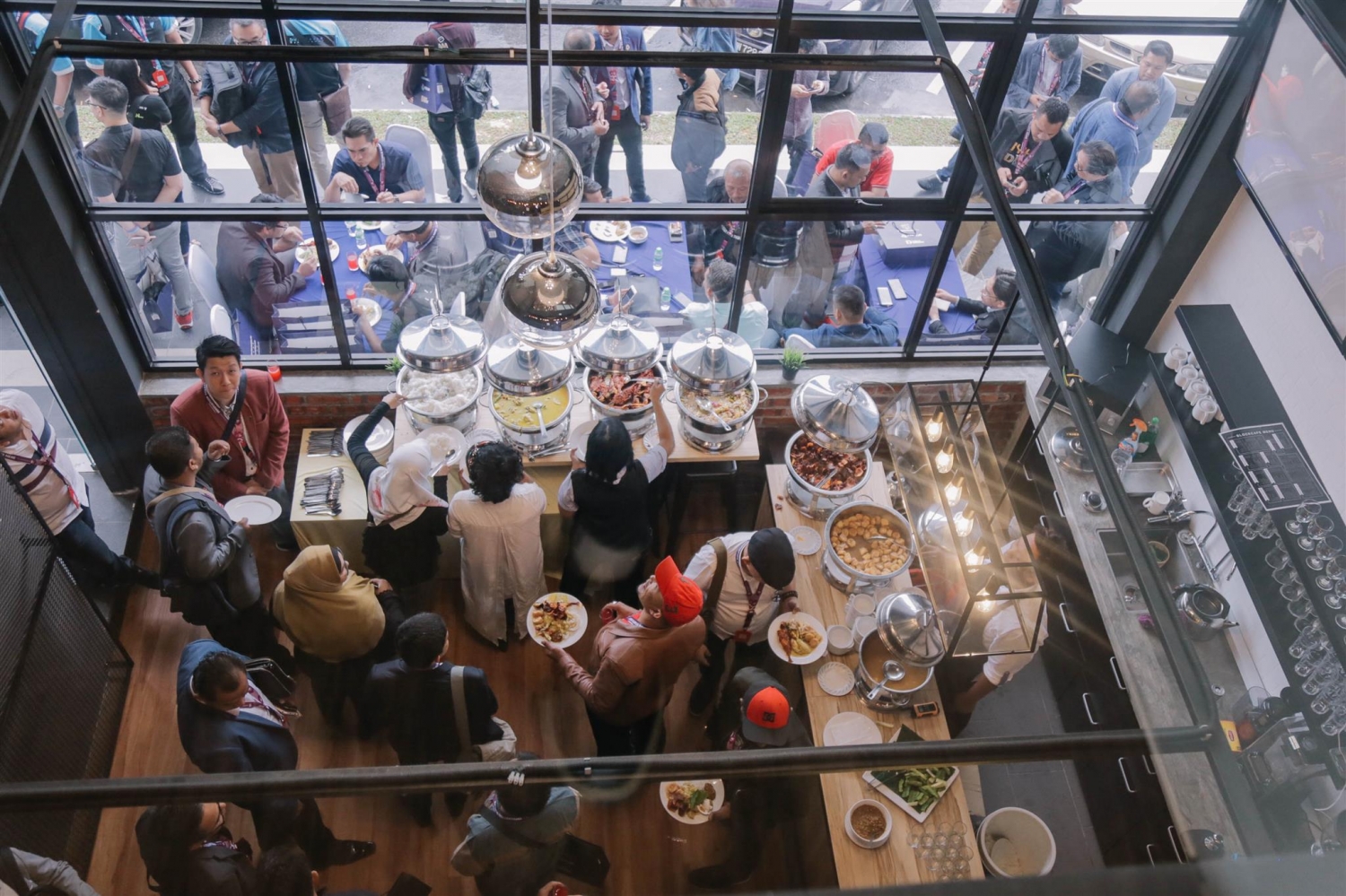 With the extended use and acceptance of blockchain technology within Malaysia's ever-growing fintech landscape, Blockspace is the first blockchain coworking space in Malaysia, located in Gombak. They came up with their own app, BCMY app. By being the user, you may enjoy discounts on their space subscriptions. With their chill area, aesthetically designed cafe with good food, auditorium arrangement space and many more, all sorts of events and business activities can be held here from just RM150 daily.
| | |
| --- | --- |
| Rate | from RM150/hour |
| Capacity | up to 170 pax |
| Location | No. 59-G, 59-1, 59-2, 60-1, Lorong Perusahaan Ringan 1, Kawasan Perusahan Ringan Seri Gombak,, Batu Caves, 68100 Batu Caves, Selangor |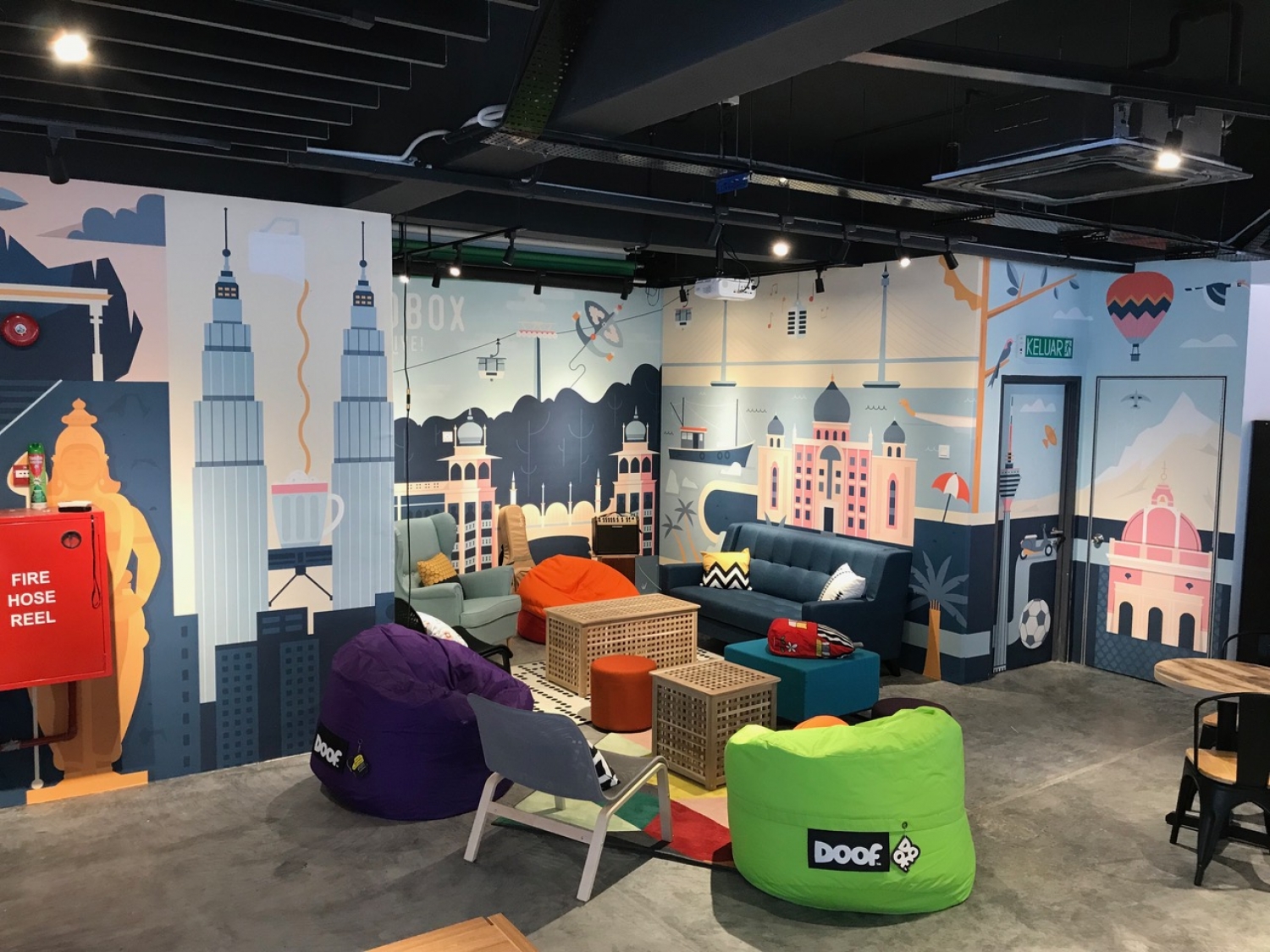 Getting bored of corporate, overly formal events? Wanna have a more laidback company party? Go for this vibrant, cozy, and fun event space. Sandbox boasts a colorful and open venue of 2,000 sq. ft. that could cater up to 100 persons. You may throw a movie night party along with some games as for the "ice-breaking" with your colleagues and clients, corporate workshops, and even product launches within this charming atmosphere.
| | |
| --- | --- |
| Rate | from RM198/hour |
| Capacity | up to 100 pax |
| Location | 22-1, Jalan Radin Bagus 3, Sri Petaling |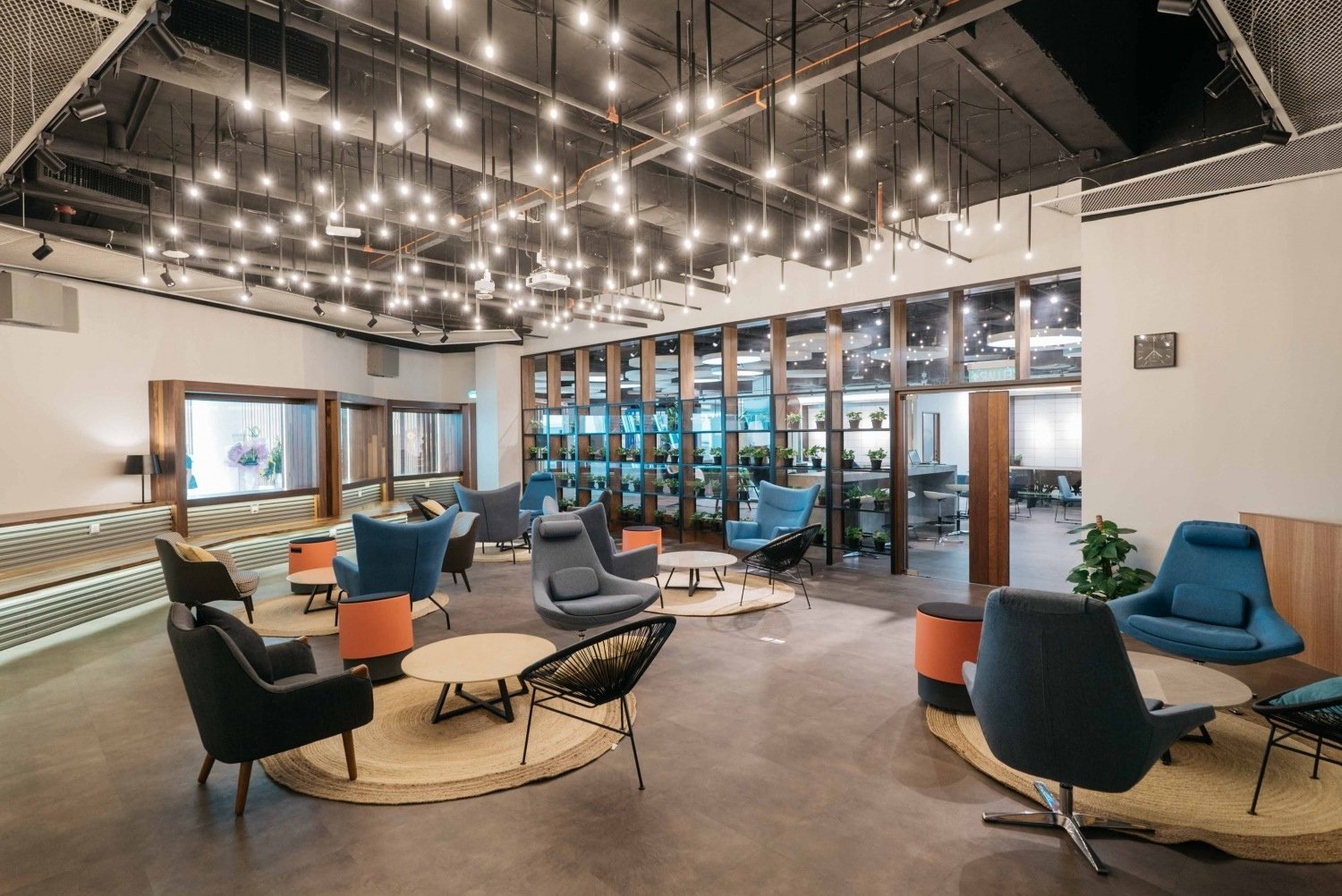 Co-Labs is a highly unique space that marries science with plants to generate a ecological environment along with high technology within the space. At Co-Labs, your event is more than just a catered affair. It's an experience - your guests can explore their laboratory-like theme which will induce a relaxing feel and a bit of fun in the atmosphere. Not to forget, there's also a game nest equipped with a PS4 and Nintendo Wii, plus, the open areas to relax and unwind with your colleagues, friends, and even clients.
| | |
| --- | --- |
| Rate | from RM900/hour |
| Capacity | up to 100 pax |
| Location | Level 4, The Starling Mall, Damansara Uptown, 47400 Petaling Jaya, Selangor, Malaysia. |

General Space, Petaling Jaya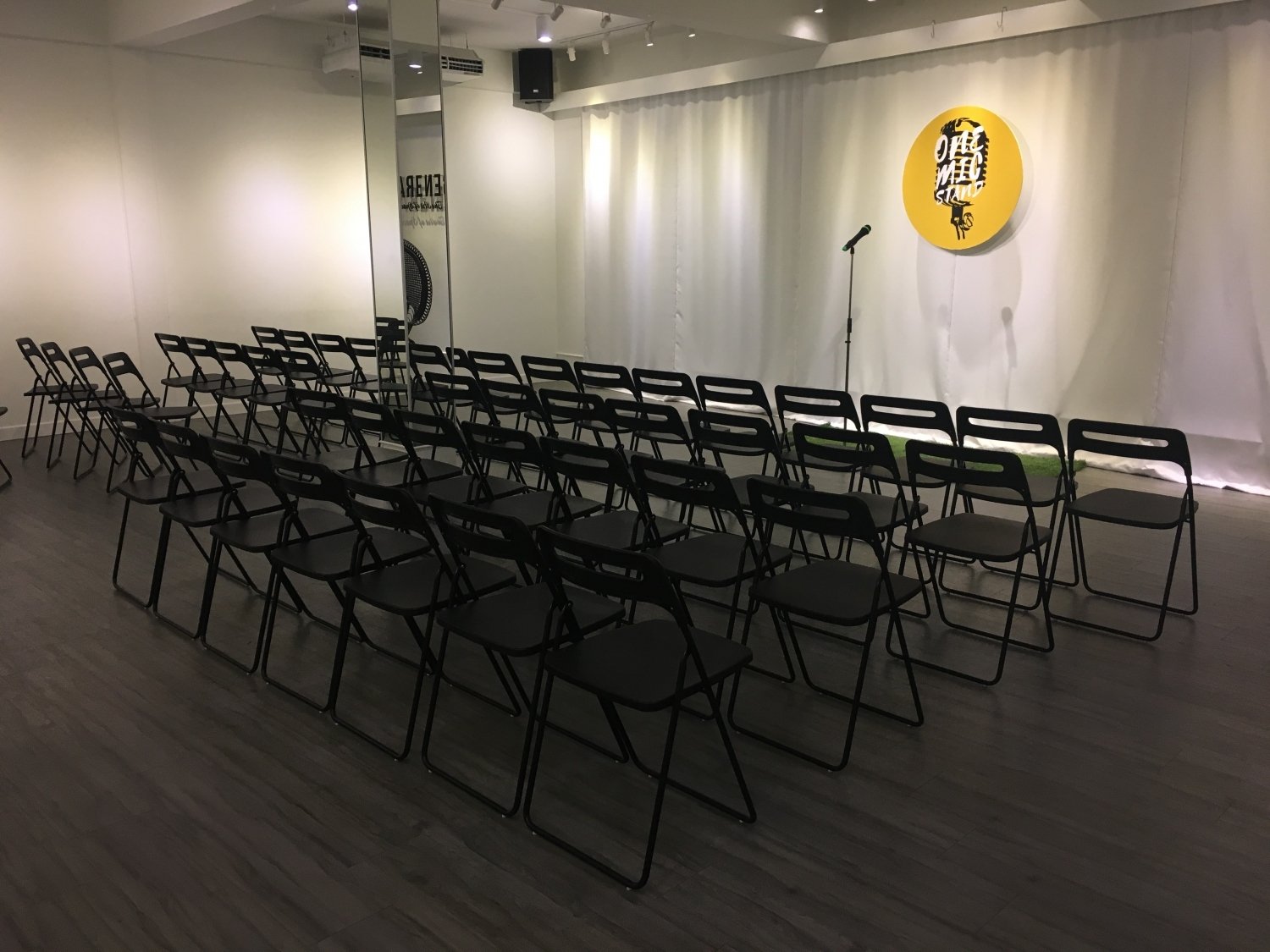 Get out of your office and motivate your audience by holding your next seminar in General Space at their training room that offers so much more than your own boring room next to the copy machine. So, now you can focus on your training while General Space takes care of the rest - PA system, chairs, projectors, microphone.
| | |
| --- | --- |
| Rate | from RM200/hour |
| Capacity | up to 70 pax |
| Location | 12, Lorong Universiti B, Section 16, 46350 Petaling Jaya |

Nakd Bar, Bukit Bintang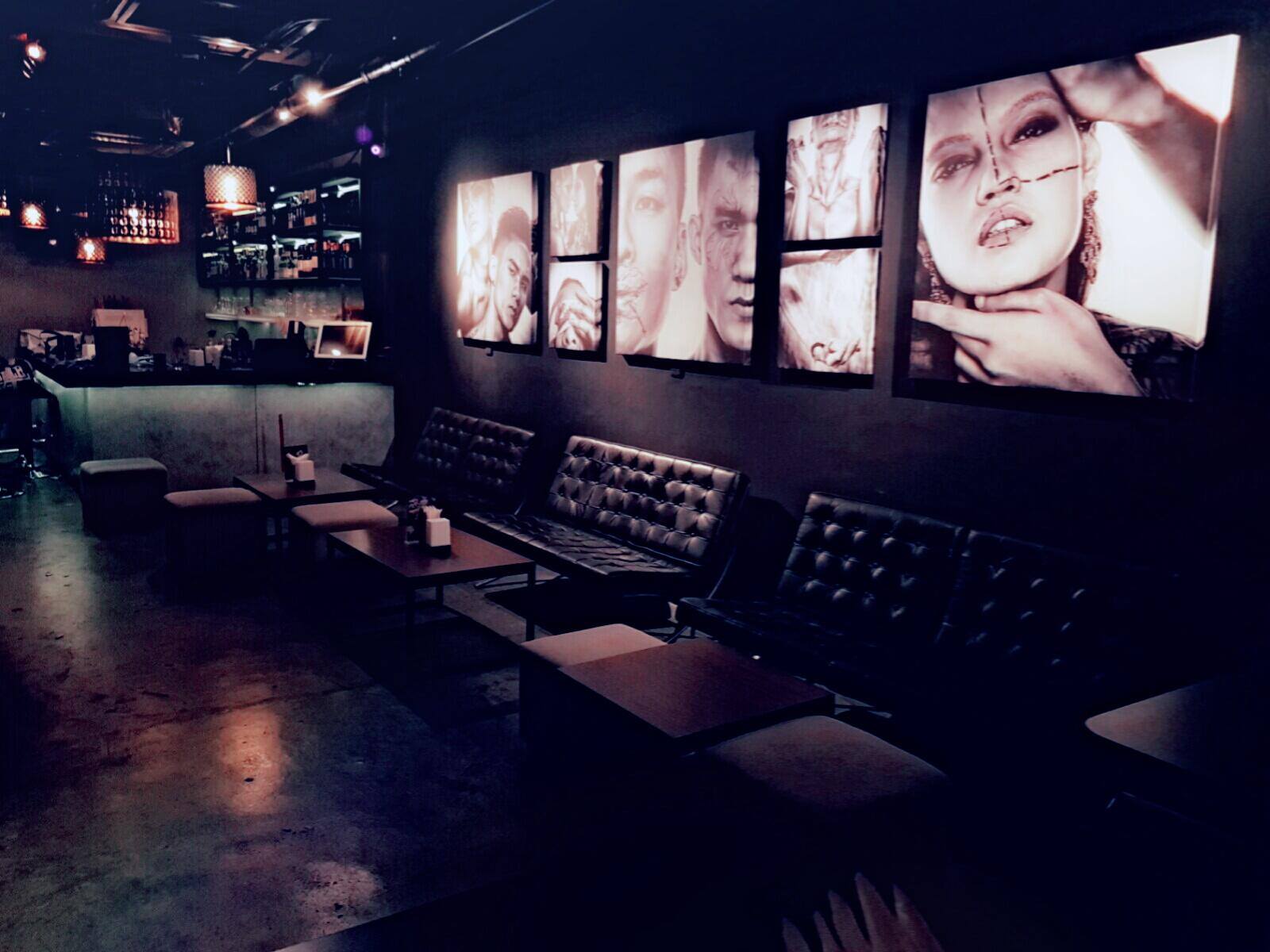 Rather than bringing your colleagues or clients to a bar that is crowded with people, let's bring the bar itself to your whole team or your guests. Rent out Nakd Bar for your upcoming farewell dinner, in-house party, and even product launching! With its dark, gloomy, and underground atmosphere, this secret bar with a great cocktails will be a perfect venue for your event.
| | |
| --- | --- |
| Rate | from RM150/hour |
| Capacity | up to 100 pax |
| Location | Ground Floor, 70 Wisma Cosway, Jalan Raja Chulan, Kuala Lumpur |

Kong Restobar, Subang Jaya


Looking for a small event venue that comes along with a caterer? Here's the place! Now you can just focus on the event itself and leave the rest to them. Kong Restobar strives to be King in Subang, serving up a slew of crowd-pleasers in a casual, fuss-free setting. Have a hearty meal, then play a game of darts to kill some time! Either individuals or companies can use this space for any occasion you have in mind since it's affordable and the food here is undoubtedly delicious!
| | |
| --- | --- |
| Rate | from RM180/hour |
| Capacity | up to 50 pax |
| Location | No 27, Ground Floor, Jalan SS15/4B, 47500 Subang Jaya |

The Story Book, Desa Park City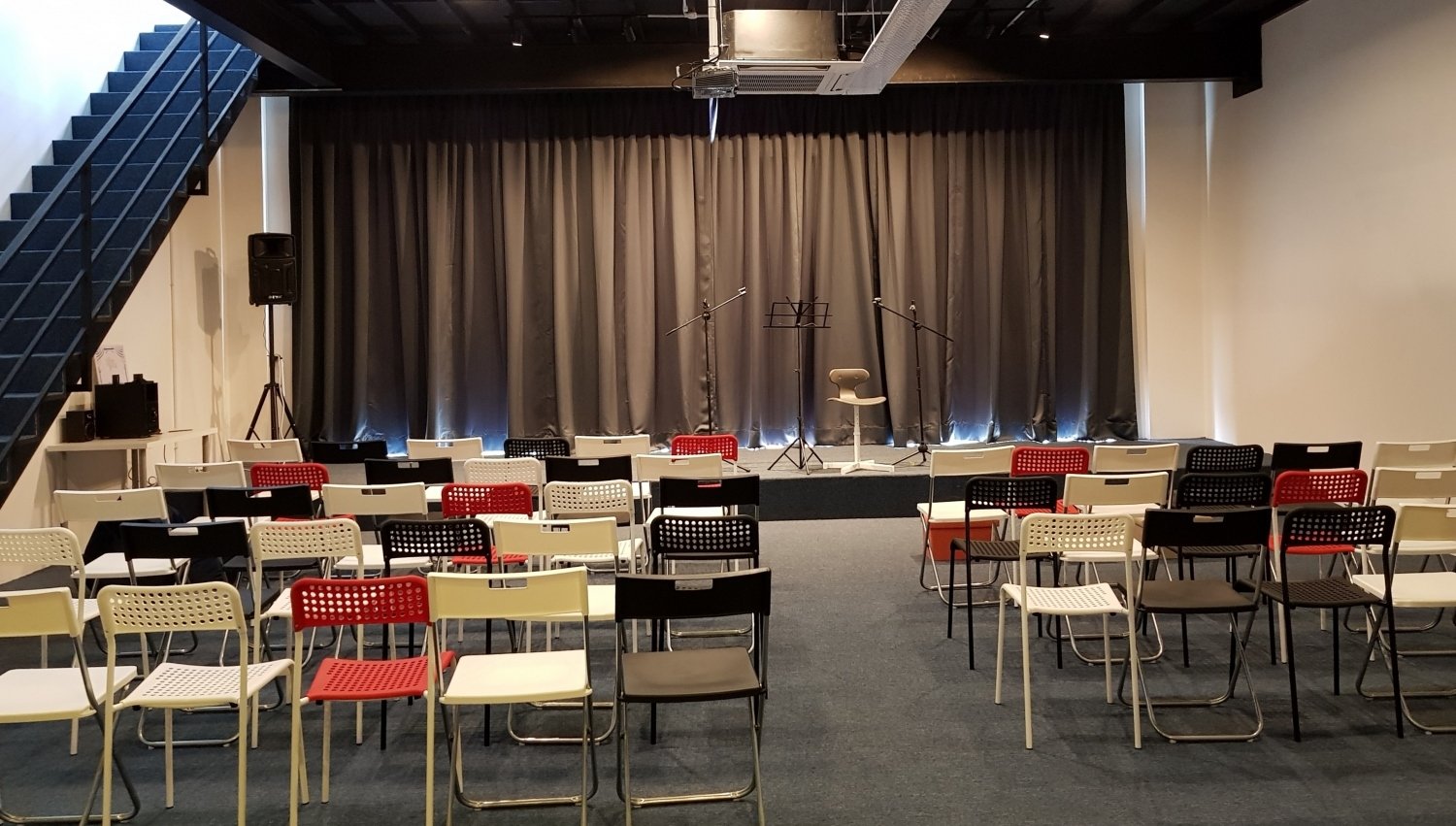 Bringing out the characters in the story book alive at this space! The Storybook, Kuala Lumpur's first storybook-themed event space - where stories from books come alive by way of activities, workshops, performances, audio books, movies, and more. Their space can also be used for corporate events, product launches, press conferences, and private talks. Upon request, with additional charges, The Storybook could provide you other services such as event planning, customized decoration, catering, and even invitations to media press.
| | |
| --- | --- |
| Rate | from RM200/hour |
| Capacity | up to 120 pax |
| Location | Plaza Arcadia, Desa Park City, Damansara Perdana |
---
Read also: The Ultimate De-Stress Checklist for Event Planning
---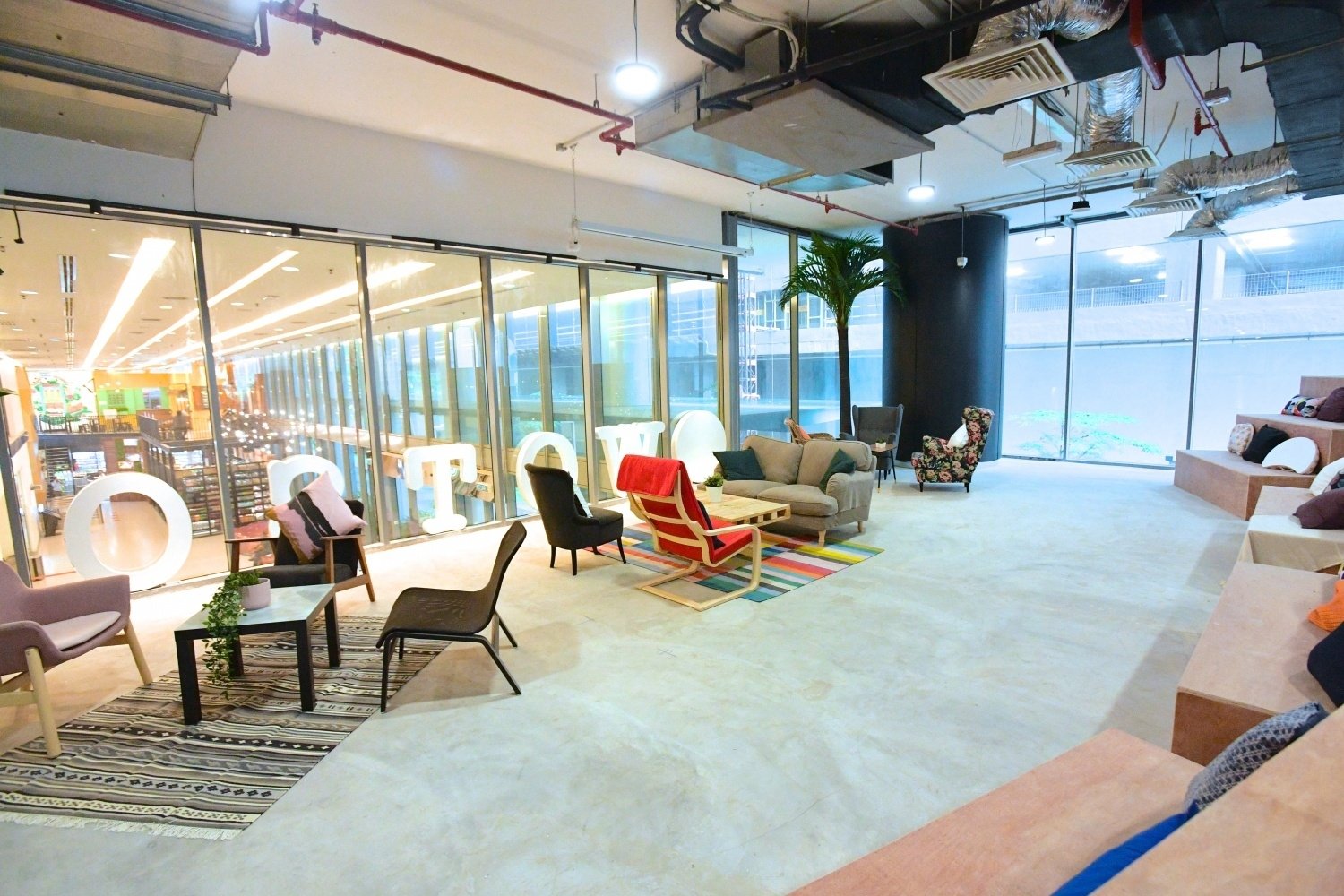 A fun and exciting event space offering clients unique spaces to host events from small to large, for the young to the young at heart – guests have the opportunity to explore exhibitions or learn something new within Wotso. All sorts of activities and events can be hosted in this insta-worthy event space. Wotso has a flexible meeting room that can be configured as a smaller room for one-on-ones and brainstorming sessions, a larger room for group meetings or the 2 rooms together, making it perfect as a presentation space. With a projector, whiteboard and catering station, you have everything you need in the space. Perfect isn't it?
| | |
| --- | --- |
| Rate | from RM150/hour |
| Capacity | up to 100 pax |
| Location | Mercu Summer Suites, 8, Jalan Cendana, 50250 Kuala Lumpur |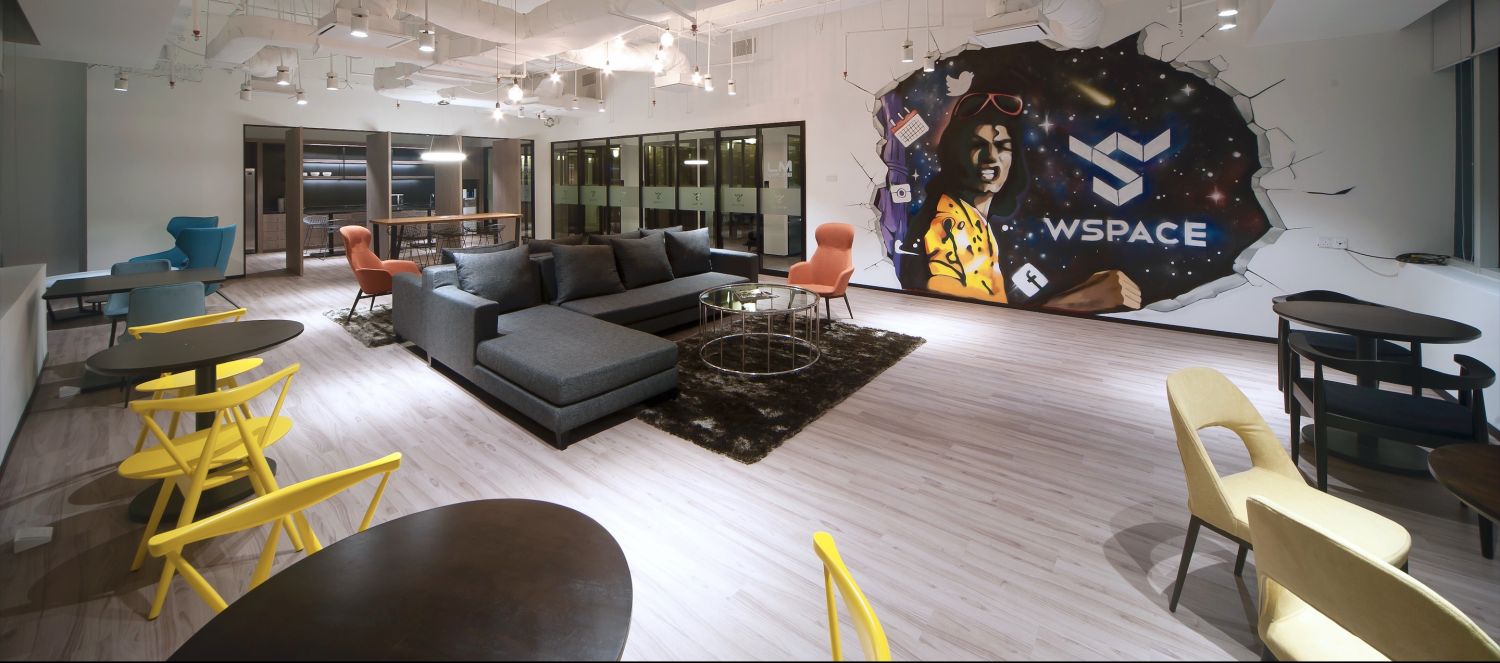 A vibrant looking space, WSpace, an out of this world venue that will take your event to the final frontier and beyond. This facility offers so much from a conference room to an event hall and, on top of that, the views are nothing short of spectacular. Host your event at a spacious hall that can be customized to meet your needs. Whether you're staging a by-invitation-only private function, dinners, product launch, conference, or looking for a unique experience event venue for your AGM, look no further.
| | |
| --- | --- |
| Rate | from RM200/hour |
| Capacity | up to 100 pax |
| Location | Centrepoint North, Mid Valley |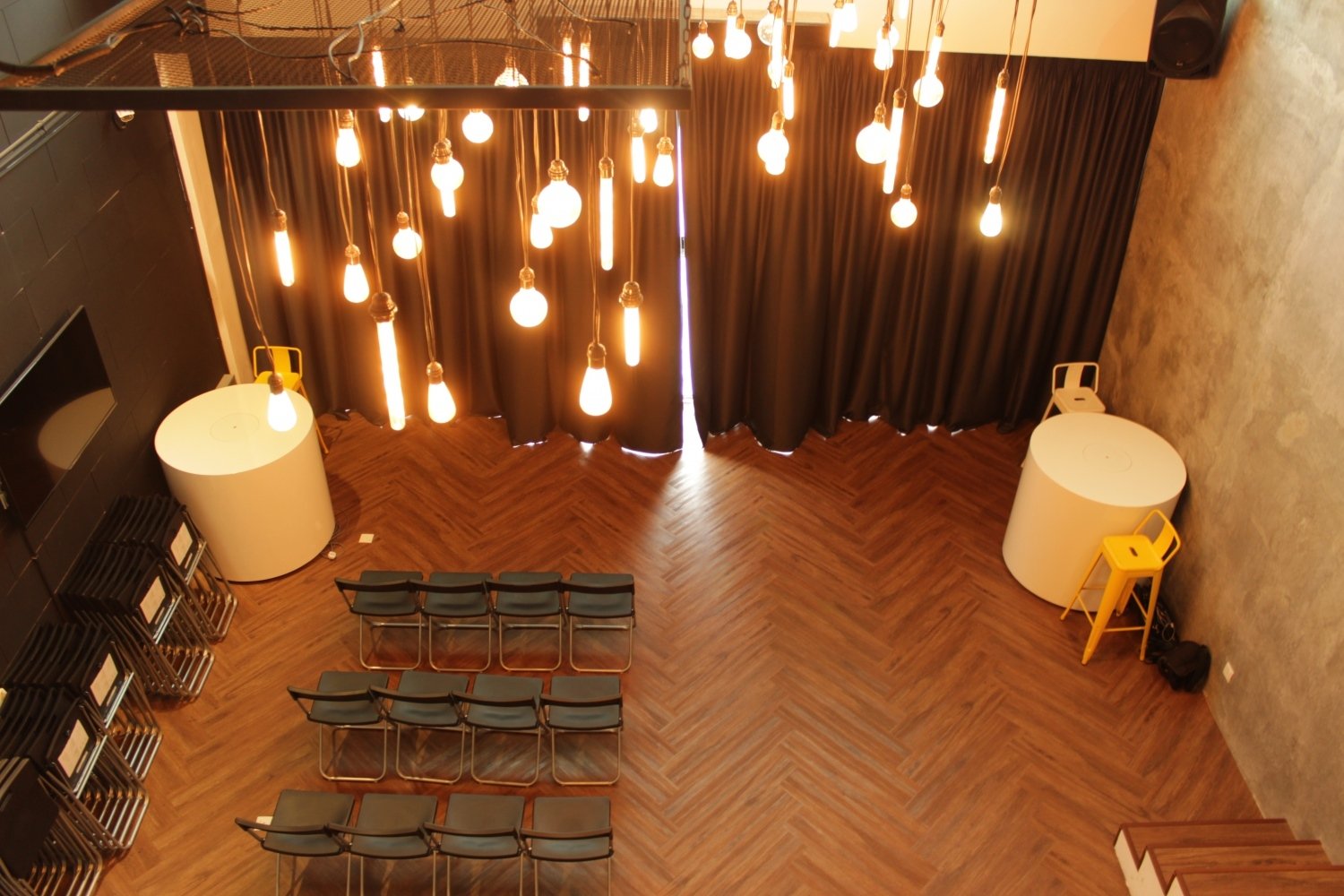 Lighting hangs down from above with yellow bulbs in assorted shapes and sizes. It's a minimalist design without being cold. At Next Academy, you can choose to either hold a presentation, workshop, training, or others and leave all the worries behind as Next Academy will make sure your event will be conducted smoothly with the facilities of WiFi, projector, sound system, whiteboards, and chairs all included.
| | |
| --- | --- |
| Rate | from RM250/hour |
| Capacity | up to 100 pax |
| Location | Glo Damansara, TTDI |

Entrepreneurs' Lab, Damansara Utama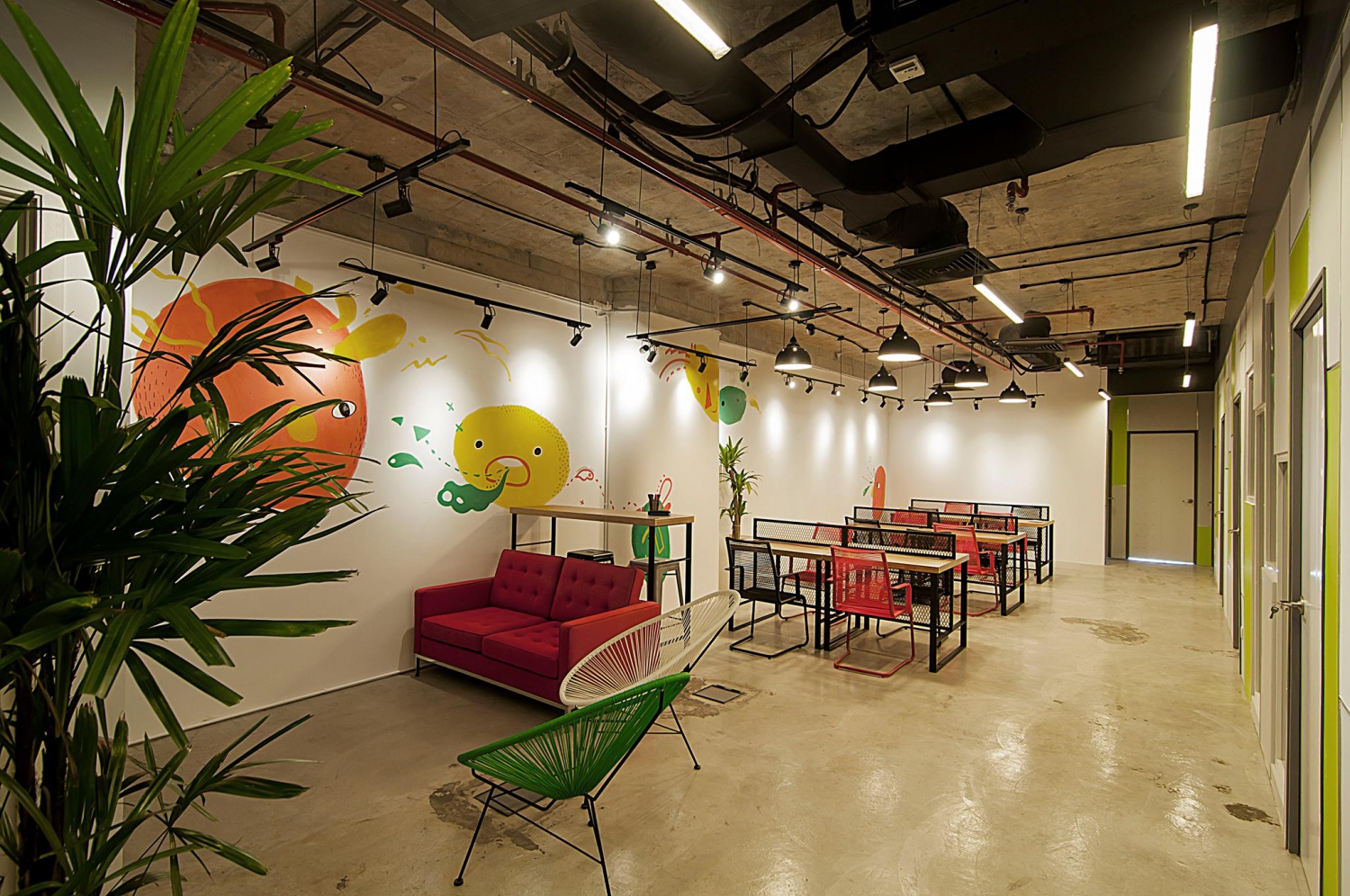 "Fun is the best catalyst for creative ideas to flourish", is what Entrepreneurs' Lab believes in. If you are planning for a small gathering with your team or clients, opt for this inexpensive event space where it is spiced up with unique breakout areas with lounge chairs, an espresso machine, and a Nintendo Wii.
| | |
| --- | --- |
| Rate | from RM125/hour |
| Capacity | up to 50 pax |
| Location | 23-3A, Oval Damansara, 685, Jalan Damansara, 60000 Kuala Lumpur, Malaysia |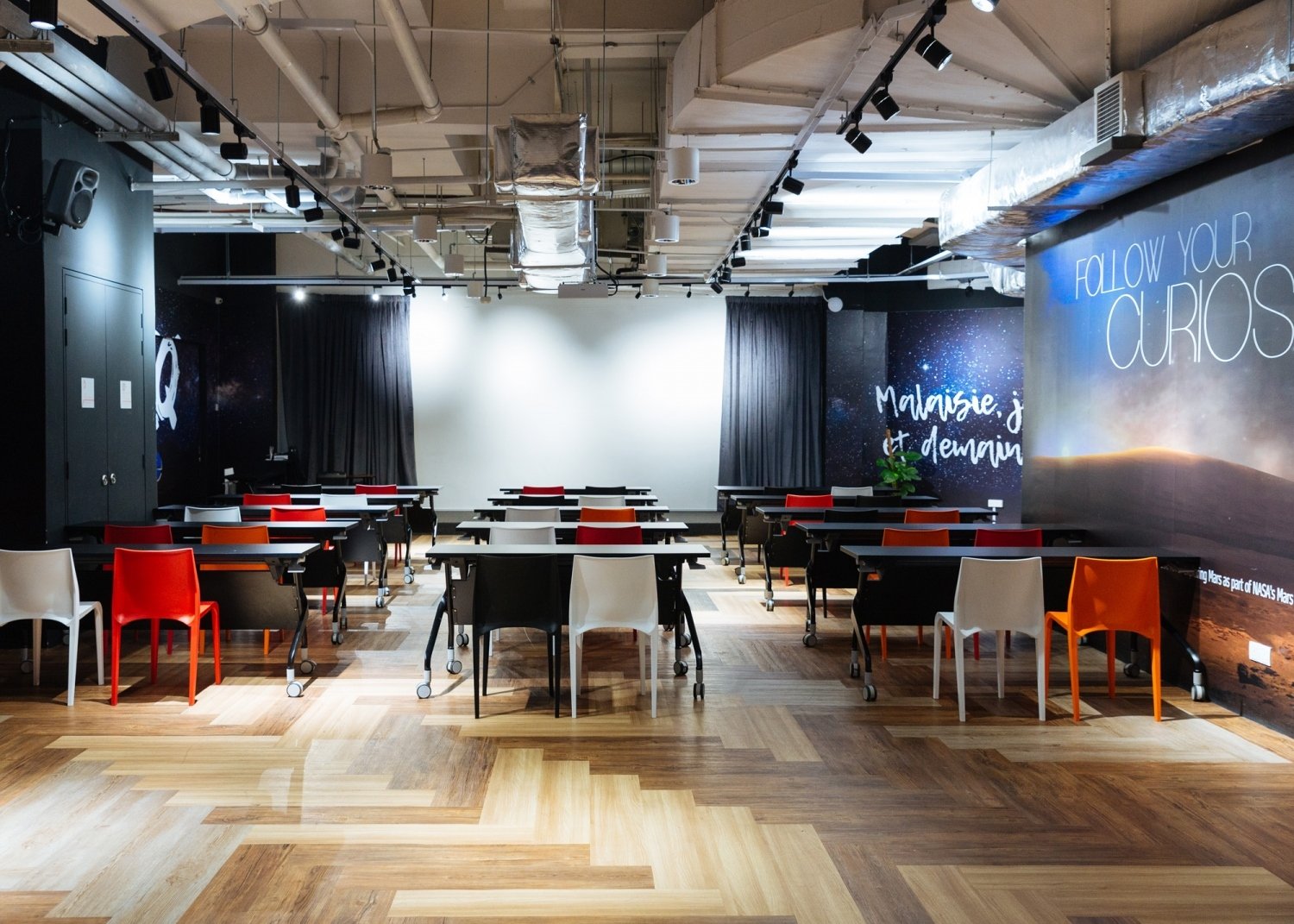 WORQ is a truly unique venue for your next event. An exciting urban setting, and contemporary spaces with 360 views will make your event at WORQ an unforgettable one. From small to large event spaces rented by the day or hour, WORQ has affordable rates to help you meet not only your event goals but also your budget goals. Guess what? It comes along with projector, sound system, and even bean bags for a casual brainstorming meeting.
| | |
| --- | --- |
| Rate | from RM380/hour |
| Capacity | up to 120 pax |
| Location | Unit 2-1, Level 2, The Podium, Tower 3, UOA Business Park No, 1, Jalan Pengaturcara U1/51a, Seksyen U1, 40150 Shah Alam, Selangor |

Find more amazing event locations across Kuala Lumpur when you browse our extensive catalogue of short-term rental spaces.