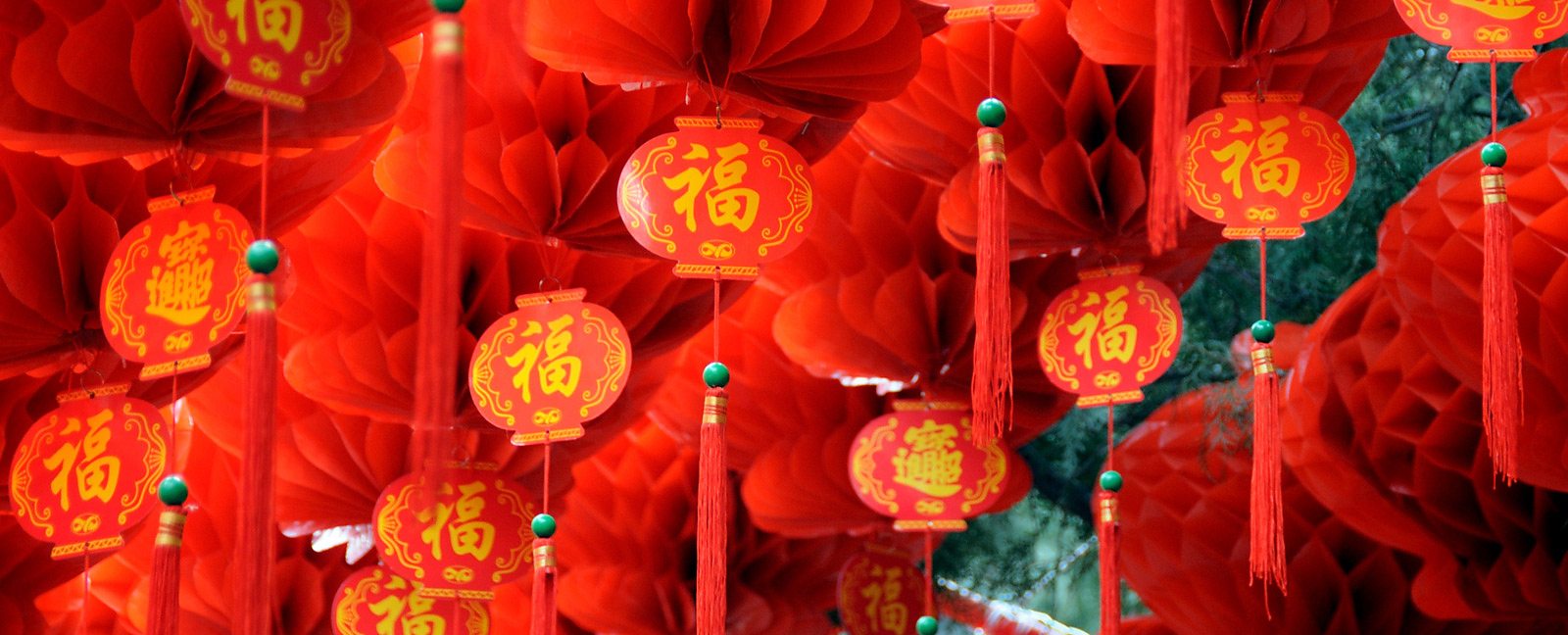 Image Credit
1 out of 5 people in the world are Chinese and if there's a holiday that holds more significance than Christmas or the New Year for the Chinese is - Chinese New Year or the Lunar New Year (surprise, surprise) that is happening on the 5th of February this year. Aside from China, the festive occasion is also widely celebrated in Chinese-majority countries like Hong Kong and Singapore and they take Chinese New Year celebration to a whole new level. Immerse yourself in the streets of Chinatown lined-up with bright red lanterns or to the sound of the vigorous drumming of the lion dance that you're guaranteed not to miss. It will also no doubt extend beyond the public space into your workplace as well so let's embrace it! Here are some things you can expect as well as some fun ideas to implement in the office.
1. Toss 'Lou Hei' or 'Yusheng' (prosperity salad)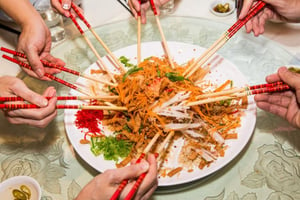 Image Credit
Nothing screams Chinese New Year like taking your chopsticks and tossing a variety of ingredients that usually includes carrot, radish, parsley, fish, and chopped peanuts into the air while saying auspicious phases like 'Congratulations for your wealth' or 'Abundance throughout the year' in Chinese or... Huat ah (which means prosperity ah)! To no surprise, much of the food ends up on the table instead of plates. It's a messy tradition but it's also extremely fun and satisfying for everyone.
2. 拜年 (bai nian)
A tradition that's commonly practised at home has recently been brought to the office as well. Bai nian is a tradition of Chinese New Year greeting to the elders by presenting a pair of oranges along with some auspicious wishes in return for red packets containing lucky money. In the office setting, employees will bai nian to their bosses or seniors and while it's not an obligation for bosses to give red packet, it's always a nice gesture for good fortune.
3. Office Reunion Lunch or Dinner
Be prepared to put on weight during Chinese New Year from all the savory spring rolls and dumplings as well as the sweet delicacies such as tang yuan (rice balls) and sponge cake during family reunion dinners. If you haven't had enough, don't worry, you can always arrange a reunion meal upon returning from the holidays with your second family - your colleagues! It's a great way to bring everyone in the office closer together and feel like one big family.
Read also: Event Venues to celebrate Chinese New Year
4. Hire Lion Dance Performers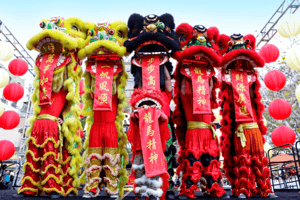 Image Credit
There's a good reason why companies love to hire a lion dance performance during Chinese New Year aside from entertainment. Chinese people believe that the lion brings prosperity and good fortune to the business for the upcoming year, I'm sure that's something every business out there could use! With that said, the lion dance is often also performed at weddings, birthdays, and other auspicious occasions.
5. Dress Up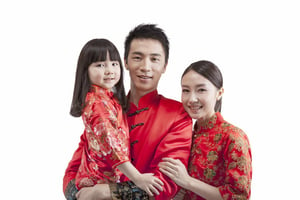 Image Credit
Wearing new clothes for the Spring Festival is significant as it expresses the popular Chinese New Year notion of leaving behind the old and welcoming the new. If you're still looking for that perfect outfit go for something with more of a traditional flare like táng zhuāng or qí páo, and for colour, definitely red. Encourage everyone in the office to turn up in their favourite outfit and maybe have a mini friendly competition for the best dressed in the office to spice things up a little!
6. Office Spring Cleaning
Chinese New Year is also known as the Spring Festival and for a good reason - yes, spring cleaning! Often practised at home to drive away the bad luck from the house and make space for the new. While it is not the most enjoyable activity but it makes you and at peace (both mentally and physically) when you've done the due diligence. Surely you can benefit from having an organized office space and I am sure your office needs a little tidy up anyway, right? A word of advice - do it before the start of the holiday as it's considered bad luck to do during the holidays.
Read also: How to Choose the Right Size Venue for Your Event
7. Decorate the Office
On the note of office spring cleaning, it's the perfect opportunity to decorate the office and put everyone in the mood for the festivity! If you're not sure what to put up, Chinese red lanterns are a good start, hang it on the office main door and it will drive away bad luck - so they say. Other common items include (each of them symbolizes something):
Door couplets - best wishes for the coming year
Paper cuttings - luck and happiness
Kumquat tree - good luck and wealth
Blooming flowers - a prosperous New Year
8. Serve Chinese New Year Snacks
Chinese New Year is not complete without the delicious snacks that comes along with it. Yes, it's time to stock up that empty pantry! Let's start with my personal favorite - bakkwa or rougan, a roasted meat snack which is usually pork, to put it in western context, it's similar to a jerky but better (arguable). Since it's the year of pig, I'd say all the more reason to do it!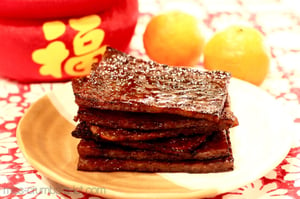 Image Credit
A close second would be pineapple tart: soft and buttery on the outside and sweet on the inside (salivating). Of course, the other Chinese New Year treats are nice to have too, such as:
Sunflower seeds
Dried longans
Assorted sweets
niángāo (年糕) - steamed new year cake
And that's all 8 of them! On behalf of FlySpaces, I would like to wish you all a happy Chinese New year and a prosperous year ahead!
If you're looking for a venue to host your Chinese New Year party, don't hesitate to send us an email at info@flyspaces.com and we'll help you find the perfect one for your needs and your budget!