In the last decade, Bonifacio Global City in Taguig has become a new mecca for entrepreneurs to grow their businesses. It is one of Metro Manila's fastest growing financial hubs with a 240 hectare world-class business development area that's home to upscale shopping centers, hotels, condominiums, offices, and schools.
Companies have been flocking to Bonifacio Global City (BGC) or "The Fort" to establish a presence in the hottest commercial community in the metro. Jones Lang LaSalle (JLL) has disclosed in its 2015 property market update that renting a Grade A office space is more affordable in BGC (P850 per sqm) compared to Makati (P1,000 per sqm). With its abundant supply of modern office spaces at fairly affordable rates, BGC is poised to emerge as the country's next premier business hub.
The influx of businesses has paved the way for the rise of dining, social, and fitness establishments to fuel the needs of professionals and residents who want to relax, have fun, and keep healthy after a long day at work. Whatever you need, this well-developed community is guaranteed to satisfy your every whim. Discover what BGC has in store for the professionals who work in this amazing central business district.

Doing Business in BGC
The World Bank recognized Taguig as one of the best places in the country in which to do business. The city ranked first on the institution's recent Ease of Doing Business study for the painless procedures it requires to launch a business.
Bonifacio Global City Skyline

A number of top multinational corporations have already transferred their operations to BGC including Coca-Cola, Hewlett-Packard (HP), and Sony Philippines. The Philippine Stock Exchange and several government agencies such as the Securities and Exchange Commission, and the Supreme Court are also on their way to relocating their offices to BGC.
---
Read also: Humans of Coworking: Ignition Venture Studio
---
Startups have established their presence in BGC as well, including Zendesk, Ensogo, and Freelancer.com. More small-scale businesses have been able to operate in BGC through coworking and shared offices. These spaces provide budding startups with a collaborative working environment where they can build their businesses and operate in a corporate setup.
A Medley of Flavors at the Fort
Todd English Food Hall Manila
Bonifacio Global City is abundant with delectable dining options to sink your teeth into. It's a foodie's paradise, with hundreds of international and local restaurants setting shop to feed hungry professionals and residents living in the area. You can find American restaurant chains like IHOP, Applebee's, and The Halal Guys across collaborative coworking spaces and shared offices at Bonifacio High Street. Another global brand you should check out is Manila's first celebrity chef restaurant, Todd English Food Hall which is located inside SM Aura. It's a communal dining space with well-curated food stations that offer a wide array of dishes for you to choose from. They have salads, sushi, grilled steak, seafood, and burgers, among others. We highly recommend the Fig & Prosciutto Flat Bread and Roasted Pumpkin Tortelli!
If you're looking for a more wholesome or lighter fare, check out Green Pastures in BGC. It's a farm to table restaurant concept that uses organic and carefully sourced ingredients to prepare the guilt-free and mouthwatering dishes. For a cool and quirky dining experience, a few minutes walk from prime meeting facilities in BGC is Genki Sushi. Here, they serve sushi and other Japanese food staples through a conveyer belt with small trains that deliver your food. You order from a touchscreen tablet and wait for the train to arrive with your dish. Try their best-selling Spicy Salmon Sushi, and anything with pollock roe on it!
No food trip in Bonifacio Global City is complete without stopping by Mercato Centrale, it's the biggest night food market in Manila where you can enjoy scrumptious dishes from local businesses. Enjoy huge servings of Filipino street food fare like chicken intestines, pork's blood, and quail eggs, as well as an assortment of rice dishes and international choices like burgers, burritos, pizza, paella, takoyaki, and many more. Mercato Centrale is open every Friday and Saturday, from 6PM to 3AM.
Home to Manila's Trendiest Nightclubs and Bars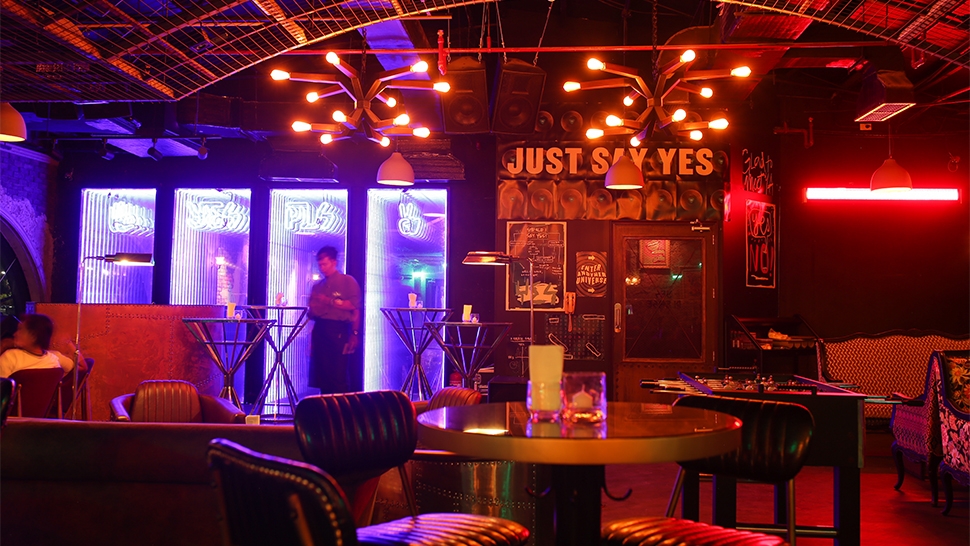 Yes Please, Uptown Bonifacio
The fort is synonymous to nightlife and clubbing. It is the go-to destination for Filipinos looking to cap off the week with their friends at a dance party in one of BGC's swanky nightclubs. For the ultimate Friday night out, head over to The Island (previously known as Palace Pool Club), Revel, or Yes Please - all of which are located in Uptown Bonifacio. Rub shoulders with celebrities, models, and the "it" crowd every weekend while dancing to the music of international guest DJs.
Forbestown, Burgos Circle
If you want a more toned-down vibe, you should check out Fort Strip. It has a good mix of casual bars and pubs such as Craft and Cable Car, as well as popular spots like Aracama and Early Night. You can also go to Burgos Circle for laid-back hangouts like Rue Bourbon, Big Bad Wolf, and Tipsy Pig.
Shop Till you Drop
SM Aura Premier
BGC offers a unique shopping experience with its varied mall developments across the district. Just a few blocks from your spacious short-term office is Market! Market! It was one of the very first retail establishments in the Fort; it houses several commercial brands for clothing and apparel, food, gadgets, home appliances and furnishings. It also has a movie theater, gaming center, and activity center for mall shows and concerts. For more upscale brands, head over to its neighbor SM Aura Premier. With over 300 stores, the shopping center holds popular brands, both local and international, that cater to shoppers who follow trends and the latest styles.
Bonifacio High Street
Right beside modern shared office spaces is Bonifacio High Street, a commercial center at the heart of BGC that's made up of four shopping sections. The first two sections are open-air shopping districts, while the third block is a mixture of open-air and indoor commercial buildings dubbed as the Bonifacio Central Square, where you can shop at popular high end stores such as Pottery Barn, TWG Tea, Michael Kors, Kate Spade, and Marc Jacobs. The fourth block is a mixture of open-air and indoor commercial-residential buildings.
The City of Art
"The Trees" by Reynato Paz Contreras
Through the years, BGC has been actively collaborating with artists to immerse the area with public art by local painters and sculptors. "The Trees" by Reynato Paz Contreras was the first sculpture BGC commissioned and unveiled back in 1997. Now, the city is brimming with art installations and graffiti to showcase the talent of our local artists.
There are several interactive installations found in Bonifacio High Street. "Bearable Lightness" by Reg Yuson and Ronald Achacoso is a sculpture that you can step on. Up to four adults can climb on the cantilevered structure of wobbling flat metal as they are suspended above ground. Reg Yuson's "Hearsay" is made of green twisted pipes growing out of the ground. You can speak into one end, and be heard at the other.
"Between the Lines" by Cyrcle
You will also find a number of street art around BGC. The unique and beautiful murals by international and local artists are a product of ArtBGC NextAct ONE Festival, a week-long mural festival held back in May 2015 organized by the Bonifacio Arts Foundation. Perhaps the most famous of the bunch is "Between the Lines" by Cyrcle. People flock outside Icon Plaza Building just to take a photo for Instagram and Snapchat.
Fitness Haven for Health Buffs
Flying Trapeze Philippines
Image credit:

Interaksyon.com
There's no shortage of fun and healthy activities you can do around BGC. From jogging through the Fort to breaking a sweat at one of the fitness centers in the district, there is sure to be a great workout that fits your lifestyle. Ever thought of joining the circus? Learn how to fly at Flying Trapeze Philippines, the first and only full size trapeze rig in the country. If you're just starting out on the path to a healthy lifestyle, a great introductory activity would be Physique 57, one of the latest barre studios to open in BGC.
Here at BGC is one of the first indoor cycling boutiques in the country. Electric Studio will help push you to your limits and work muscles all over your body. Learn a variety of physical activities such as boxing, muay thai, Brazilian jiu jitsu, mixed martial arts, and circuit training at Fight Factory or over at Flyweight. After an intense sweat session, reward yourself with a visit at The Spa.
Fight Factory, BGC
Thinking of settling in at The Fort? Finding a balance between doing your job and enriching your life is made easy here. There are a multitude of things you can do that will help you establish that perfect work-life balance and prosper not only career-wise, but with life in general.
Find out more about workspaces in BGC. Visit FlySpaces and book the perfect workspace that fits with your business!

Editor's Note: This post was originally published in March 2016 and has since been updated for accuracy.