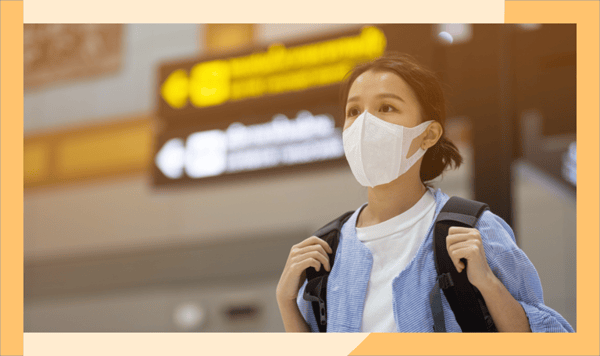 Just as we are passionate about helping business find the perfect co-working space, TruTrip is driven to provide intuitive travel services that protect businesses, and care for their employees.
As businesses are cautiously returning to the workplace after months of lockdown, a big question remains: Is business travel still essential while the world is still battling a pandemic? After all, the past few months have shown that working from home may be a viable option.
That being said we, along with our travel management partners at TruTrip, see business travel as still an essential enabler for businesses to survive. Research has shown that business travel yields a 12x return of investment, while face-to-face meetings result in +2x higher conversions.
Previously, we've talked about how rapid adoption of health and safety measures by coworking spaces and serviced offices can help provide employers and employees alike peace of mind, when it comes to workplace re-entry.
If your business is going one step further by resuming travel for business recovery, here are a few key considerations from TruTrip to keep in mind.
3 Tips to Start Resuming Business Travel
Manage risks before and during travel
Right now, the world is still full of uncertainties, where COVID situations in a particular region can change at any time. This further complicates how travel managers prepare the team for travelling as the health and safety of the travelling team members would be one of their key concerns. It is important for the employees to be able to feel safe and empowered to travel for work.
Prior to any trips, arrange pre-travel briefings/training sessions so your employees know exactly what is required before, during and after the trip. This is also important so that they are prepared for any potential risks they might encounter.
TruTrip has a useful traveller dashboard with risk intelligence and up-to-the-minute travel information for destinations worldwide built in. You'll also have access to a central dashboard, which will give you an overview of current or future travel risks for your employees.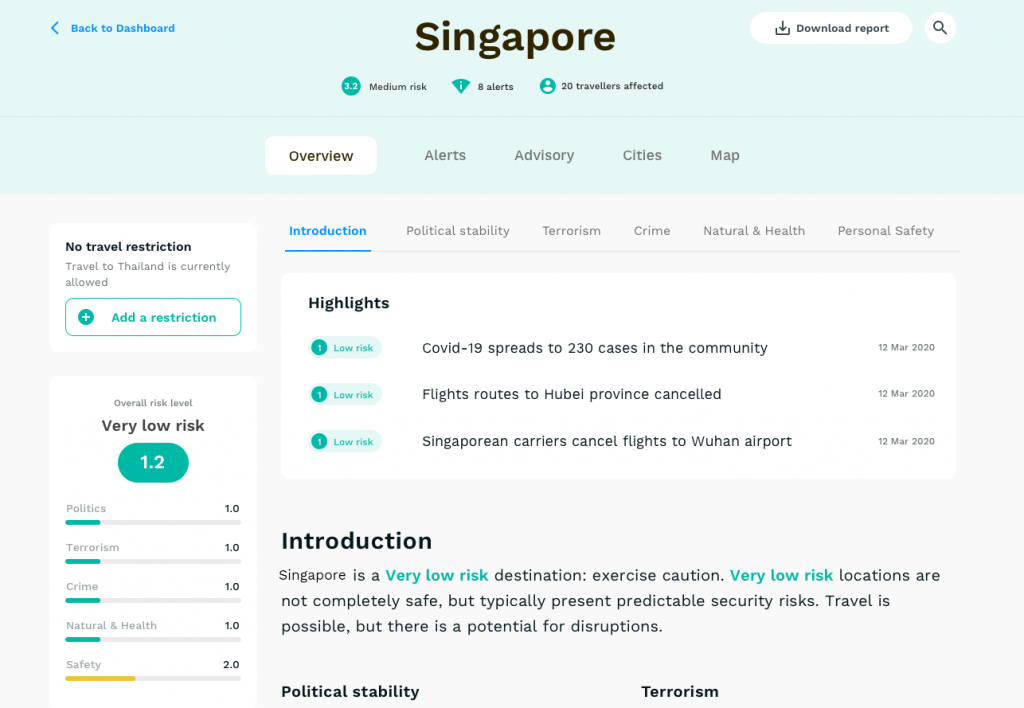 Find a travel platform that provides flexibility in travel bookings
Many travel managers may be hesitant to arrange trips more than a few days into the future, as borders can still open or close at any time. Managing multiple refunds and cancellations is a waste of time and resources, and any compensations often take months to process too.
Carefully selecting travel options that are flexible is one option, but truly flexible fares often come at a premium. Finding flights with the flexibility can also be tough if you're using aggregators for example, but good partners like TruTrip offer the different fare options side by side making it clear and easy to see the incremental cost.
If flexible fares are a bit too much for you, you may want to consider what your travel partner can do. TruTrip, for example, offers a flexible booking option, even during Covid as long as your trip was permitted at the time of booking. Their TruFlex gets you at least 80% of your fare back and most of the time you have the money in your account within 24 hours of cancelling. Flexible booking options like these can save you 50% vs booking flexible fares!
Improve efficiency with built-in travel policies
Even before the pandemic business travel was a complicated affair, with many different scenarios that made it difficult for one policy to effectively cover. Manual approval was often part of the process, making it a hassle for management and employees alike.
By building your own travel policies and automating them, you can save time and money while providing easy visibility of your team's movements.
TruTrip allows you to build your own travel policies, no matter the size of your business. You can include countries or cities that are safe to visit, and exclude any regions affected by COVID-19. You can also integrate the latest visa and COVID-19 entry restrictions, so bookings can be made seamlessly.
---
We're excited to be partnering with TruTrip, both proudly Southeast Asian companies, to help businesses in the region transition back to workplaces and business travel after the pandemic.
For all your business travel management needs, find out more about TruTrip's solutions here. TruTrip is currently offering a free trial for a limited time, so there's no better time to give it a try, and set up your business' travel management system.
Don't forget to complete your business travel arrangements with a serviced office that meets your needs at FlySpaces. Our FlySpaces Passport gives you instant access to the best coworking spaces across Manila, Singapore, Jakarta and Kuala Lumpur, so you can work in your favorite office even on a business trip. For more info on FlySpaces Passport, find out more here.