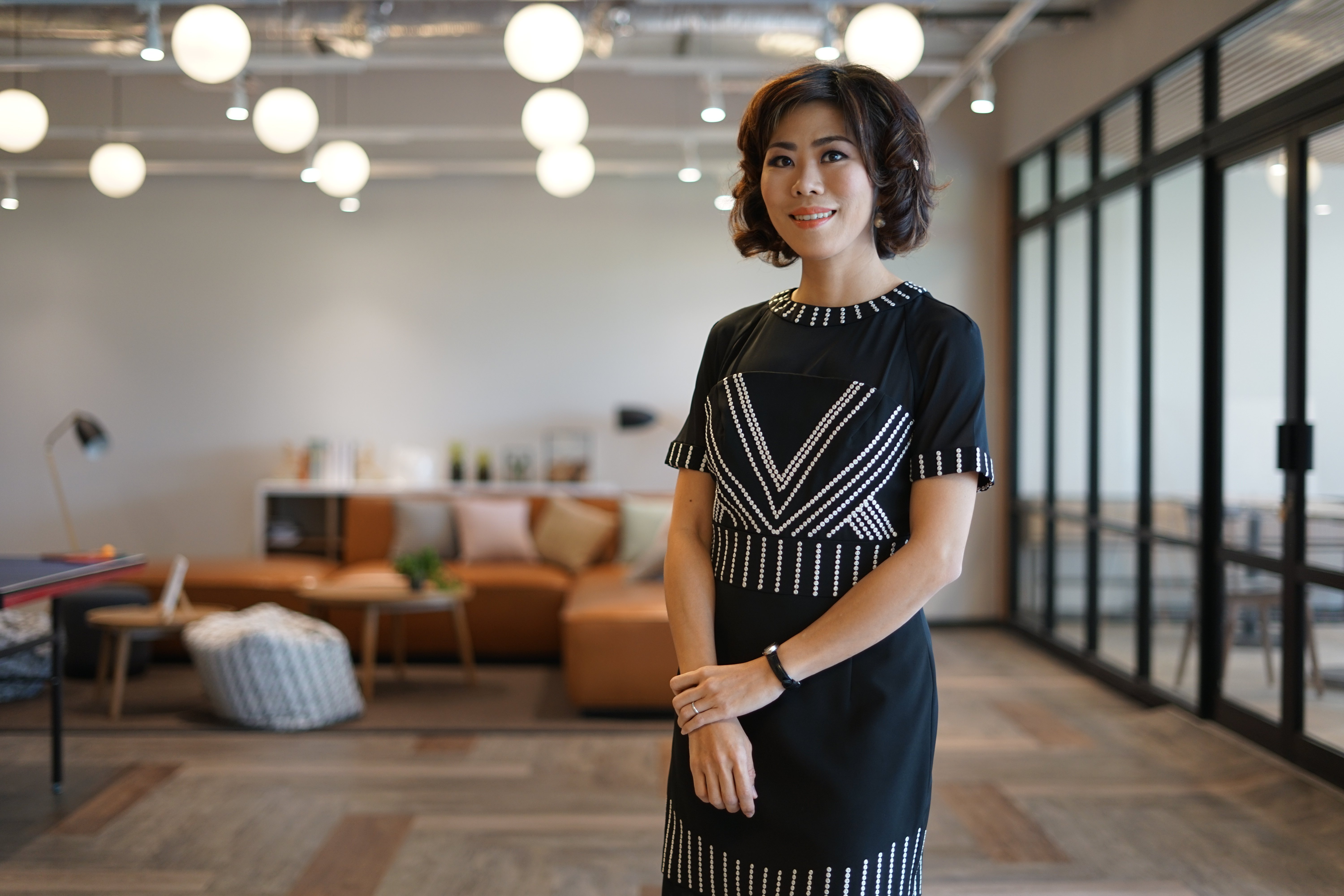 Since childhood Vanessa Hendriadi, CEO of GoWork, has gone out of her way to bring people together - starting from her involvement in student organizations to now helping others achieve their goals. Combining her passions with knowledge she gained from her family business in real estate, Vanessa opened GoWork's first location in 2016, known then as Rework. Now with 5+ locations around Jakarta's major business districts she has plans to increase this to 20 by the second half of 2019.
FlySpaces: How do you see coworking in Jakarta, or Indonesia as a whole?
Vanessa Hendriadi: The coworking industry in Indonesia has experienced tremendous growth this year from the number of coworking spaces to the size and footprint of existing players. Despite this, the supply of coworking spaces in Jakarta accounts for less than 1% of total office space supply, meaning there is still a remarkable amount of growth ahead of us.
FS: What made you decide to open Rework?
VH: My real passion is connecting people, and connecting with people. Ever since I was a teenager I have been passionately involved in building communities, starting with my involvement in student organizations through to my adulthood where I continue to bring people together around common interests; be it in the form of an active board role with professional clubs, to organizing events, and even starting a club myself. Currently, I actively manage three associations in business and special interests.
I have a technical education and background, but for as long as I can remember, I always wanted to do business and be an entrepreneur. When I came back to Indonesia more than 10 years ago, I had a big responsibility for market expansion in the family business I worked for. That role made me well aware of opportunities in real estate and gave me a strong interest to learn more, and grow my network and knowledge in real estate.
When I saw the concept of coworking space in the US and learned that this business will allow me to put my passion at work, utilizing my knowledge, and making a huge impact to people's journey of growth, I knew I had to do it. I find a lot of meaning in what I do everyday and I am fortunate to be able to live my purpose.
Read also: The Golden Triangle of Jakarta: Your Guide to Work-Life Balance
FS: What do you see in the future for Rework, especially after you closed your Pre-Series A round of $US3 million with UCommune (previously known as URWork)?
VH: The successful closure of our Pre-Series A round provided an exciting end to 2017, just ahead of our more recent news announced earlier this week, being our merger with GoWork. In total, we now operate 3,500 sqm of space across five location in Jakarta's business districts.
The merger came after months of extensive discussions, as we identified significant synergies in merging the two businesses and creating a stronger combined team. These factors now enable us to scale and grow faster together. We are fortunate that not only did we share the same vision for our ventures, but we also shared the same values in how we operate our businesses.
In the next 12-18 months, we will remain focused on delivering a superior flexible workspace platform to enable our members and businesses to achieve their best. Our target is to increase our footprint 7-fold to 20,000 sqm, which will enable us to provide our members with not only world-class workspaces but also convenience, as members will have access to over 20 locations in Indonesia. Going forward, we will focus on product development to roll out complementary concepts that integrate work, live, and play.

FS: There has been a lot of news recently about the growing number of women-only coworking spaces. What are your thoughts on this?
VH: The increasing focus on women within the entrepreneurship space is incredibly positive, and something I am very passionate about. As a female entrepreneur myself, I have an insight into some of the real challenges women face in starting and running their own business. I am a strong advocate for initiatives that provide women with the right kind of support to both empower, and foster the best working environment. I have been fortunate enough to share my experiences through networking and panel discussions with fellow female entrepreneurs, and I am a strong promoter of women-focused content. I also believe that the most effective approach to supporting women is to maintain an open support system. I have personally gained so much value through my support networks consisting of both genders, and would not want to limit the value potential for other women.
FS: With the proliferation of coworking spaces, both regionally and globally, what sets GoWork a part from the rest?
VH: The coworking industry is a pie that all players are growing together. Instead of viewing other coworking spaces as competitors, we believe that the growth of existing players and the addition of new players in the coworking sector benefits everyone, as it helps to educate the broader market that coworking is in fact the future of work. Just like any business, each player needs to understand the market and constantly innovate to grow. From the real estate point of view, the supply of flexible office spaces in Jakarta is less than 1%, and as such, we believe that the coworking industry in Indonesia is still at a very nascent stage.
With GoWork we have always picked the most strategic and convenient locations that are able to appeal to a broad market. We have locations in Grade A office buildings to cater to more mature businesses, offering them world-class facilities with a sophisticated and setting. But we are also able to attract more creatives and tech companies with our spaces in retail/mall connected locations that integrate work and play, nurturing them through our strong community and frequent events.
Read also: Workspace Design and The "New" Bottom Line
FS: Any words of advice for people looking to open their own coworking space?
VH: First ask with the big question: WHY. Why do you want to do it in the first place? Understand all aspects of the coworking business and identify the things that relate to your passion. Don't open one because you want to follow the trend or think you will make a lot of money from it. Just like in any business, there are excitements and hardships involved, and if your passion only lies in the money, it will be extremely hard to sustain and succeed.
Quick-fire questions:
Coffee or tea? Coffee
Beach or city? Beach
Yoga or cycling? Yoga
Strangest thing you have eaten? Scorpion
Favorite joke? You don't need a parachute to go skydiving. You need a parachute to go skydiving twice.
If you could go anywhere in the world, regardless of cost or time, where or when would it be? Would love to try Elon's SpaceX's Falcon Heavy Rocket when it is safe to do so and guarantee my return back to planet earth.
Most interesting thing in your wallet right now? My kids photographs.
How do you define success? Success is when you truly can find your purpose, to live it and help others with it.
What's your favourite place you've travelled to so far? I am very adventurous, so I make the effort to travel to new places. My favorite place is wherever I go with my husband and people I love, to any place that has a rich culinary experience and nature.
What's the best thing about being a CEO? When I get play a role and coach my team members grow beyond what they think they can do.
What's the worst thing about being a CEO? It can be a lonely job sometimes. Being strong for the team when time is tough and constantly having to deal with the uncertainties.
Editor's note: GoWork is made up of both the GoWork and Rework inventory and since their merger have been known collectively as GoWork. This article has been edited to reflect this change in naming. This interview first appeared in SpacesAsia V2 2019.