The age of hybrid working has posed some challenges in companies facilitating smooth communication between their employees both in and out of the office. As the pandemic recedes with the re-emergence of in-person meetings, it is essential to ensure that remote employees can enjoy a seamless transition back from virtual to physical work. While some businesses conclude that permanent office spaces are not needed for their scope of work, meeting rooms and event spaces give them the ability to let employees collaborate on-demand.
An article by WorkDesign states that meeting room bookings are on an upward trend as workplace traffic is projected to skyrocket by at least 50% in 2022. With more operators accommodating larger groups of clientele, we help narrow down specific ones in the East of Singapore to better help you through your search for a capacious space.
Spaces featured:
GreenHub @ Tampines Telepark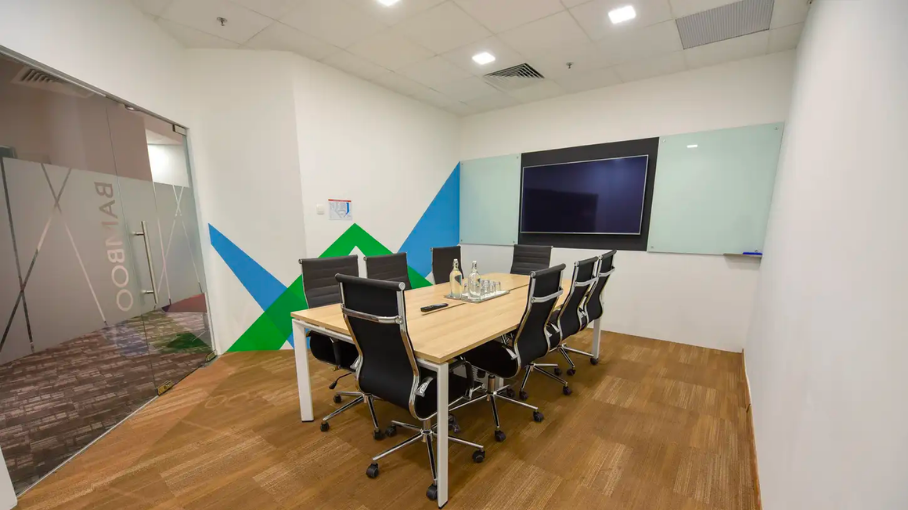 Address: 5 Tampines Central 6, Singapore 529482
Click here to find out more about this space!
With state-of-the-art infrastructure, facilities, and professional client-oriented services, GreenHub @ Tampines Telepark provides no shortages of being the perfect venue for your corporate meetings and conferences. As a modern office space infused with a touch of nature, it allows business owners and creatives to work in a calm and green environment. It is affordable with a flexible lease and raises team productivity with its comfortable environment.
Just two minutes away from the Tampines MRT Station, it is extremely accessible and also situated close to malls, shops, restaurants, hawker centres, banks, and other amenities. The locations of other GreenHub venues are also closely accessible to Singapore's business district centre, the shipping and logistic port, and town.
Rates of Meeting Rooms:
1 to 8 pax – from S$30/hour
Services provided: Print, Scan, Copy, Cleaning, Coffee
Spaces @ Joo Chiat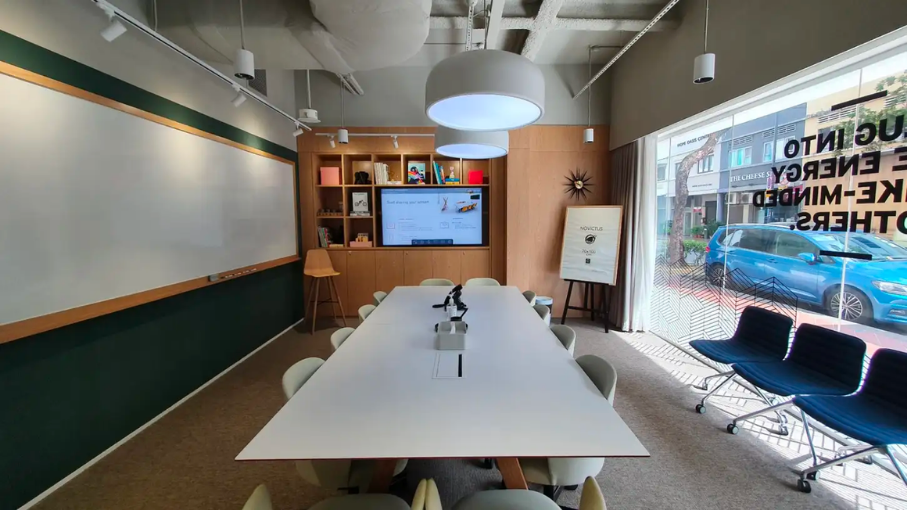 Address: 292 Joo Chiat Rd, Singapore 427544
Click here to find out more about this space!
Spaces @ Joo Chiat stands at the heart of the east of Singapore, in a conservation area known for its multicultural influences and rich history. Behind the striking façade is a suite of spacious meeting rooms and buzzing communal areas where communities of like-minded professionals and business-seeking individuals gather. For lunches and networking events, the roof adds to the venue as a collaborative hub with a creative and design-led atmosphere.
Lined up along the road across is a wide selection of eateries, art galleries, design studios, retail outlets and boutique hotels, adding to the impressive local architecture. For breaks in-between meetings, the surrounding Ceylon Road Interim Park and East Coast Park are perfect for strolls or to fit in a jog. Additionally, it is just three bus stops away from the Dakota MRT station, connecting you to popular malls in the Paya Lebar and Kallang areas.
Rates of Meeting Rooms:
8 to 10 pax – from S$ 69/hour
Services provided: Print, Scan, Copy, Internet
CSuite @ PLQ3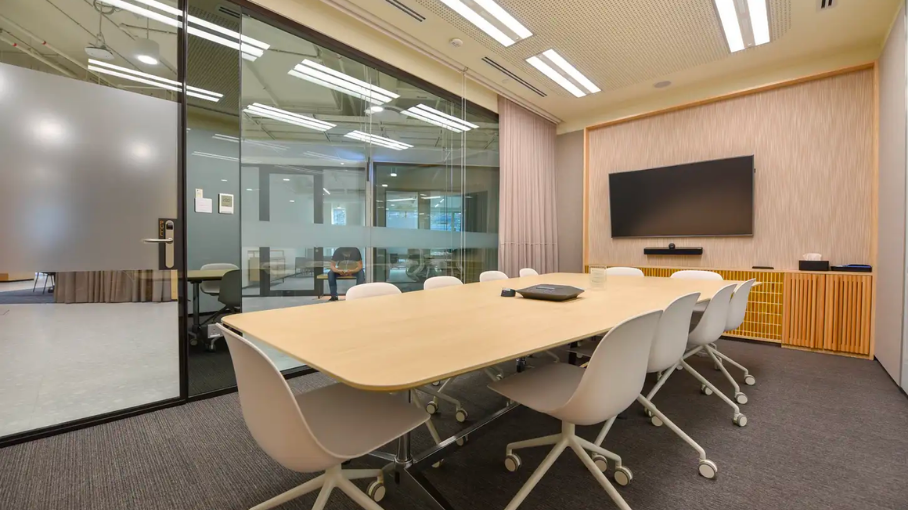 Address: 10 Paya Lebar Road, PLQ Mall, Singapore 409057
Click here to find out more about this space!
Csuites is a next-generation enterprise-grade flexible workplace concept engineered for enterprises to maximise work performance. It brings together the privacy of traditional offices with the convenience and services of modern co-working spaces for large organisations to meet, socialise, and collaborate. The space utilises a high performance building system to maintain good air quality and keep thermal comfort at optimal levels.
Located within the dynamic Paya Lebar Quarter, there are a plethora of fitness, dining and relaxation options nearby to suit the lifestyle needs of today's working professionals. Its large space is suitable for corporate events of up to 150 participants, perfect for usage after the updated pandemic measures on social gatherings.
Rates of Meeting Rooms:
1 to 10pax – from S$89/hourly to S$400 /daily
Rates of Event Spaces:
1 to 40 pax – from S$125/hour to S$495/day
1 to 150 pax – from S$750/hour to S$2,985/day
Services provided: Print, Scan, Copy, Internet
XFORM Design Studio @ UB.One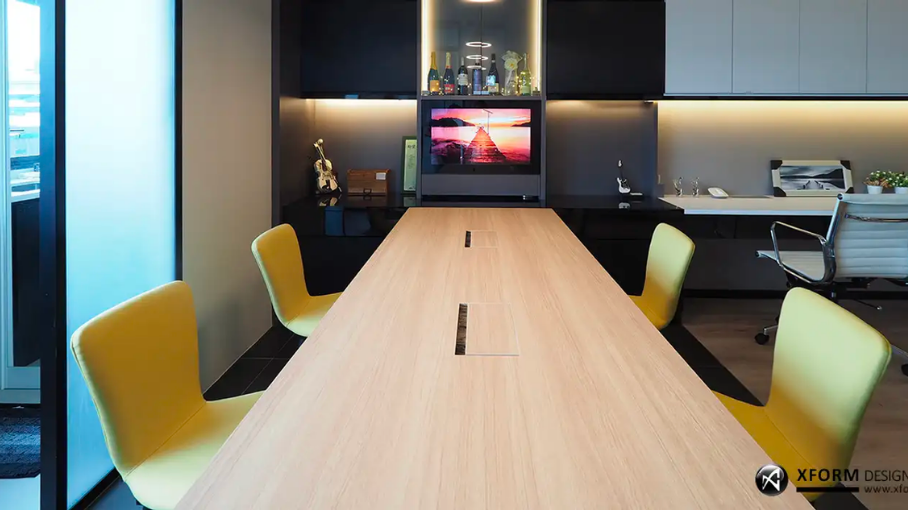 Address: 81 Ubi Ave 4, #09-04, Singapore 408830
Click here to find out more about this space!
XFORM Design Studio LLP is an innovative design solution centre that caters to a wide range of design project types, including Residential and Commercial designs. It aspires to support individuals, commercial enterprises, as well as charitable organisations to improve professionals' living environment and lifestyle. The firm offers its additional, versatile space for rental, where you can have workshops, meetings, and parties. The space is equipped with beautiful tables and chairs to suit your event capacity.
Located at the building UB.One on the ninth floor, it is 10-minute walk from Tai Seng MRT Station and links you to various restaurants nearby. There are also many bus stops around that connect you to malls and other community neighbourhoods for after-hours activities.
Rates of Event Space:
1 to 30pax – from S$ 65/hour
Services provided: Print, Scan, Copy, Internet
The Drop @ Focus One Building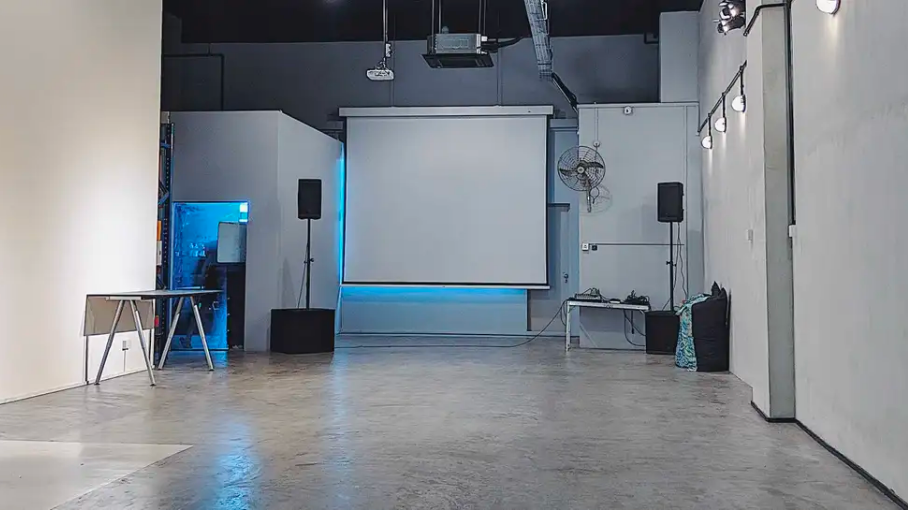 Address: 1 Ubi View, 03-14 Focus One Building, Singapore 408555
Click here to find out more about this space!
The Drop's co-working loft office is a two-storey unit, thoughtfully designed to offer the beloved features of a dream office without a hefty price tag for a premium address. It provides you with the workplace essentials needed to be productive and creative in your work, while sharing a tight-knit bond with the community of digital nomads, content creators, and individual business owners.
Its free-form gathering places include a loft balcony for alfresco nights, a movie lounge, and chill-out areas. Additionally, the 2,500 sq ft space is decked out with audio and visual capabilities, beanbags, and industrial design fittings. It is set in the east at Ubi, just a short walk away from the Ubi MRT Station and out of the hustle and bustle of corporate offices at Singapore's city centre.
Rates of Event Spaces:
1 to 60 pax – from S$135/hour to S$ 850/day
1 to 150 pax – from S$115/hour to S$ 800/day
Services provided: Cleaning
Cloud9 @ Jalan Kilang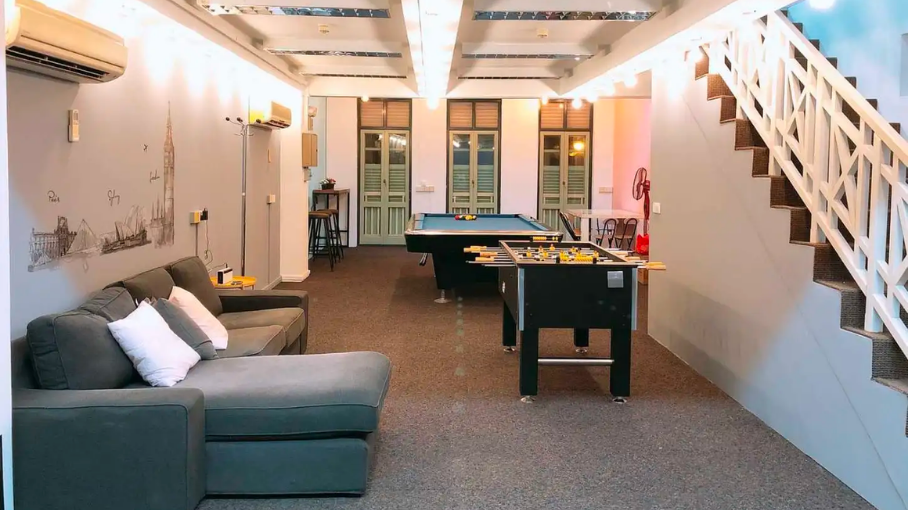 Address: 65 Ubi Rd 1, #02-97 Singapore 408729
Click here to find out more about this space!
Cloud9 Events is a unique, chic-industrial vibe two-storey loft with various amenities to cater to all types of events. You can hold workshops, classes, pop-up events, family gatherings, birthday get-togethers, perfect for team-building. It comes with plenty of popular amenities like the Playstation, KTV setup, foosball/ pool/ mahjong table, arcade machine. It also caters to corporate gatherings that require more office-like materials like a flipchart and projector. Most of the equipment are portable and can be easily moved to tailor the space according to your needs.

Located in Oxley BizHub, the space is extremely convenient and commutable by the Tai Seng MRT Station. Surrounding it are MRT Stations on the Downtown Line, such as the Ubi, Mattar, Macpherson stations.
Rates of Event Spaces:
10 to 80 pax – from S$95/hour
Services provided: Reception
---
FlySpaces is SEA's leading tech-enabled commercial real estate agency that aims to connect you with a vast network of landlords and flex operators across key cities in the region to find your perfect working space. Download the free guide below to learn more about the other spacious meeting rooms and event spaces beyond Singapore's Central Business District.