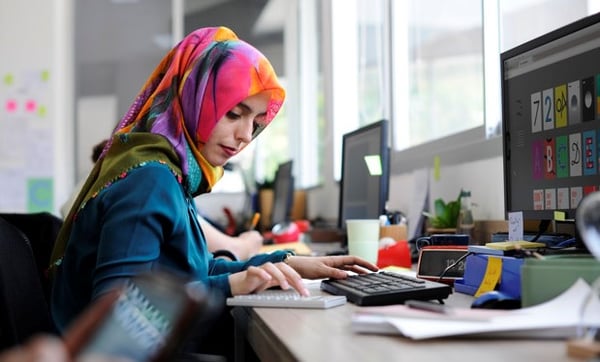 Image credit
It's that time of the year again, we're finally meeting Ramadan once again this year. The ninth month of the Islamic calendar, the holiest month, a time where Muslims across the globe concentrate on spirituality. Now, all Muslims are nearing the end of the first week of Ramadan. They are observing a month-long fast as a practice of religious observance. Some might have settled into a new routine while others are still battling to adjust their day-to-day routine.
Fasting isn't just a commitment for every responsible and fit Muslim. Fasting - at least a month in a year - also serves as a healthy way of detoxing and resting your organs. Other than detoxifying your body, the holy month is an extraordinary start to detox your mind from negativity. In short, fasting sets you up for a healthy body and a healthy mind.
---
Read also: "Coworking Spaces Decrease Productivity:" True or False?
---
Since fasting in Ramadan is obligatory, many Muslims still carry on working. But, normal occurrences at work can be doubled during this month: employees might have a drop in energy, feel tired, and encounter lower focus levels.
The challenge is doubled this month for Muslim employees. Not just refraining from consuming any food and drink from sun-up to sun-down, the biggest challenge is to counter the drowsiness while working - usually in corporate office environments and entrepreneurship alike. Scientifically, blood sugar levels will drop during fasting which prompts debilitating the body and less focus the brain.
But if you execute smart changes and strategic adaptations to your behavior and routine, you can still get plenty of productive work in, regardless of whether you're working in an office setting or all alone as an entrepreneur. Here are some tips on how to tackle hunger and fatigue at work!
1. Get Quality Sleep

A good start begins from the end. The night before, you should sleep early. Fasting will influence some changes in your sleeping pattern since you need to wake up before dawn to eat sahoor. Due to these, most fasting people often feel sleepy in daytime. However, by enjoying adequate and quality rest at night, you'll be a lot fresher the day after. In a way to achieve the quality restful night, abstain from sleeping late and hit the hay earlier than usual. Quality sleep allows you stay fresh when you wake up in the morning and your energy will be recharged to the fullest!
2. Never Skip Sahoor
Time's up! Time for sahoor (early breakfast). People are truly enjoying their rest while sleeping, yet do not oversleep to the point that you miss your sahoor. Never ever skip your sahoor! It's the start for you to gain energy which to be used throughout the day later. Depends on your preference and condition, some may take heavy meal, while many have taken light meal. Personally, I would suggest to take some vitamin C during sahoor, it works to maintain your immune system while keeping your body fit throughout the day. Sometimes, we might be too tired to wake up and make a proper meal. Worry not as you can just take some dates as the best alternative. Its non-artificial sugar level will help you stay awake during your work day.
---
Read also: 7 Elements of a Productive Workspace
---
3. Embrace A Power Nap
While working, never push yourself beyond your maximum limit. Give yourself a break for awhile and take an excellent power nap, even a 15 minute nap is enough to give you that added energy boost. But if your workplace is in a flexible office space, do enjoy its facility of napping room. This is the perfect time to utilize it. An afternoon nap is best in enabling you to recharge while giving you a short burst of energy upon waking up. Your mind will be refreshed and more productive to keep your momentum going.
4. Change The Work Setting
Starting to feel distracted or finding it hard to focus on your task? You might be surprised how a change of work setting can do. When hunger can seep in as a distraction, you are prone to be fatigue and tend to get bored easily. But good thing in coworking spaces is you can choose your seat, your view, even your coworker next to you. Everything is flexible! You can either try moving to a breakout area or meeting room or just take a break and get some fresh air by going outside for a couple of minutes. You may also take a stroll around the office while stretching out your legs after the long hours sitting at your desk.
5. Mini Exercises to Keep You Pumped
Start an exercise regimen to help you stay supercharged and motivated during the challenging month. People tend to get heavy-eyed easily if they just sit still in their desk for quite a while. Opt for light stretches to move your muscles and keep stiffness away. In this one month, you should minimize heavy exercise as it may drain your energy. Instead, try practicing some light physical activity to help smooth the blood flow and increase the oxygen intake to your brain.
---
Read also: 7 Workplace Habits for a Productive Year Ahead
---
Not just being less productive amid Ramadan, an intense fall in output could be adverse to your career. These tips will enable you to coordinate your work easily during the sacred month and you're ensured that you'll remain productive. While we're still at the beginning of the month, why not try giving them a shot! Comment down below if you have any other suggestions on how to fight off sleepiness and fatigue at work while fasting.
To all my Muslim fellas, on behalf of FlySpaces, I would like to wish you guys Ramadan Kareem! May your deeds in this month be blessed and bring peace among humanity around the world!