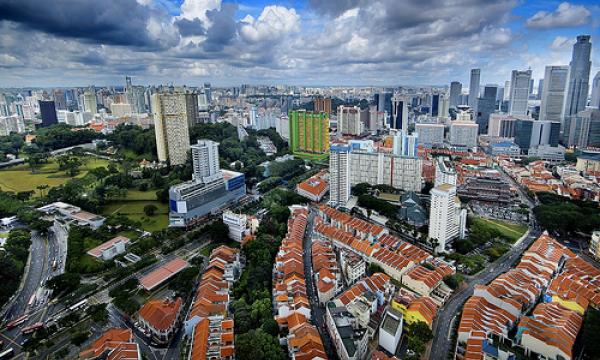 Image credit
Known as a business-friendly environment, Singapore is now one of the more vibrant home-bases for new businesses and corporates alike in Southeast Asia. The city has nestled most millennial international and local startups as well as conglomerates, especially in the tech sector - the current hype in the business world. Nevertheless, being a small country doesn't stop the city to have their own Central Business District (CBD) which is the hub of all commercial and financial activities.
With the plethora of excitements and conveniences all over the Lion City, Singapore is an attractive region for companies to mark their footprint in this densely built area. However, as for startups, who are getting their business off the ground, this means that they are likely on a budget tight. Hunting down office space that fits the financial condition of the company is never an easy task, yet despite everything, they would still need a space to reinforce business development. Office rental rate is one such concern.
Read also: Find Your Niche Coworking Space in Singapore
Most coworking operators have seen high rental rate as the biggest issue and they've attempted as best and as much as they can to bridge the gap. Plus, offices outside the CBD notice good take-up rates nowadays. That explains why more office space providers these days are branching out their centers throughout Singapore's fringe. Following the trend, more and more companies are moving away from the CBD to optimize better profitability by cutting down some pointless costs.
Taking things a stride further, Singapore's government declared their plans to support more non-office use into the CBD, which could switch the make-up of the nation's conventional business center point and lead more office tenants to move outwards. The government envisions the out-of-town office space will be forthcoming as new development center points, and it could be said as the second CBD.
Not only the rising rental rate in Singapore's CBD, perhaps certain businesses don't require a prime, reputable location for their local and regional operations. Some don't even mind to give up the prestige of the CBD for an out-of-town address. Thus, it makes all sense to lock down their office spaces in the outskirts of the city center. Furthermore, a few businesses would take advantage of proximity to the industrial activities in the west area.
For workspace operators to attract occupiers, it will not be as easy as it thought. For that reason, some flexible workspace centers are now offering tempting amenities to engage in place-making efforts. Take a stroll of some non-CBD coworking spaces, and you'll come across on-site facilities such as fitness, childcare support, and even dining.
The expansive transport network in Singapore may also kick start new demands of non CBD offices in the near future - more lines such as Thomson East-Coast Line and Cross Island Line are on track to be completed soon.
Read also: How Flexible Office Spaces Can Facilitate The Growth of Your Startups in Singapore
After all, it is impractical and expensive to live in the suburbs and commute to work daily. Decentralized offices would address the needs of the mobile workforce, from giving individuals personal time back to connectivity and enhanced productivity. Imagine yourself working five days a week in the CBD, would you still like to go through your weekends in the CBD? Or would you rather invest your leisure time far from your workplace?
If you're currently looking for an office space near to your neighborhood, lucky you, you're in the right platform! FlySpaces has almost 900 flexible workspace options for you to choose in Singapore. If you'd like a personalized solution, you can send an inquiry to our Space Representative, Yaamanni, who will get back to you right away! So grab your mobile and give her a call at +65 8779 8960.