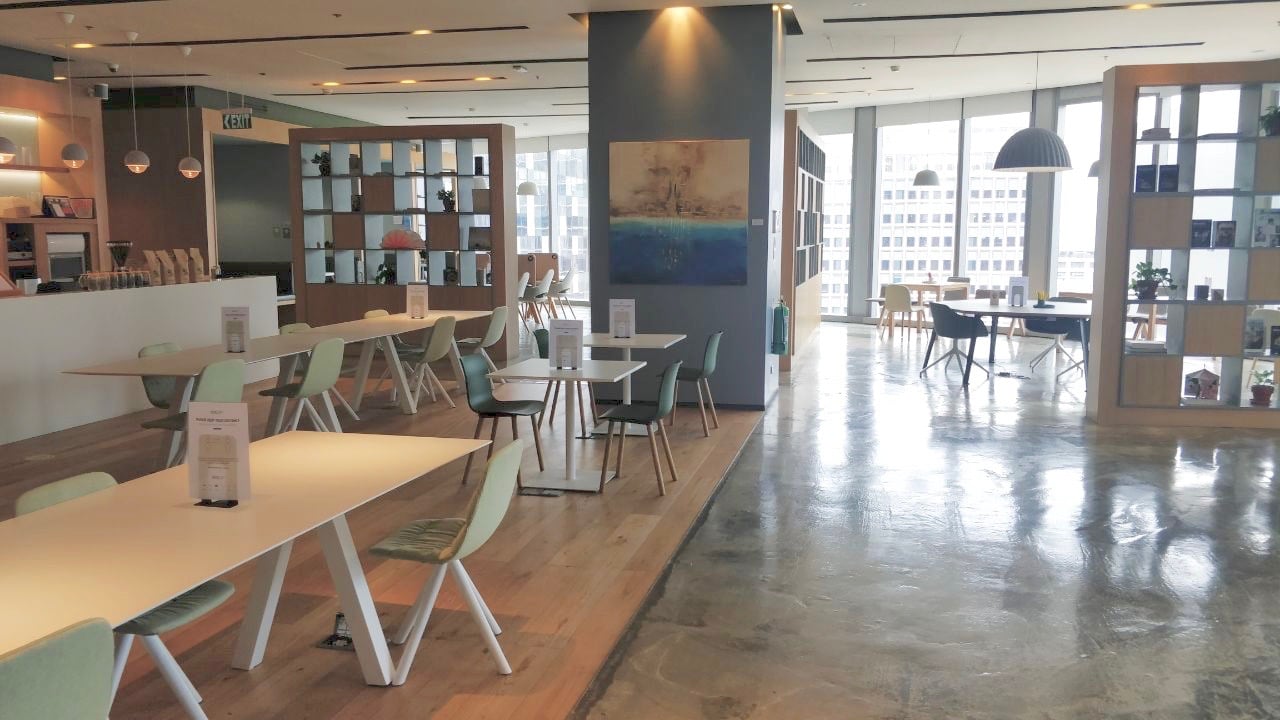 Chairs have been rearranged to meet physical distancing standards at Spaces - BGC.
Workplaces are beginning to open in this new, transitory normal. As more people are called to the office, precautions are still needed to minimize the risk of disease breaking out in the workplace. As employees and occupiers of an office space, we play a big part in ensuring that we and our coworkers are safe, by building habits such as washing hands frequently and wearing masks to prevent the spread of disease.
However, our workplaces also play an important role in helping to reinforce these habits, and maintaining an environment conducive to our health and wellbeing. A safer workplace in this new normal will have a combination of policies, space design and layout changes, as well as technology, that will enforce physical distancing, and keep us vigilant but not anxious.
With these ideas in mind, several of our flexible workspace partners have begun to reopen with some new systems in place to keep their tenants healthy and safe. Here's what you might expect to see when you return to the office: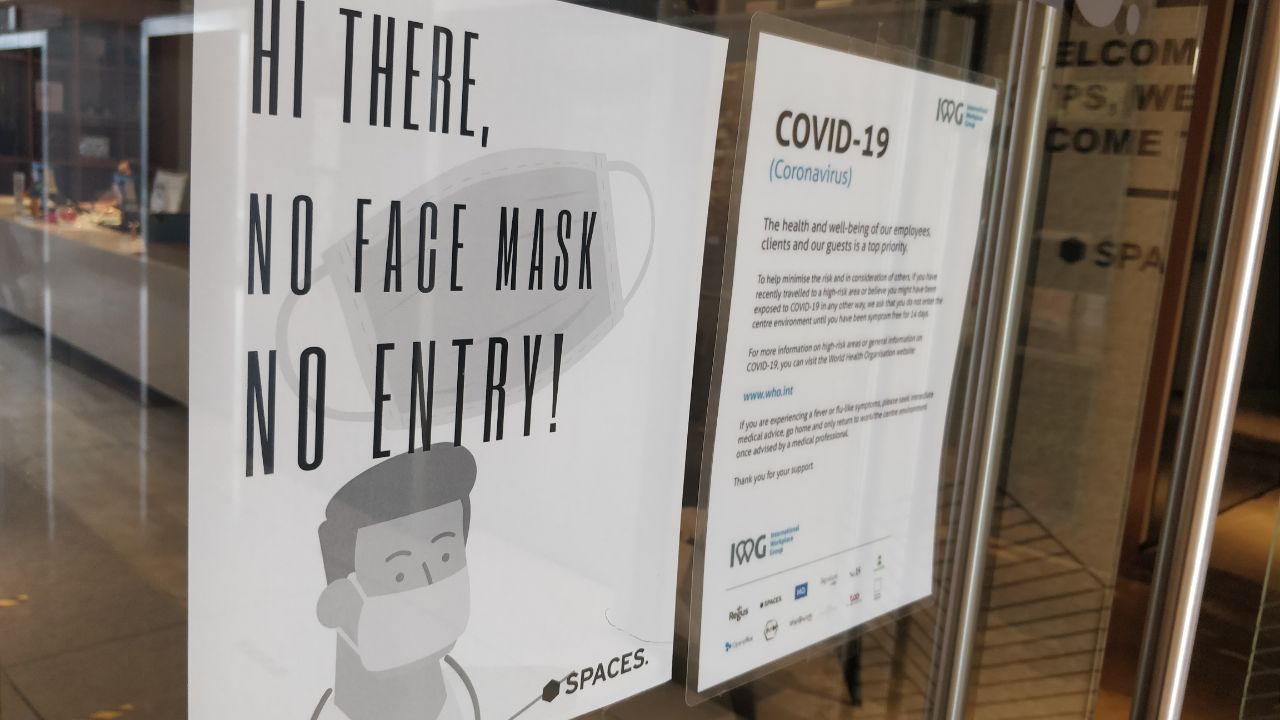 Don't forget to bring and wear a mask at all times. Image: Spaces - BGC.
NEW POLICIES
Visits will be by appointment only. Looking for a new flexible workspace and hoping to tour some prospects? Or maybe you're attending a meeting that can't be virtual, or just need a temporary workspace for the day. You're likely going to need to set an appointment beforehand. Workplaces may have to reduce capacity at their office space, and that includes limiting the number of visitors and people in their center at a time. Compass Offices in Manila, for example, will be keeping their tenants safe by requiring all visitors to book at least a day before, and will not be entertaining walk-ins.
Temperature checks, mandatory masks, and health declaration forms upon entry. You might expect a line by the lobby or at the door to the space: temperature checks and disinfectant foot baths will be necessary to enter a space. Those with temperatures of 37.5oC and above may be denied entry. So can those without face coverings: masks may be made mandatory at the space. Also prior to entering, you may need to fill in a health declaration form, confirming that you are not experiencing any symptoms prior to entering the building. At some locations, you may even be required to wash your hands in faucets installed outside the entrance.
Limited use of phone booths, common areas, and meeting rooms. Especially at common areas such as coworking and the pantry, you will be required to keep about a 6-foot distance from others. Some offices may also limit the use of meeting rooms and phone booths at their space—or prohibit the use of phone booths altogether—in order to minimize the spaces where people may directly or indirectly infect another.
Pedestrian traffic rules indoors. In order to enforce physical distancing, the space may also come up with policies that direct foot traffic within the space. Some spaces, such as Acceler8 in Manila, will require their members to walk following a counterclockwise flow at their centers, to prevent people from brushing past each other and or create a crowd within any narrow passageways.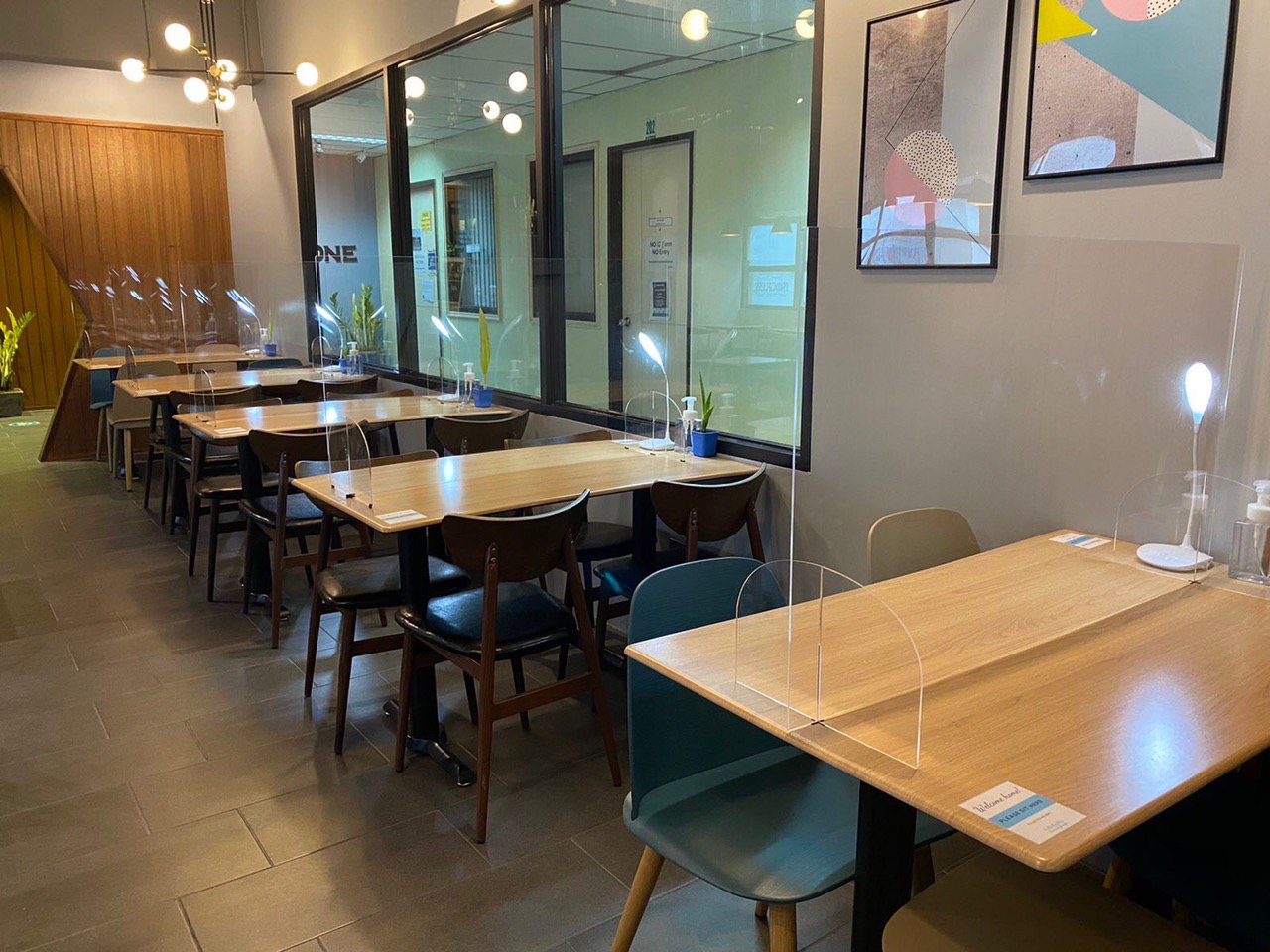 Transparent barriers/ "sneeze guards" are placed on coworking desks at Mind Zone in Manila.
SPACE DESIGN, FACILITIES, AND LAYOUT
Accompanying these policies will be changes to the space design to help you keep distance from other workers, as well as build good hygiene habits within the space.
Rearranged furniture and blocked off chairs and tables. Coworking areas, pantries, and meeting rooms will have reduced capacity—and, as a result, less chairs and blocked off areas for sitting and standing to prevent crowding.
Floor markings and signs to direct traffic. You'll likely remember how to stick to the foot traffic policies with floor markings such as arrows and x marks for where to stand in line. Signs will also be put in place to remind us to wear masks at all times, and wash our hands frequently.
More sanitizing stations. High touch surfaces such as doorknobs, phones, light switches, and refrigerators may get you indirectly exposed to any virus left by the last person who touched it. You'll likely find more sanitizing stations around the office, especially at these touch points, to remind you to clean your hands before and after touching these surfaces.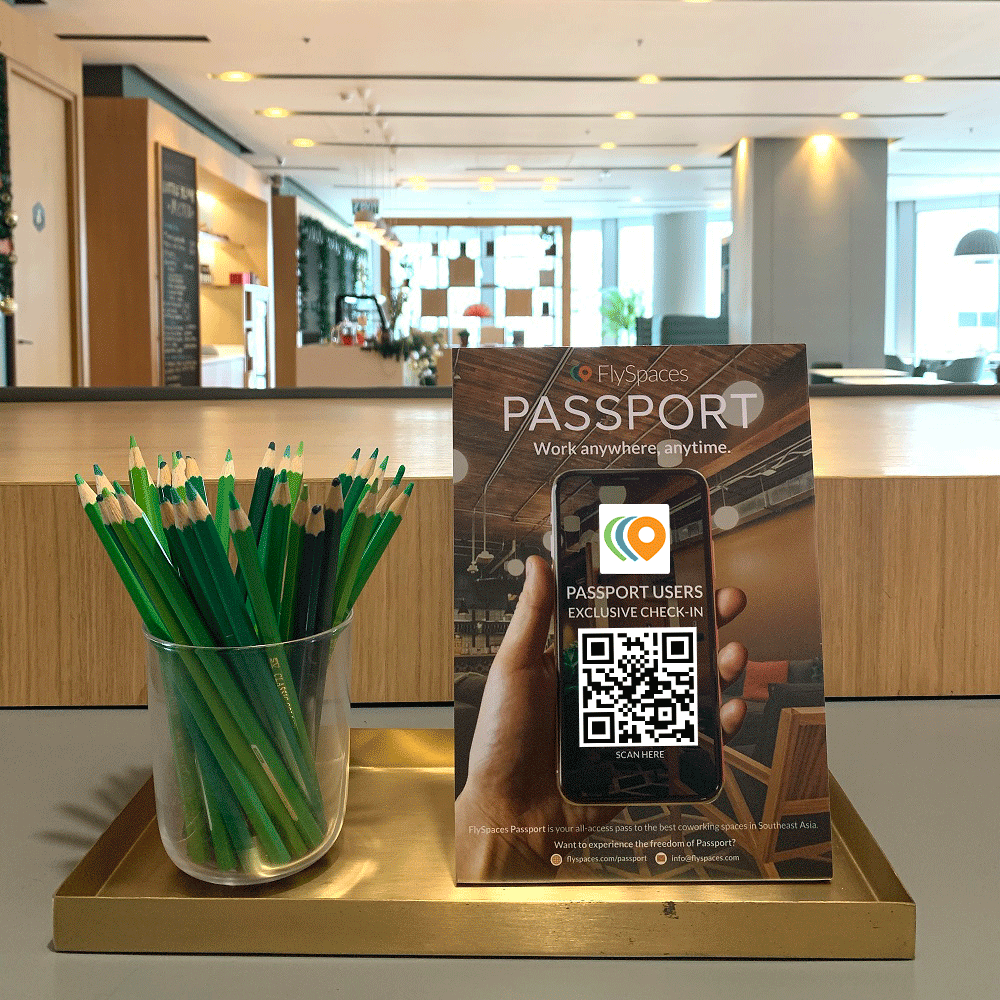 Check-in via QR code at a new workspace using FlySpaces Passport.
TECHNOLOGY
Prior to the pandemic, several technologies have already been developed to create a smoother experience at the office. The idea of a smart, digital workplace—especially in the pandemic and post-pandemic era—may not be far-off, as many of these innovations promote an efficient and often contact-free activities within the workplace.
Mobile apps and platforms for bookings, check-ins, and transactions. Digital solutions such as mobile apps will reduce the need for manual registration and face-to-face interactions with front desk staff. FlySpaces, for example, has a mobile app and website that allows you to browse and book workspaces, communicate with community managers, and manage cashless transactions. Want to learn more? Check out FlySpaces Passport.
Touchless access and other Internet-of-Things technology. Throughout our days, we want to reduce physical contact with other people and surfaces as much as possible. IoT technologies (think: Google Home) enable you to control light switches, open doors, and facilitate your experience in the office from your phone. For example, Spaces in Manila, provides mobile keys for its private office tenants, so they can unlock doors from their phones.
---
Read More: Workplace Mobility Strategy Post-COVID-19: Safe Re-entry Solutions
---
Setting up your team in an office dedicated to keeping you safe is important to keep your business running smoothly. These are just some of the things to watch out for to ensure you're in the right office. If you are looking for a space that meets your expectations, contact us on info@flyspaces or set a meeting with any of our Space Experts.
If you are a workspace operator, download our guide for a full list of our suggestions for reopening the workplace.