Co-working has become increasingly popular in other parts of the world. Now it is gaining momentum in Asia through FlySpaces, an online marketplace offering short term rentals for work and event spaces in the Philippines and Singapore. Co-working is a solution for entrepreneurs, freelancers, startups and small and medium enterprises (SMEs) who don't want to sign long term leases for office spaces at sky high prices. With FlySpaces, you now have access to spaces that work for your business.
Empower your business with these short term workspace options offered by FlySpaces:
Coworking Spaces
Co-working spaces are shared offices that offer a creative and diverse work environment for people who are looking for an alternative to the traditional corporate setup. In an open space rather than a closed workstation, you have the opportunity to meet and collaborate with people from different industries and backgrounds in a place that promotes a fast-paced, productive and casual atmosphere.
Bitspace, Makati City, Philippines
P400/day, inclusive of Wi-Fi, a socket for every seat, complimentary water and coffee, access to their library, meeting rooms, and training rooms. Other amenities include a projector and projector screen, printing and photocopying services, and fax and phone calls.
Plus Concept, Singapore
S$50/day, inclusive of 24/7 secured access (biometric entry and CCTV), complimentary coffee and tea. Other amenities include discussion corners, common shelving, flex desks, printing service, a task assistant, meeting room, and event space.
Short Term Office
Need a compact professional space to build your startup? Planning to downsize from a larger office? Short term offices are optimal as personal workstations for professionals to operate their business, or for entrepreneurs to develop their budding companies. Get access to modern workstations and cubicles in premiere office buildings, as well as the facilities you need for your business to function efficiently.
Ascott BGC Manila, Taguig City, Philippines
P68,000/month, inclusive of 24/7 access, chairs and desks, cleaning service, LAN connection, Wi-Fi, phone service, unlimited water and coffee, meeting room, parking space, cleaning service.
Just Office, Asia Square, Singapore
S$9,800/month, inclusive of 24/7 access, LAN connection, complimentary coffee, use of pantry, phone, and reception area. Other amenities include use of business address, receptionist support, mail handling, cleaning service.
Conference and Meeting Rooms
Whether gearing up for an important presentation with clients and investors, or huddling up to finish a project with your team - conference and meeting rooms offer different functions to help you stay focused and achieve your goals. Set up a meeting from a wide selection of rooms and collaborate with your team in a spacious and modern setting with varied features and amenities, from whiteboards, projectors and TV screens to complimentary water and coffee.
Arch Inc., Makati City, Philippines
P500/hour, inclusive of 24/7 access, Wi-Fi and LAN connection, all-day IT support, unlimited water, coffee and tea, usage of breakout and pantry areas, access to balcony space. Other amenities include parking space, accounting services, HR services and support, and staff leasing.
Just Office, 120 Robinson, Singapore
S$64/hour, inclusive of 24/7 access, parking space, wheelchair access, Wi-Fi, complimentary water, coffee and tea, reception support and services, use of meeting rooms and pantry. Other amenities include printing and scanning services.
Interview Rooms
An interview room provides an environment where people are able to communicate clearly and professionally. Use this space to meet with clients to discuss potential partnerships or do training workshops for your team. You can reserve interview and training rooms, depending on the number of people using the space and the amenities you need.
V Office, Taguig, Philippines
P900/hour, inclusive of fully-furnished office suite, utility fees, high speed Wi-Fi and LAN internet, use of conference and meeting rooms, refillable water, coffee and tea, and a dedicated phone number.
The Co Spaces, Singapore
S$96/hour, inclusive of a fully-furnished office, unlimited Wi-Fi access, complimentary water and coffee, and access to breakout spaces.
Events
Looking for the perfect venue to house your next event? Whether for a product launch, PR event, or trade expo, the venue is vital for the success of any occasion. It should be strategically located and easily accessible to guests; it must have the facilities appropriate to the nature of the event; and it must be spacious enough to fit everybody invited and possibly more.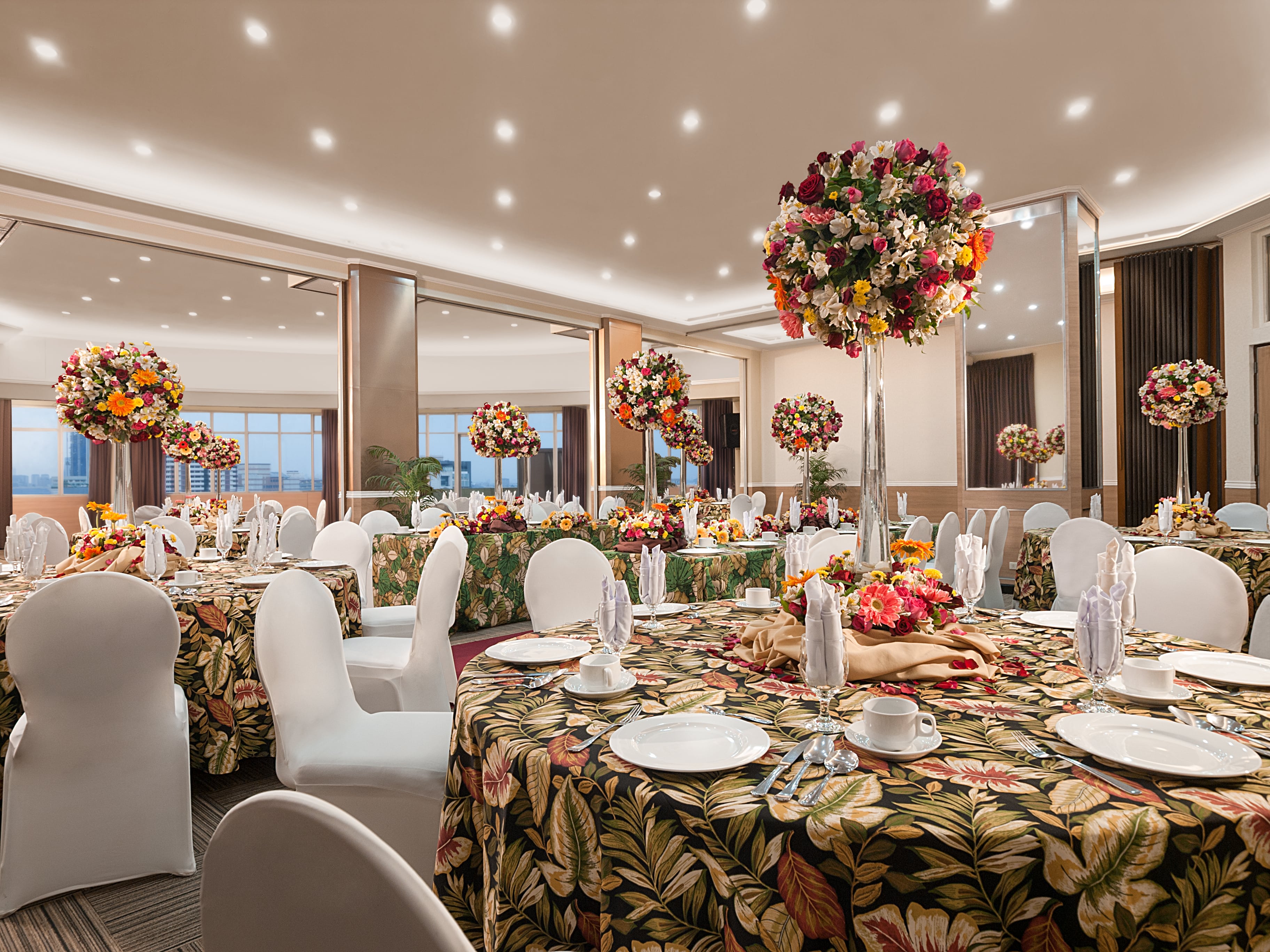 Hotel Kimberly, Manila City, Philippines
P4,375/hour, inclusive of a fully-furnished function room, projector, projector screen, Wi-Fi access, wheelchair access, use of elevator and bathrooms. Other amenities include food service from the hotel's restaurant and bar, water, coffee, and LCD projector.
Springboard, Singapore
S$1,000/day, inclusive of a fully-furnished roof deck and sound system. Other amenities include use of a projector.
Virtual Office
A virtual office is a complete professional setup without a dedicated physical space for you and your business. This consists of remote operation through communication and address services provided by a virtual office. Instead of renting a physical space where you and your team would work, you would have the freedom to work wherever you pleased, with daily support for your mail, call and fax handling needs.
Marimo, Taguig City, Philippines
P6,160/month, inclusive of use of business address, reception area services, call handling, and access to the pantry, lounge and open area. Other amenities include a dedicated phone number, printing and photocopying services, fax, mail transfer, parking space, and a global IP.
Galleries
Planning to showcase your body of work in a formal setting? A gallery allows optimal display of your works of art. This space is where your peers, other artists from your industry, and the general public can gather to appreciate your masterpieces.
A Space, Makati City, Philippines
P6,200/hour, inclusive of 24/7 secure access, art gallery space, basic sound system, projector and screen projector, casual seating, and fast internet. Other amenities include staff service, catering, and promotions.
Retail Pop Up
If you need to sell products but you don't want to engage in a long-term commitment with a mall or market, a retail pop up is a great alternative. You can open a temporary store to showcase your merchandise in a high foot traffic location and introduce your brand to your target market. You can also use this space to test your product's' sales potential, and learn whether your business is ready to sustain a more permanent retail space in the future.
Banilad Town Center, Cebu City, Philippines
P3,799/day, with choice of indoor or outdoor retail space.
Want to see more? Head on over to flyspaces.com and browse through over 100 available spaces for rent across Singapore, Manila, and Cebu. For questions and inquiries, email us at info@flyspaces.com.