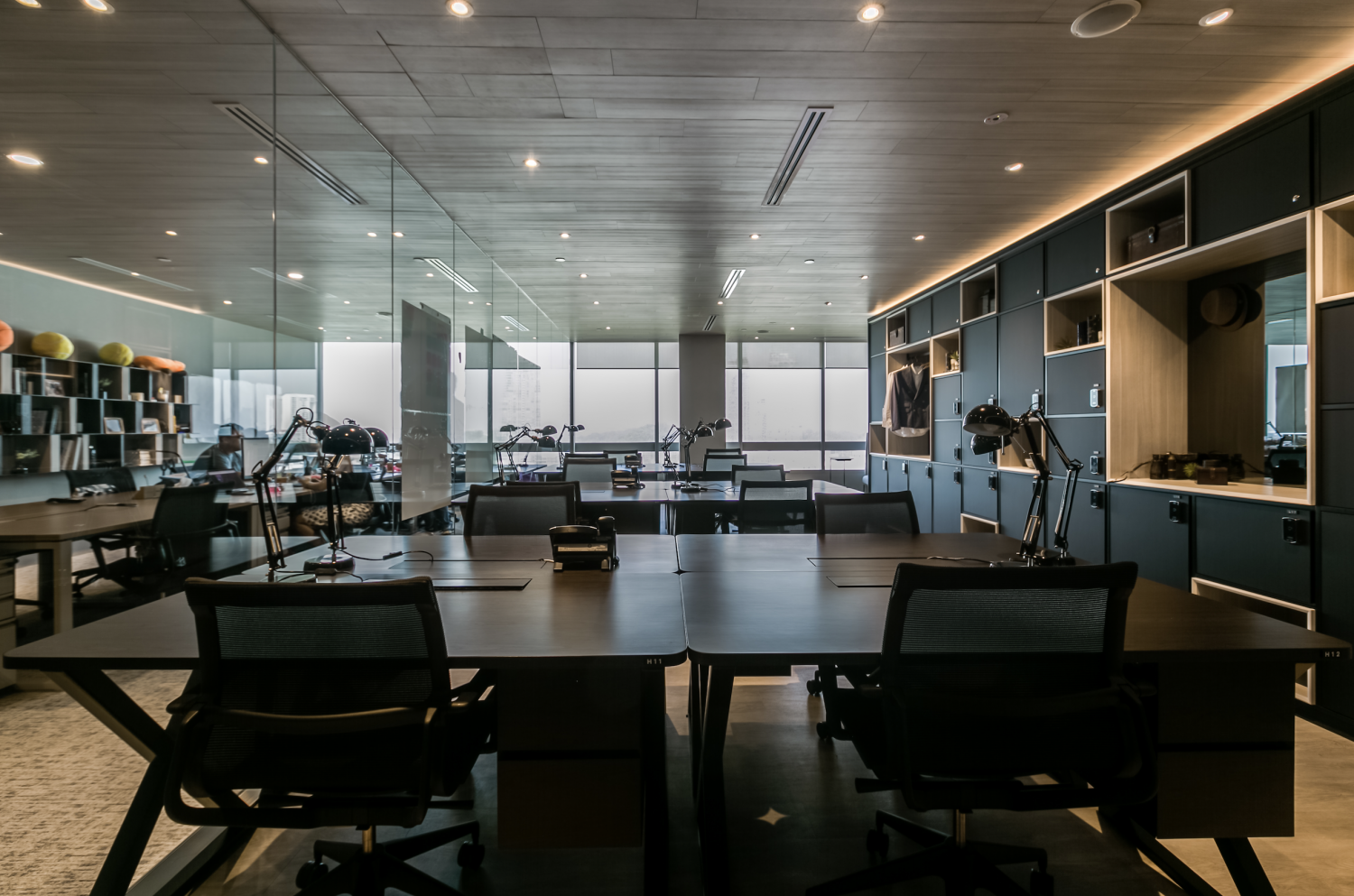 It has been 2 weeks since Singapore exited their circuit breaker, with Health Miniter Gan Kim Yong, co-chair of the multiministry task force tackling the COVID-19 pandemic, stating that the number of community cases has remained stable with no new large clusters emerging. As a result, Singapore is ready to enter into Phase 2 starting June 19, 2020.
This translates to a further easing of restrictions and the allowance of social activities to resume. However, what does this mean for businesses in terms of returning to the office? As mandatory safe distancing and health concerns remain at the forefront, returning to the office full-force simply isn't safe, nor possible.
To help businesses in Singapore navigate these new protocols, we will briefly outline what is and what isn't allowed during Phase 2, what we can do to move on to Phase 3, and the role that flexible workspaces play in keeping businesses on track and agile.
Do's and Don'ts of Phase 2
First, let's outline the new allowances that will come with Phase 2 reopening. As mentioned earlier, social activities can resume. This means that people can get together in groups up to 5, likewise, households can have 5 visitors at a time. However, the 1m distance must be maintained. Other easing of restrictions include:
Dine-in allowed in restaurants with a table limit of 5
Personal health and wellness and home-based services can resume operations
Retail shops, parks, sports centers, and other public facilities are allowed to reopen
Schools are scheduled to reopen by June 29 2020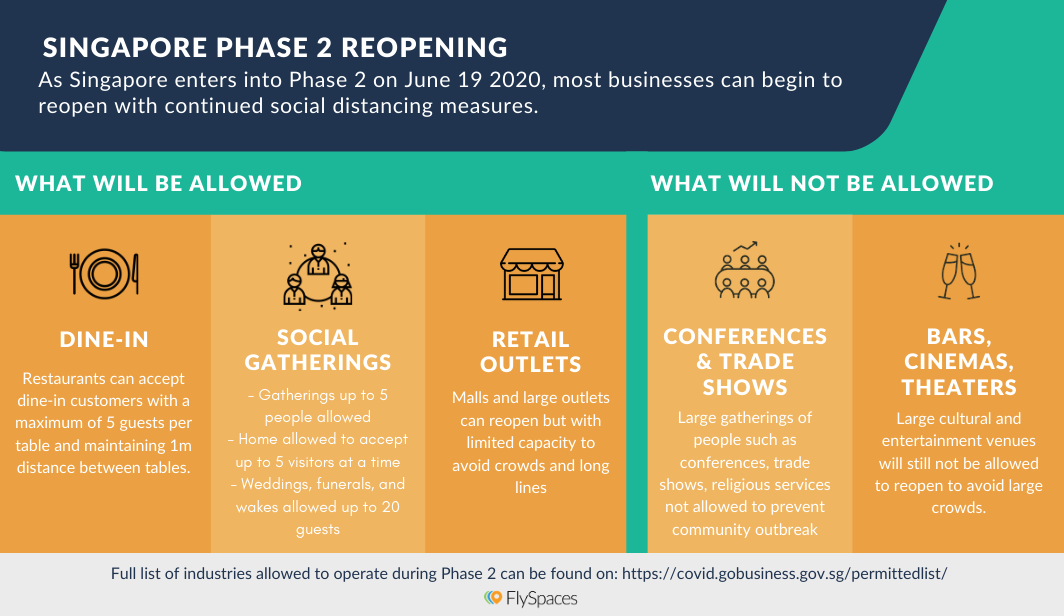 Meanwhile, any large public venues with high human traffic such as malls and large standalone retail outlets have to maintain capacity limits and prevent crowds and long lines. To avoid the risk of another outbreak, conferences, trade fairs, and bars are not allowed to reopen. To find more details on specific industries allowed to operate, you can visit the Ministry of Trade and Industry's website.
Take Precautions
Nevertheless, masks remain a must. As businesses reopen and there are stepped-up testing efforts, we can expect there to be more community cases so we all need to stay vigilant. Work-from-home arrangements are encouraged to continue as long as possible as well as maintaining split-team arrangements to allow businesses to continue functioning if an outbreak occurs.
How Flexible Workspaces Fit In
However, continuing to work from home might not be the ideal solution for everyone. From unstable WiFi to the distractions that come with home life to mental and physical health, long-term work-from-home situations can turn negative. Yet, the pandemic has put pressures on bottom lines and companies have been re-evaluating their workforce and real estate requirements. Consequently what we have seen is a growing interest from companies of all sizes for flexible workspaces to provide employees with cost-effective remote working options.
---
Read also: Why Work From Home Shouldn't Be Your New Normal
---
This is because in a time of unpredictability and uncertainty, companies need to actively move to a real estate model that is more agile than the traditional 10-year office lease, and the supply is there. According to CBRE Singapore's 2030 Market Report, the number of flexible space locations more than doubled between 2013 and 2018, while the total space taken by coworking has expanded by three times.
Likewise, due to the pandemic, the demand continues to be there: with short-term contract periods, flexible workspaces provide flexibility for companies to adjust their headcount and quickly accommodate changes to their business strategy. Similarly, Tay Huey Ting, Head of Research & Consultancy at JLL Singapore notes the plug-and-play ease of flexible workspaces is an additional strength, and is particularly compelling for companies looking to set up their operations as fast as possible with minimal hassle.
---
Read also: The 18 Best Office Spaces in Singapore
---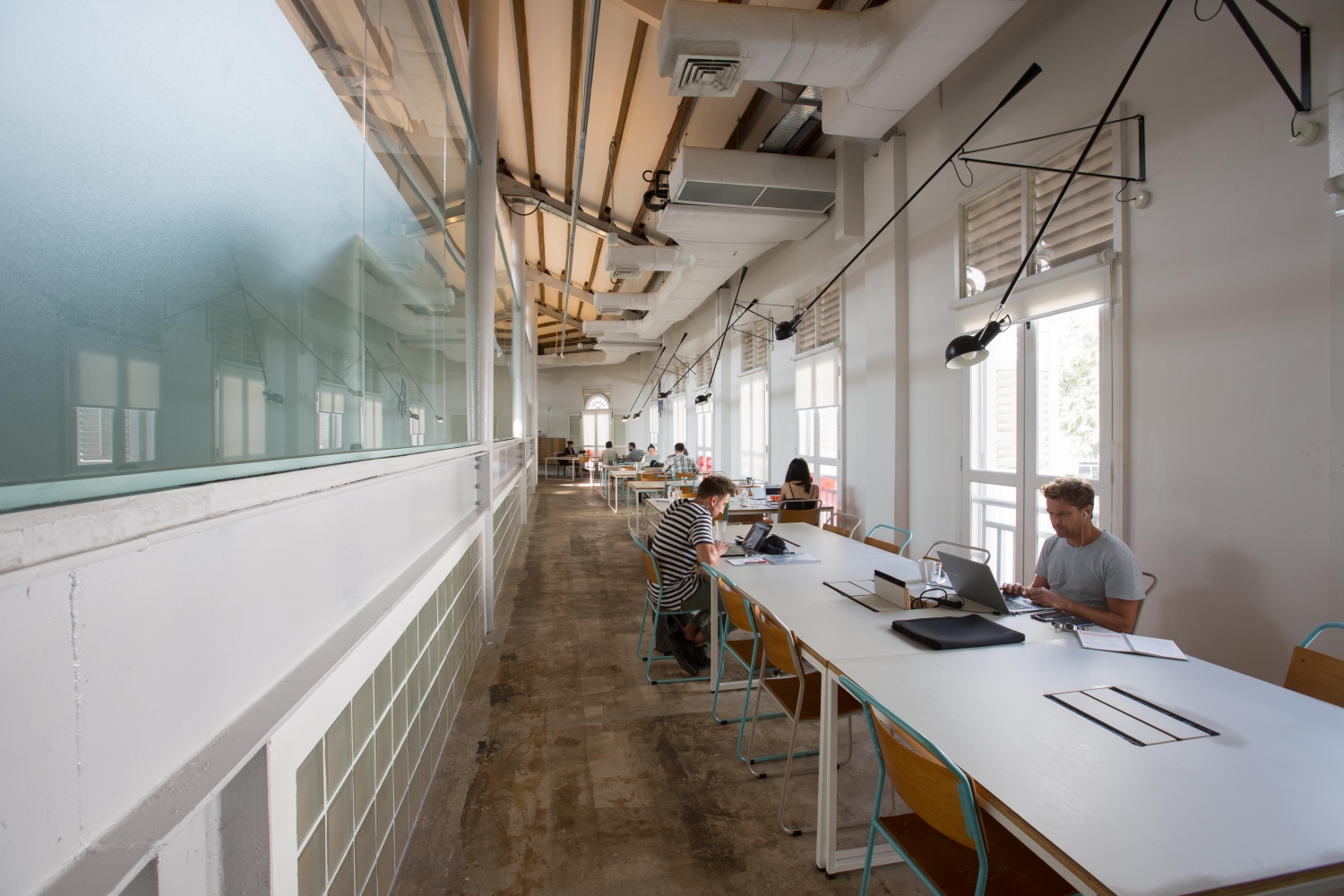 The Working Capitol, Keong Saik Road
In terms of flexible workspaces, Singapore has witnessed an emergence of operators who cater to niche markets with a need for shared facilities. For instance, Core Collective who put a focus on health and wellness, Trehaus who provide in-house childcare (particularly relevant in today's time with many children staying at home), and The Work Project who have established a hospitality model for their space at a cost-effective price just to name a few. In other words, Singapore has plenty of variety in terms of flexible workspaces meaning companies of any size and any industry are able to find a short-term office.
---
Read also: Find Your Niche Coworking Space in Singapore
---
Integrating Flexibility into Business Continuity
However, how can companies utilize flexible workspaces into their business continuity plans? As the government continues to recommend maintaining split-team or work-from-home arrangements, companies should look to flexible workspaces as a means to bring people back to the office with minimal risk. Below are 3 of the possible ways companies can use these short-term workspaces to their advantage:
1. Private Office Rentals
Flexible workspaces offer companies the option to rent private offices within the shared space on a monthly basis. These come fully-furnished and grant you 24/7 access to your room. It's a good solution for companies looking to provide their employees with safe workspaces closer to their homes as well as for accommodating split-team arrangements by alternating which team works where.
2. Hot Desk Rentals
Another solution would be to rent hot desks within a flexible workspace, these can be paid on a daily or monthly basis and provide you with a desk within the open space. This helps companies provide their employees with an alternative to their work-from-home set up. Of course, with new regulations, these spaces have been redesigned to accommodate safe distancing practices: all members maintain 1m distance, clockwise movement in rooms, spacing and seating indicators, mask requirements, capacity limits, and the use of the SafeEntry app to check in and check out.

---
Read also: This is What Offices Will Look Like When They Reopen
---
3. Flexible Workspace Subscription
A third option for companies, regardless of size, is to opt for a monthly subscription to flexible workspaces in Singapore. These can be fully customized, providing your company with a chosen number of daily passes to the top operators. It also provides companies the much needed flexibility and agility they need whilst allowing them to continue their business operations. In other words, it allows people to work closer to home and makes it easier to split up large teams into remote units by providing access to safe and secure workspaces around the city.
Taking all of these to mind, it's important to remember that to reduce the amount of contact we have with people we should continue to work from home as much as possible. But for those who are unable to work from home or need an alternative workspace a couple times a month or a week, flexible workspaces provide needed flexibility. And as companies evolve to match new requirements, we expect flexible workspaces to likewise evolve. From supply growing in both size and in better quality spaces, we anticipate these workspaces will continue to provide companies with on-demand offices.
If you have any questions regarding your office space strategy in Singapore, don't hesitate to reach out to our Space Experts at singapore@flyspaces.com for a free consultation on your best options.