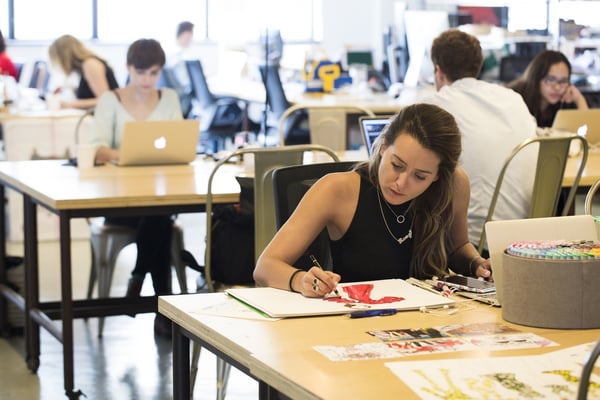 We all know the annoyance, especially those of us living in cities like Manila, when rush hour hits and all of a sudden, a simple half hour trip turns into enough time to watch Gladiator. Or even having to wake up way before you're scheduled to come in to work because your office is on the other side of the city. What's more, once you get into your office, you're hit with a stream of unreliable wifi issues, a lack of quality coffee (and perhaps some office loneliness?). Thankfully, remote working has become more and more of a viable option - thanks to technology as well as the increasing number of coworking spaces - giving people the flexibility to work from wherever they want.
For the past couple of years, coworking spaces have changed, not only where people work, but how they think about work. More than that though, they help people achieve that magical phrase: work-life balance. As people continue to choose to work remotely, coworking spaces and all those related platforms and services have found more ways to make work easier (if it can ever really be easy).
Imagine this scenario. Your work day starts at 9am and ends at 5pm, but you have a 2pm meeting on the other side of town. If you were to head back to the office after your meeting, let's assume it lasts about an hour, you could potentially spend a whole hour just in the car ride alone, meaning you would get back to your office at 4pm. Unless you enjoy working in your car, or clocking-in overtime, this is, to put it bluntly, a waste of time.
Now imagine this scenario. Exactly the same as the first, except instead of having to head back to the office, or even going to the office in the first place, you have the option of walking into a nearby coworking space. You gain those extra hours that you would have otherwise spent in the car and can avoid staying overtime. Instead you can go have a meal with some friends or play a sport - whatever it may be that helps you destress post-work.
Workspace flexibility is crucial to work-life balance. We may be a bit biased, but from our experience helping our clients find the perfect office space that fits their needs, we have found that they worry less about factors such as distance, lacking amenities, etc, helping them focus more on work. Don't worry, you too can achieve this workspace flexibility. Enter Passport - your unfettered access to the best coworking spaces around your city.
Let's first reiterate some of the reasons why we love coworking spaces, yes, again we may be a bit biased, but we think most of you will agree how these can make work-life balance much easier to achieve.
Coworking Spaces Help You Draw Motivation From Others

Yes, working at home can seem like the best option - you don't have to actually go anywhere, you don't have to spend money on office space, and you won't have anyone to distract you. But unless you have impeccable self-control, eventually you're going to find yourself endlessly scrolling through Facebook or Instagram. You might even find yourself doing this at a coworking space, but maybe not as shamelessly since you will be surrounded by individuals typing away on their laptops and meeting deadlines. Being around these people can definitely help you balance out that need to submit a report to your boss at 10am or chill out with those people you've just met across the table.
Coworking Spaces Help You Look Sharp And Work Sharp

When you decide to work at home or at a coffee shop around the corner, you don't think about wearing work apparel like a suit or a corporate shirt; you dress up accordingly. But working in your pajamas or from that outfit you wore last week at your local coworking space might not be the most productive thing to do. People might not look so fondly if you show up in those sweatpants from home since the members there are dressed readily to get through that to-do list for work. Wearing designated work apparel and surrounding yourself with people who do can definitely have a positive impact on your productivity and focus. Try it, you might just see your productivity rise 1,000% (sky's the limit right?) and help you get through work, saving you time for more of that life aspect of the balance.
Coworking Spaces Help Separate Work and Life

Coworking spaces are inherently more productive than a run-of-the-mill coffee shop and probably prettier as well. Plus, they provide you with free coffee and fast Wi-Fi and have just the right amount of noise that studies have shown can in fact help with productivity. Also, even more simple than that, coming into a space and having a physical separation between work and home allows you to have a routine and forces you to stick to a work schedule. This separation can help you stay focused and get your work done, while giving you enough time to enjoy your after hours without having to think about work (imagine how people who work at home must feel having work follow them 25/7).
Looking to balance your work-life as well? Now you can access all of these benefits wherever you are, whenever you need it with Passport.
It's the perfect product to get you started with balancing out your work and life and hopefully help you master it. So, what are you waiting for?
First published December 6, 2017. Last updated August 9, 2018.