To be truly successful in anything, you need to be fully committed to it. You wouldn't expect to win all of your football matches if you never actually showed up to any training sessions. The same goes for your marketing. You can't expect to see a positive result if you inconsistently produce blog content or rarely post on your various social media platforms.
This is where a content calendar comes in to save the day, just as Superman flies in to rescue Lois Lane. Relatively self explanatory, a content calendar is simply a way for you to lay out and organize all of your upcoming content, and with nearly 72% of marketers looking to adjust their content marketing strategy, taking the time to develop a clear calendar will help achieve this greater goal.
To demonstrate how a content calendar works, let's look at one of the calendars our team at FlySpaces used as a guide.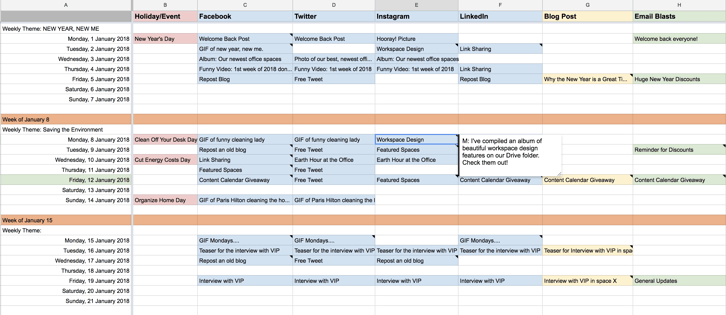 In the above image, you can see how we lay out our content for the month using Google Spreadsheets, which for us, has been the simplest method.
To ensure everything is as clear as possible, we separate our month by week and then by day, with everything color coordinated: pink for any holiday's or events we may want to make a social post on, blue for our social media (for us that includes Facebook, Instagram, Twitter, and LinkedIn), yellow for blog posts, and green for our newsletter. We also have all the months as separate tabs on the bottom, not just for organizational purposes but also so we can check back to make sure we aren't repeating ourselves and are putting out diversified content.
We also include notes in each of the cells, so whoever is looking at the content calendar has an idea of what the post will be about. For example, if we plan on featuring a specific space on our Facebook page, we will include links to the space as well as any distinctive amenities they may have - whether it's free beer on Wednesdays or a specialization in services for aspiring architects - in the notes section.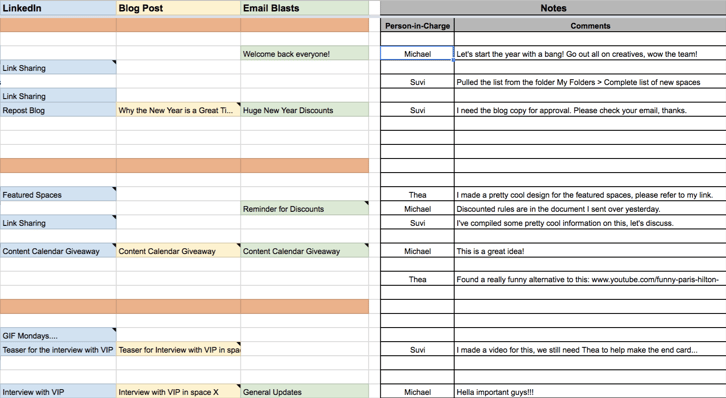 On the side of our content calendar we also keep track of all the notes and comments from our team members. Having this table on the side helps us communicate better on certain posts, potential ideas, and relevant links. With insight from our team members, we can make sure we don't duplicate the same post over and over again.
With that, we thought that it would be great to share our very own template with you. We studied various content calendars from various agencies and compiled the best pieces of each into our very own template. This has helped launch our content strategy throughout the months and we'd be very happy to share it with our readers. Let us know if we missed anything on our calendar!