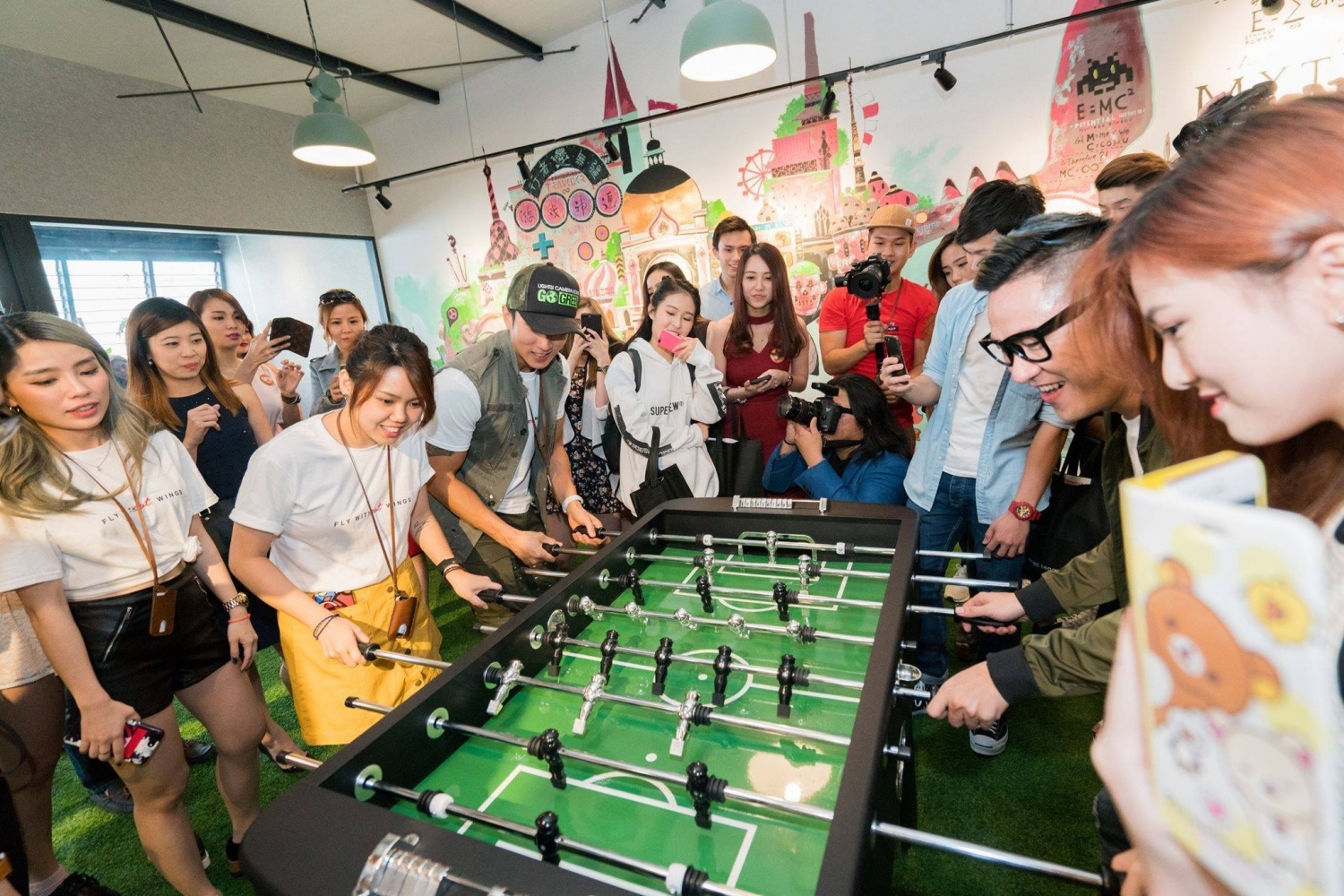 Continuing with our series of providing you guys with a guide to the events happening in Southeast Asia's coworking spaces, we've compiled our shortlist for August!
So, let's get right into it. Here are some of the top events happening in coworking spaces across the region this month.
Jakarta
For anyone who's had to produce a piece of academic writing you know the hair-pulling potential it has - with all the outlines, drafts, peer-reviews, re-writing that goes into it, it's can very easily be overwhelming. So whether you're doing a Bachelor's or a Master's degree, drop on by to Cocowork's "Academic Writing Workshop for Journal Publication" on August 31 to learn the fundamental elements to instantly improve your writing. Who knows, maybe you'll even get published in a reputable journal, so RSVP today.
Where: COCOWORK The Breeze, BSD City
When: 31 August, 2018. 8:00AM - 4:00PM
Cost: Free
With 77% of people using Google as their main search engine, it's important to get your advertising on point. However, getting your SEO methods right doesn't happen over night - how can you ensure that you'll rank first on Google searches when millions of other people are trying to achieve the same thing? Join this workshop hosted at GoWork on August 4 to "Learn How to Advertise with Google Ads" to improve your SEO and SEM initiatives. RSVP today.
Where: GoWork Coworking, Chubb Square 9th Floor
When: 4 August, 2018. 10:00AM - 3:00PM
Cost: IDR 650 K / pax
Want to add an Indonesian touch to your designs? This event on August 11 will go into detail on the current industrial design industry in Indonesia, as well as how you can establish an identity for your product and where to find Indonesian sources for your product - all whilst still adding a modern twist. Get your tickets here!
Where: Concrete Co-working, Jl. Pluit Tim. Raya No.17
When: 11 August, 2018. 2:00PM - 5:00PM
Cost: IDR 250 K / pax
Singapore
Ever wondered how to push forward innovation in your business? It's all about implementing it into your culture, more specifically, it's about implementing it into four components that make up your business - leadership, environment, systems, passion. Join this immersive talk on Innovation Culture Catalyst & Mindset on August 7 to learn more!
Where: JustCo at Marina One West
When: 7 August, 2018. 5:00PM - 6:00PM
Curious as to how brands such as Tim Ho Wan, Sukiya, Joe & Dough, and Seriously Addictive Mathematics have managed to grow their businesses? It's all about franchising! Learn the fundamentals of how to franchise your own business at this Franchise My Business Seminar on August 30 together with Astreem Consulting.
Where: 01 Keong Saik Road
When: 30 August, 2018. 1:00PM - 5:00PM
Cost: Free
Making your first property purchase is no easy task - there are a lot of details to take into consideration, and when it's your first time you might not know what those details are. Join this Property Buying 101 on 16 August to learn everything you need to know. From whether you should get a condo or a HDB to the tools at your disposal to gather all the data you'd need, and cap it all off with some whisky!
Where: 9 Raffles Place, Level 2
When: 16 August, 2018. 6:00PM - 8:30PM
Cost: Early bird: $10 General admission $16
Malaysia
Are you a startup or still in the early stages of setting up your business? Combat the inevitable challenges you'll face by joining this event on August 10 where you can build your network with mentors who have gone through the same processes as you. They know that having the right support is a deciding factor on the future of your endeavour, so get your ticket today and achieve new highs!
Where: Worq, Glo Damansara 699, Jalan Damansara
When: 10 August, 2018
Cost: RM 5.25
Ever wanted to add an extra tool to your arsenal? Why not learn Japanese during this weekend workshop organized by Sandbox on August 5, which the teacher promises to not only be quick, but cheap as well! Whether for professional reasons or personal reasons (maybe even understand Terrace House sans subtitles), this will definitely be a worthwhile way to spend your Sunday afternoon. You can RSVP here.
Where: Sandbox Coworking Space, 22-1 Jalan Radin Bagus 3
When: 5 August, 2018. 2:00PM - 4:00PM
Cost: RM 38
Want to know how to take pictures like the pros? This photography workshop on August 25, led by Alex Tan known as one of Asia's Top 30 and Malaysia's Top 10 Wedding Photographers, you'll learn the fundamentals behind a good picture - concept drafting, lighting, and composition. And if your dream is to start your own photography business, this event also includes another workshop on how to market yourself, led by Hoong Ee. You'll be able to understand what marketing really is, how to position your brand, as well as how to manage your clients. If this peaks your interest, then book your seats today!
Where: Level 2, Tamarins House, 46, Pengkalan Weld, George Town, Penang
When: 25 August, 2018. 9:30AM - 6:00PM
Cost: Early bird (until August 8) and Scoopies: RM 997. General admission: RM 1,200
Together with GoPomelo, WSPACE is hosting a Google Cloud Infra Workshop on August 29. This event will go into the finer details of how moving your IT infrastructure to the Google Cloud Platform (GCP) and how this switch will help you solve some of the toughest problems your business has. Starting with an introduction to GoPomelo you'll then be given a run down on cloud identity, DNS, backup and DR & migration as well as an introduction to GCP infrastructure followed by two workshops led by Google certified engineers. Hurry and reserve your seat today!
Where: The Centrepoint North Tower, Mid Valley City
When: 29 August, 2018. 2:00PM - 5:00PM
Cost: Free
Philippines
Got an interest in Filipino history, or just history in general? People say you can learn a lot about a culture and its people through their languages. So why not join this 3-hour crash course on August 4 on how to read and write in the Indigenous indic script, Baybayin - the alphabet utilized by the Tagalog people before they adopted the Latin alphabet. Reserve your seat here.
Where: Villa Virtual Coworking, 7880 Jupiter corner Polaris Street, Poblacion
When: 4 August, 2018. 2:00PM - 5:00PM
Cost: PHP 599
Turn your social media followers into loyal customers and ultimately advocates of your brand - all you need is a plan. Learn from Tin Advincula, a writer from Manila who created content for various brands and companies across the globe, on the how she establishes a strategic social media plan on August 23. Make sure to reserve your seats ASAP as slots are limited!
Where: Villa Virtual Coworking, 7880 Jupiter corner Polaris Street, Poblacion
When: 23 August, 2018. 7:00PM - 9:00PM
Cost: Regular rate: PHP 350 (August 16-22) Early bird promo: PHP 300 (until August 15) Bring a friend promo: PHP 250/person
Investing your money is, to put it simply, difficult. If you've never done it before, it's easy to get bogged down by all the jargon and the forms and the seemingly endless pages you have to try to decode. So save yourself the stress and join this Eureka Series with RE/MAX that will explain the details with success stories from panelists who have experience in Real Estate, Bitcoin, and Stocks. Plus, there's free food and free drinks!
Where: Acceler8.ph Coworking, Finman Building, Makati
When: 16 August, 2018. 7:00PM - 10:00PM
Cost: Pre-event - PHP 200 Regular - PHP 500
As always, we'll be keeping an eye out to make sure out list is as updated as possible! If you think we missed out on some, don't hesitate to reach out to us!
Originally published August 3, 2019. Last edited August 13, 2018.